This is a preview of subscription content, log in to check access.
Access options
Buy single article
Instant access to the full article PDF.
US$ 39.95
Price includes VAT for USA
Subscribe to journal
Immediate online access to all issues from 2019. Subscription will auto renew annually.
US$ 99
This is the net price. Taxes to be calculated in checkout.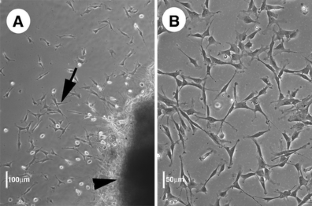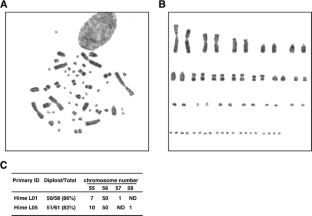 References
Barber R. C.; Tontaine C. T.; Flanagan J. P.; Louis E. E. Natural hybridization between a Kemp's ridley (Lepidochelys kempii) and loggerhead sea turtle (Caretta caretta) confirmed by molecular analysis. Chelonian Conservation Biol 4(3): 701–704; 2003.

Bhunya S. P.; Mohanty-Hejmadi P. Somatic chromosome study of a sea turtle, Lepidochelys olivacea (Chelonia, Reptilia). Chromosom Infor Serv 40: 12–14; 1986.

Bowen B. W.; Nelson W. S.; Avise J. C. A molecular phylogeny for marine turtles: trait mapping, rate assessment, and conservation relevance. Proc Natl Acad Sci U S A 90(12): 5574–5577; 1993.

Fukuda T.; Kurita J.; Saito T.; Yuasa K.; Kurita M.; Donai K.; Nitto H.; Soichi M.; Nishimori K.; Uchida T.; Isogai E.; Onuma M.; Sone H.; Oseko N.; Inoue-Murayama M. Efficient establishment of primary fibroblast cultures from the hawksbill sea turtle (Eretmochelys imbricata). Vitro Cell Dev Biol Anim 48(10): 660–665; 2012. doi:10.1007/s11626-012-9565-1.

Karl S.; Bowen B.; Avise J. Hybridization among the ancient mariners: characterization of marine turtle hybrids with molecular genetic assays. J Hered 86: 262–268; 1995.

Koch V.; Peckham H.; Mancini A.; Eguchi T. Estimating at-sea mortality of marine turtles from stranding frequencies and drifter experiments. PLoS One 8(2): e56776; 2013. doi:10.1371/journal.pone.0056776.t001.

Lara-Ruiz P.; Lopez G. G.; Santos F. R.; Soares L. S. Extensive hybridization in hawksbill turtles (Eretmochelys imbricata) nesting in Brazil revealed by mtDNA analyses. Conserv Genet 7(5): 773–781; 2006. doi:10.1007/s10592-005-9102-9.

Lu Y.; Aguirre A. A.; Work T. M.; Balazs G. H.; Nerurkar V. R.; Yanagihara R. Identification of a small, naked virus in tumor-like aggregates in cell lines derived from a green turtle, Chelonia mydas, with fibropapillomas. J Virol Methods 86(1): 25–33; 2000.

Peckham S. H.; Maldonado Diaz D.; Walli A.; Ruiz G.; Crowder L. B.; Nichols W. J. Small-scale fisheries bycatch jeopardizes endangered Pacific loggerhead turtles. PLoS One 2(10): e1041; 2007. doi:10.1371/journal.pone.0001041.

Wang Z.; Pascual-Anaya J.; Zadissa A.; Li W.; Niimura Y.; Huang Z.; Li C.; White S.; Xiong Z.; Fang D.; Wang B.; Ming Y.; Chen Y.; Zheng Y.; Kuraku S.; Pignatelli M.; Herrero J.; Beal K.; Nozawa M.; Li Q.; Wang J.; Zhang H.; Yu L.; Shigenobu S.; Liu J.; Flicek P.; Searle S.; Kuratani S.; Yin Y.; Aken B.; Zhang G.; Irie N. The draft genomes of soft-shell turtle and green sea turtle yield insights into the development and evolution of the turtle-specific body plan. Nat Genet 45(6): 701–706; 2013. doi:10.1038/ng.2615.

Witherington B. Ecology of neonate loggerhead turtles inhabiting lines of downwelling near a Gulf Stream front. Mar Biol 140: 843–853; 2001.
Acknowledgments
We are grateful to all the members of the team responsible for maintaining the turtle colony at the Port of Nagoya Public Aquarium for their essential help in this study. This work was supported by a collaborative research grant from the Wildlife Research Center of Kyoto University, Japan, and a research grant from the Japan Society for the Promotion of Science (JSPS) KAKENHI (grant numbers 25290082 and 25640117). The founders of the research grant have no role in the research and data analysis. The authors declare that they do not have any conflicts of interest.
About this article
Cite this article
Fukuda, T., Katayama, M., Kinoshita, K. et al. Primary fibroblast cultures and karyotype analysis for the olive ridley sea turtle (Lepidochelys olivacea). In Vitro Cell.Dev.Biol.-Animal 50, 381–383 (2014). https://doi.org/10.1007/s11626-013-9715-0
Received:

Accepted:

Published:

Issue Date:
Keywords
Olive Ridley

Cell Culture Plastic

Hawksbill Turtle

Tissue Biopsy Specimen

Primary Fibroblast Culture