Zusammenfassung
Dieser Beitrag stellt das Konzept der Organisationslogik vor die Charakteristika der Organisationslogik und deren Essenz werden sowohl theoretisch als auch anhand eines Beispiels erläutert. Darüber hinaus zeigen wir auf, wie die Organisationslogik proaktiv in Veränderungsvorhaben berücksichtigt werden kann. Je nach Veränderungsbedarf, differenziert nach den drei organisationalen Lernebenen des Single-Loop, Double-Loop und Deutero Learning, werden konkrete Handlungsempfehlungen für eine intentionale Berücksichtigung der Organisationslogik in Veränderungsprozessen vorgeschlagen.
Abstract
In this article we introduce the concept of the firm's organizational logic and how it influences organizational change processes. Characteristics and the essence of the organizational logic are explained and then illustrated by mean of a real-world case. Depending on the level of organizational change – whether it leads to single-loop, double-loop or deutero learning – we provide different implications for change agents to make use of the organizational logic to steer organizational change successfully.
This is a preview of subscription content, log in to check access.
Access options
Buy single article
Instant access to the full article PDF.
US$ 39.95
Price includes VAT for USA
Subscribe to journal
Immediate online access to all issues from 2019. Subscription will auto renew annually.
US$ 99
This is the net price. Taxes to be calculated in checkout.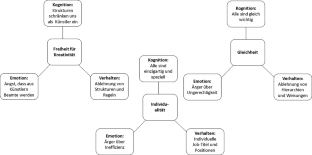 Literatur
Argyris, C., & Schön, D. (1996). Organizational learning II: theory, method, and practice. Reading: Addison-Wesley.

Bettis, R., & Wong, S. (2003). Dominant logic, knowledge creation, and managerial choice. In M. Esaterby-Smith & M. A. Lyles (Hrsg.), Handbook of organizational learning and knowledge management (S. 343–355). Oxford: Blackwell.

Bettis, R. A., & Prahalad, C. K. (1995). The dominant logic: retrospective and extension. Strategic Management Journal, 16(1), 5–14.

Kor, Y. Y., & Mesko, A. (2013). Dynamic managerial capabilities: configuration and orchestration of top executives' capabilities and the firm's dominant logic. Strategic Management Journal, 34(2), 233–244.

Kump, B., & Schweiger, C. (2017). Capturing the dominant logic of a small firm. An inductive, qualitative method. In Power, politics and emotions in organizational learning and knowing. International Conference on Organizational Learning, Knowledge, and Capabilities (OLKC), Valladolid, 27.–28. April 2017.

Prahalad, C. K., & Bettis, R. A. (1986). The dominant logic: a new linkage between diversity and performance. Strategic Management Journal, 7(6), 485–501.

Schneider, M., & Somers, M. (2006). Organizations as complex adaptive systems: implications of complexity theory for leadership research. Leadership Quaterly, 17(4), 351–365.

Schweiger, C., Kump, B., & Hoormann, L. (2016). A concept for diagnosing and developing organizational change capabilities. Journal of Management and Change, 1/2(34/35), 12–28.

Von Krogh, G., & Roos, J. (1996). A tale of the unfinished. Strategic Management Journal, 17(9), 729–737.
About this article
Cite this article
Schweiger, C., Kump, B. Lerne die Regeln um sie zu verändern! Die Rolle der Organisationslogik in Veränderungsprozessen. Gr Interakt Org 49, 289–294 (2018). https://doi.org/10.1007/s11612-018-0423-9
Schlüsselwörter
Organisationslogik

Veränderungsprozesse

Organisationales Lernen
Keywords
Organizational logic

Change

Organizational learning