This is a preview of subscription content, log in to check access.
Access options
Buy single article
Instant access to the full article PDF.
US$ 39.95
Price includes VAT for USA
Subscribe to journal
Immediate online access to all issues from 2019. Subscription will auto renew annually.
US$ 99
This is the net price. Taxes to be calculated in checkout.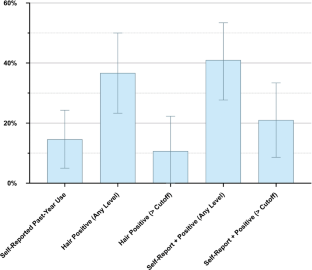 References
1.

Palamar JJ, Griffin-Tomas M, Ompad DC. Illicit Drug Use Among Rave Attendees in a Nationally Representative Sample of US High School Seniors. Drug Alcohol Depend 2015: 152: 24–31.

2.

Palamar JJ, Acosta P, Le A, Cleland CM, Nelson LS. Adverse Drug-Related Effects among Electronic Dance Music Party Attendees. Int J Drug Policy 2019: 73: 81–87.

3.

Krotulski AJ, Mohr ALA, Fogarty MF, Logan BK. The Detection of Novel Stimulants in Oral Fluid from Users Reporting Ecstasy, Molly and MDMA Ingestion. J Anal Toxicol 2018; 42: 544–553.

4.

Oliver CF, Palamar J, Salomone A, et al. Synthetic Cathinone Adulteration of Illegal Drugs. Psychopharmacology. 2018: 236: 869–879.

5.

MacKellar DA, Gallagher KM, Finlayson T, Sanchez T, Lansky A, Sullivan PS. Surveillance of HIV Risk and Prevention Behaviors of Men who Have Sex with Men--A National Application of Venue-Based, Time-Space Sampling. Public Health Rep 2007; 122 Suppl 1: 39–47.

6.

Salomone A, Gerace E, Diana P, et al. Cut-off proposal for the detection of ketamine in hair. Forensic Sci Int 2015: 248: 119–123.
Funding
Research reported in this publication was supported by the National Institute on Drug Abuse of the National Institutes of Health under Award Numbers R01DA044207 (PI: Palamar) and K01DA038800 (PI: Palamar).
Ethics declarations
All methods were approved by the New York University Langone Medical Center's institutional review board.
Conflict of Interest
The authors declare that they do not have a conflict of interest.
Disclaimer
The content is solely the responsibility of the authors and does not necessarily represent the official views of the National Institutes of Health.
Additional information
Publisher's Note
Springer Nature remains neutral with regard to jurisdictional claims in published maps and institutional affiliations.
About this article
Cite this article
Palamar, J.J., Salomone, A., Rutherford, C. et al. Extensive Underreported Exposure to Ketamine Among Electronic Dance Music Party Attendees. J GEN INTERN MED (2020). https://doi.org/10.1007/s11606-020-05672-x
Received:

Revised:

Accepted:

Published: