Abstract
Background
Half of women undergoing mammography have dense breasts. Mandatory dense breast notification and educational materials have been shown to confuse women, rather than empower them.
Objective
This study used a mixed method, multi-stakeholder approach to assess acceptability of an interactive, computer-animated agent that provided breast density information to women and changes in knowledge, satisfaction, and informational needs.
Design
A pre-post survey and qualitative focus groups assessed the acceptability of the computer-animated agent among women. An anonymous, online survey measuring acceptability was delivered to a multi-stakeholder group.
Participants
English-speaking, mammography-eligible women ages 40–74 were invited and 44 women participated in one of nine focus groups. In addition, 14 stakeholders representing primary care, radiology, patient advocates, public health practitioners, and researchers completed the online survey.
Interventions
A prototype of a computer-animated agent was delivered to women in a group setting; stakeholders viewed the prototype independently.
Main Measures
Data collected included open-ended qualitative questions that guided discussion about the content and form of the computer-animated agent. Structured surveys included domains related to knowledge, acceptability, and satisfaction. Stakeholder acceptability was measured with a series of statements about aspects of the intervention and delivery approach and are reported as the proportion of respondents who endorsed each statement.
Key Results
Six of 12 knowledge items demonstrated improvement post-intervention, satisfaction with the agent was high (81%), but the number of unanswered questions did not improve (67% vs. 54%, p = 0.37). Understanding of the distinction between connective and fatty tissue in the breast did not increase (30% vs. 26%, p = 0.48). Results of the multi-stakeholder survey suggest broad acceptability of the approach and agent.
Conclusions
Findings highlight the benefits of a brief interactive educational exposure as well as misperceptions that persisted. Results demonstrate the need for an evidence-based, accessible intervention that is easy to understand for patients.
This is a preview of subscription content, log in to check access.
Access options
Buy single article
Instant unlimited access to the full article PDF.
US$ 39.95
Price includes VAT for USA
Subscribe to journal
Immediate online access to all issues from 2019. Subscription will auto renew annually.
US$ 99
This is the net price. Taxes to be calculated in checkout.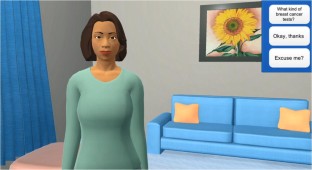 References
1.

Sprague BL, Gangnon RE, Burt V, et al. Prevalence of Mammographically Dense Breasts in the United States. Journal of the National Cancer Institute. 2014;106(10).

2.

Wang AT, Vachon CM, Brandt KR, Ghosh K. Breast density and breast cancer risk: a practical review. Mayo Clin Proc. 2014;89(4):548–557.

3.

Porter PL, El-Bastawissi AY, Mandelson MT, et al. Breast Tumor Characteristics as Predictors of Mammographic Detection: Comparison of Interval- and Screen-Detected Cancers. JNCI: Journal of the National Cancer Institute. 1999;91(23):2020–2028.

4.

Mandelson MT, Oestreicher N, Porter PL, et al. Breast density as a predictor of mammographic detection: comparison of interval- and screen-detected cancers. J Natl Cancer Inst. 2000;92(13):1081–1087.

5.

McCarthy AM, Keller BM, Pantalone LM, et al. Racial Differences in Quantitative Measures of Area and Volumetric Breast Density. JNCI: Journal of the National Cancer Institute. 2016;108(10):dwj104.

6.

Dense Breast Info, Inc. 2017; http://densebreast-info.org/legislation.aspx#. .

7.

Proposed Rule: Mammography Quality Standards Act. 2019; https://www.federalregister.gov/documents/2019/03/28/2019-05803/mammography-quality-standards-act.

8.

Kressin N, Gunn C, Battaglia T. Content, Readability, and Understandability of Dense Breast Notifications by State JAMA. 2016;315(16):1786–1787.

9.

Rhodes DJ, Breitkopf CR, Ziegenfuss JY, Jenkins SM, Vachon CM. Awareness of Breast Density and Its Impact on Breast Cancer Detection and Risk. Journal of Clinical Oncology. 2015;33(10):1143–1150.

10.

Yeh VM, Schnur JB, Margolies L, Montgomery GH. Dense breast tissue notification: impact on women's perceived risk, anxiety, and intentions for future breast cancer screening. Journal of the American College of Radiology : JACR. 2015;12(3):261–266.

11.

Trinh L, Ikeda DM, Miyake KK, et al. Patient awareness of breast density and interest in supplemental screening tests: comparison of an academic facility and a county hospital. Journal of the American College of Radiology : JACR. 2015;12(3):249–255.

12.

Gunn C, Battaglia T, Paasche-Orlow M, West A, Kressin N. Women's Perceptions of Dense Breast Notifications: "So what is that supposed to mean?". Patient Educ Couns. 2018;101(6):1123–1129.

13.

Melnikow J, Fenton JJ, Whitlock EP, et al. Supplemental Screening for Breast Cancer in Women With Dense Breasts: A Systematic Review for the U.S. Preventive Services Task Force. Annals of Internal Medicine. 2016;164(4):268–278.

14.

Freer P, Slanetz P, Haas J, et al. Breast cancer screening in the era of density notification legislation: Summary of 2014 Massachusetts experience and suggestion of an evidence-based management algorithm by multi-disciplinary expert panel. Breast Cancer Res Treat. 2015;153(2):455–464.

15.

Price ER, Hargreaves J, Lipson JA, et al. The California Breast Density Information Group: A Collaborative Response to the Issues of Breast Density, Breast Cancer Risk, and Breast Density Notification Legislation. Radiology. 2013;269(3):887–892.

16.

Gunn CM, Kressin NR, Cooper K, Marturano C, Freund KM, Battaglia TA. Primary Care Provider Experience with Breast Density Legislation in Massachusetts. Journal of Women's Health. 2018;27(5):615–622.

17.

Brown J, Soukas C, Lin JJ, Margolies L, Santiago-Rivas M, Jandorf L. Physician Knowledge, Attitudes, and Practices Regarding Breast Density. J Women's Health. 2019;28(9):1193–1199.

18.

Maimone S, McDonough MD, Hines SL. Breast Density Reporting Laws and Supplemental Screening—A Survey of Referring Providers' Experiences and Understanding. Current Problems in Diagnostic Radiology. 2017;46(2):105–109.

19.

Kerlikowske K, Sprague BL, Tosteson ANA, et al. Strategies to Identify Women at High Risk of Advanced Breast Cancer During Routine Screening for Discussion of Supplemental Imaging JAMA Internal Medicine. 2019;179(9):1230–1239.

20.

O'Neill SC, Leventhal KG, Scarles M, et al. Mammographic Breast Density as a Risk Factor for Breast Cancer: Awareness in a Recently Screened Clinical Sample. Women's Health Issues. 2014;24(3):e321-e326.

21.

Manning M, Albrecht TL, Yilmaz-Saab Z, Shultz J, Purrington K. Influences of race and breast density on related cognitive and emotion outcomes before mandated breast density notification. Social Science & Medicine. 2016;169:171–179.

22.

Davis TC, Arnold C, Berkel H, Nandy I, Jackson RH, Glass J. Knowledge and attitude on screening mammography among low-literate, low-income women. Cancer. 1996;78(9):1912–1920.

23.

Orom H, Kiviniemi MT, Shavers VL, Ross L, Underwood W, 3rd. Perceived risk for breast cancer and its relationship to mammography in Blacks, Hispanics, and Whites. Journal of behavioral medicine. 2013;36(5):466–476.

24.

Pagan JA, Brown CJ, Asch DA, Armstrong K, Bastida E, Guerra C. Health literacy and breast cancer screening among Mexican American women in South Texas. Journal of cancer education : the official journal of the American Association for Cancer Education. 2012;27(1):132–137.

25.

Miles RC, Lehman C, Warner E, Tuttle A, Saksena M. Patient-Reported Breast Density Awareness and Knowledge after Breast Density Legislation Passage. Acad Radiol. 2019;26(6):726–731.

26.

Manning M, Purrington K, Penner L, Duric N, Albrecht TL. Between-race differences in the effects of breast density information and information about new imaging technology on breast-health decision-making. Patient Education and Counseling. 2016;99(6):1002–1010.

27.

Hunt BR, Whitman S, Hurlbert MS. Increasing Black:White disparities in breast cancer mortality in the 50 largest cities in the United States. Cancer epidemiology. 2014;38(2):118–123.

28.

Jemal A, Ward EM, Johnson CJ, et al. Annual Report to the Nation on the Status of Cancer, 1975–2014, Featuring Survival. JNCI: Journal of the National Cancer Institute. 2017;109(9):djx030.

29.

Bickmore TW, Pfeifer LM, Paasche-Orlow MK. Using computer agents to explain medical documents to patients with low health literacy. Patient education and counseling. 2009;75(3):315–320.

30.

Cauell J, Bickmore T, Campbell L, Vihjalmsson H. Designing Embodied Conversational Agents. Cambridge, MA: MIT Press; 2000.

31.

Olafsson S, O'Leary T, Bickmore T. Coerced Change-talk with Conversational Agents Promotes Confidence in Behavior Change. Proceedings of the 13th EAI International Conference on Pervasive Computing Technologies for Healthcare; 2019; Trento, Italy.

32.

Zhang Z, Bickmore TW. Medical Shared Decision Making with a Virtual Agent. In Proceedings of Intelligent Virtual Agents. ACM; 2018; Sydney, Australia.

33.

Bickmore TW, Silliman RA, Nelson K, et al. A Randomized Controlled Trial of an Automated Exercise Coach for Older Adults. Journal of the American Geriatrics Society. 2013;61(10):1676–1683.

34.

Abstracts from the 2019 Annual Meeting of the Society of General Internal Medicine. Journal of General Internal Medicine. 2019;34(2):99–867.

35.

Gunn C, Kennedy M, Maschke A, Fishman M, Hopkins M, Warner E. Partnering with Advocates to Assess Breast Density Education Materials. Paper presented at: Society for General Internal Medicine2019; Washington, DC.

36.

Harris PA, Taylor R, Thielke R, Payne J, Gonzalez N, Conde JG. Research electronic data capture (REDCap)—A metadata-driven methodology and workflow process for providing translational research informatics support. Journal of Biomedical Informatics. 2009;42(2):377–381.

37.

Knafl K, Deatrick J, Gallo A, et al. The Analysis and Interpretation of Cognitive Interviews for Instrument Development. Research in Nursing and Health. 2007;30:224–234.

38.

Ridolfo H, Schoua-Glusberg A. Analyzing Cognitive Interview Data Using the Constant Comparative Method of Analysis to Understand Cross-Cultural Patterns in Survey Data. Field Methods. 2011;23(4):420–438.

39.

Bastable SB. Health professional as educator : principles of teaching and learning. Sudbury, MA: Sudbury, MA : Jones & Bartlett Learning; 2011.

40.

Consedine NS, Magai C, Krivoshekova YS, Ryzewicz L, Neugut AI. Fear, Anxiety, Worry, and Breast Cancer Screening Behavior: A Critical Review. Cancer Epidemiology Biomarkers & Prevention. 2004;13(4):501–510.

41.

Watson EK, Henderson BJ, Brett J, Bankhead C, Austoker J. The psychological impact of mammographic screening on women with a family history of breast cancer—a systematic review. Psycho-Oncology. 2005;14(11):939–948.

42.

Lerman C, Trock B, Rimer BK, Jepson C, Brody D, Boyce A. Psychological side effects of breast cancer screening. Health psychology : official journal of the Division of Health Psychology, American Psychological Association. 1991;10(4):259–267.

43.

Tosteson AN, Fryback DG, Hammond CS, et al. Consequences of false-positive screening mammograms. JAMA Intern Med. 2014;174(6):954–961.

44.

Dolan NC, Feinglass J, Priyanath A, Haviley C, Sorensen AV, Venta LA. Measuring Satisfaction with Mammography Results Reporting. Journal of General Internal Medicine. 2001;16(3):157–162.

45.

Karliner LS, Kaplan CP, Juarbe T, Pasick R, Pérez-Stable EJ. Poor Patient Comprehension of Abnormal Mammography Results. Journal of General Internal Medicine. 2005;20(5):432–437.

46.

Anderson EE, Hoskins KJ. Individual Breast Cancer Risk Assessment in Underserved Populations: Integrating Empirical Bioethics and Health Disparities Research. Journal of Health Care for the Poor and Underserved. 2012;23(4):34–46.

47.

Kaplan CP, Livaudais-Toman J, Tice JA, et al. A Randomized, Controlled Trial to Increase Discussion of Breast Cancer in Primary Care. Cancer Epidemiology Biomarkers & Prevention. 2014;23(7):1245–1253.

48.

Nayak L, Miyake KK, Leung JWT, et al. Impact of Breast Density Legislation on Breast Cancer Risk Assessment and Supplemental Screening: A Survey of 110 Radiology Facilities. The Breast Journal. 2016;22(5):493–500.

49.

Sabatino SA, McCarthy EP, Phillips RS, Burns RB. Breast cancer risk assessment and management in primary care: Provider attitudes, practices, and barriers. Cancer Detection and Prevention. 2007;31(5):375–383.

50.

Cortez S, Milbrandt M, Kaphingst KA, James A, Colditz G. The readability of online breast cancer risk assessment tools. Breast Cancer Res Treat. 2015;154(1):191–199.

51.

Hesse-Biber S, Flynn B, Farrelly K. The Pink Underside: The Commercialization of Medical Risk Assessment and Decision-Making Tools for Hereditary Breast Cancer Risk. Qualitative Health Research. 2018;28(10):1523–1538.

52.

Joseph G, Beattie M, Lee R, et al. Pre-counseling Education for Low Literacy Women at Risk of Hereditary Breast and Ovarian Cancer (HBOC): Patient Experiences Using the Cancer Risk Education Intervention Tool (CREdIT). Journal of Genetic Counseling. 2010;19:447–462.

53.

Joseph-Williams N, Newcombe R, Politi M, et al. Toward minimum standards for certifying patient decision aids: A modified Delphi consensus process. Medical Decision Making. 2014;34:699–710.

54.

Bickmore T, Trinh H, Olafsson S, et al. Patient and Consumer Safety Risks When Using Conversational Assistants for Medical Information: An Observational Study of Siri, Alexa, and Google Assistant. Journal of Medical Internet Research. 2018;20(9):e11510.

55.

George S, Duran N, Norris K. A Systematic Review of Barriers and Facilitators to Minority Research Participation Among African Americans, Latinos, Asian Americans, and Pacific Islanders. American Journal of Public Health. 2014;104(2):e16-e31.

56.

Watts T, Merrell J, Murphy F, Williams A. Breast health information needs of women from minority ethnic groups. Journal of Advanced Nursing. 2004;47(5):526–535.
Acknowledgments
The authors would like to thank members of the Pink and Black Education and Support Network in Boston, MA, for their thoughtful feedback and contribution to the design of the computer-animated agent.
Funding Information
Funding for this work was provided by the American Cancer Society (IRG-17-176-39). Dr. Gunn's effort was supported in part by the National Cancer Institute (1K07CA221899). Dr. Warner's work was supported in part by the National Cancer Institute (K01CA188075).
Ethics declarations
This research was reviewed and approved by the Boston Medical Center Institutional Review Board.
Conflict of Interest
The following authors have no conflicts of interest: Dr. Christine Gunn, Ms. Ariel Maschke, Dr. Timothy Bickmore, Mr. Mark Kennedy, Ms. Margaret Hopkins, Dr. Michael Paashe-Orlow, and Dr. Erica Warner. Dr. Michael Fishman is a consultant for Zebra Medical Vision and a member of the Scientific Advisory Board for Hologic.
Additional information
Publisher's Note
Springer Nature remains neutral with regard to jurisdictional claims in published maps and institutional affiliations.
Prior Presentations: Preliminary results were previously presented at the International Breast Density and Cancer Risk Assessment Workshop on June 6, 2019, in Honolulu, Hawaii, and at the Society for General Internal Medicine Annual Meeting on May 9, 2019, in Washington D.C.
About this article
Cite this article
Gunn, C., Maschke, A., Bickmore, T. et al. Acceptability of an Interactive Computer-Animated Agent to Promote Patient-Provider Communication About Breast Density: a Mixed Method Pilot Study. J GEN INTERN MED (2020) doi:10.1007/s11606-019-05622-2
Received:

Accepted:

Published:
KEY WORDS
breast density

mammography

acceptability

health information technology

patient-provider communication