This is a preview of subscription content, log in to check access.
Access options
Buy single article
Instant unlimited access to the full article PDF.
US$ 39.95
Price includes VAT for USA
Subscribe to journal
Immediate online access to all issues from 2019. Subscription will auto renew annually.
US$ 99
This is the net price. Taxes to be calculated in checkout.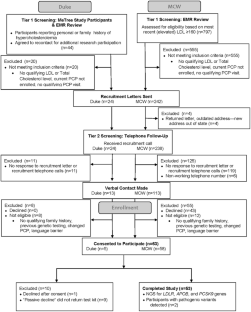 References
1.

Gidding SS, Champagne MA, de Ferranti SD, et al. The agenda for familial hypercholesterolemia: a scientific statement from the American Heart Association. Circulation 2015;132(22):2167–2192.

2.

Sturm AC, Knowles JW, Gidding SS, et al. Clinical genetic testing for familial hypercholesterolemia: JACC Scientific Expert Panel. J Am Coll Cardiol 2018;72(6):662–680.

3.

Louter L, Defesche J, Roeters van Lennep J. Cascade screening for familial hypercholesterolemia: practical consequences. Atheroscler Suppl 2017;30:77–85.

4.

Orlando LA, Buchanan AH, Hahn SE, et al. Development and validation of a primary care-based family health history and decision support program (MeTree©). NCMJ 2013;74(4):287–296.

5.

Ademi Z, Watts GF, Pang J, et al. Cascade screening based on genetic testing is cost-effective: evidence for the implementation of models of care for familial hypercholesterolemia. J Clin Lipidol 2014;8(4):390–400.

6.

Norsworthy PJ, Vandrovcova J, Thomas ER, et al. Targeted genetic testing for familial hypercholesterolaemia using next generation sequencing: a population-based study. BMC Med Genet 2014;15:70.
Ethics declarations
Ethical Approval
All procedures performed in studies involving human participants were in accordance with the ethical standards of the institutional and/or national research committee and with the 1964 Helsinki declaration and its later amendments or comparable ethical standards.
Conflict of Interest
Dr. David Dimmock is a consultant for Pegvaliase trials at Biomarin; on the Scientific Advisory Board at Audentes Therapeutics; and pending consultant for mitochondrial disease drugs Ichorion Therapeutics. Dr. Lori Orlando has ownership in MeTree. The goal for MeTree&You is to eventually allow entities to use MeTree for clinical purposes. All remaining authors declare that they do not have a conflict of interest.
Additional information
Publisher's Note
Springer Nature remains neutral with regard to jurisdictional claims in published maps and institutional affiliations.
Joan Neuner and David Dimmock are shared first author.
About this article
Cite this article
Neuner, J., Dimmock, D., Kirschner, A.L.P. et al. Results and Lessons of a Pilot Study of Cascade Screening for Familial Hypercholesterolemia in US Primary Care Practices. J GEN INTERN MED 35, 351–353 (2020). https://doi.org/10.1007/s11606-019-05485-7