This is a preview of subscription content, log in to check access.
Access options
Buy single article
Instant unlimited access to the full article PDF.
US$ 39.95
Price includes VAT for USA
Subscribe to journal
Immediate online access to all issues from 2019. Subscription will auto renew annually.
US$ 99
This is the net price. Taxes to be calculated in checkout.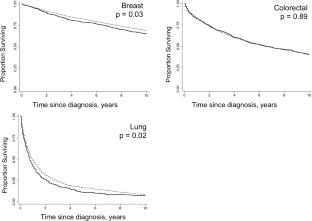 References
1.

Man, R.X., Lack, D.A., Wyatt, C.E,. & Murray V. The effect of natural disasters on cancer care: a systematic review. Lancet Oncol 2018;19(9):e482-e499.

2.

Federal Emergency Management Agency. Disaster Declarations. 2019; https://www.fema.gov/disasters. Accessed 29 April 2019.

3.

Kishore, N., Marqués, D., Mahmud, A., Kiang, M., Rodriguez, I., Fuller, A., et al. Mortality in Puerto Rico after Hurricane Maria. N Engl J Med 2018;379(2):162-170

4.

Hershman, D.L., Shao, T., Kushi, L.H., Buono, D., Tsai, W., Fehrenbacher, L., et al. Early discontinuation and non-adherence to adjuvant hormonal therapy are associated with increased mortality in women with breast cancer. Breast Cancer Res Treat 2011;126(2):529-537.

5.

Ganesan, P., Sagar, T.G., Dubashi, B., Rajendranath, R., Kannan, K., Cyriac, S,. et al. Nonadherence to imatinib adversely affects event free survival in chronic phase chronic myeloid leukemia. Am J Hematol 2011;86(6):471-474.

6.

Committee on Post-Disaster Recovery of a Community's Public Health M, and Social Services Board on Health Sciences Policy Institute of Medicine. Healthy, Resilient, and Sustainable Communities After Disasters: Strategies, Opportunities, and Planning for Recovery. Washington, DC: National Academy of Sciences; 2015.
Acknowledgments
Research reported in this publication was supported by the National Institute on Aging of the National Institutes of Health under award number K23AG059890.
Ethics declarations
Conflict of Interest
The authors declare that they do not have a conflict of interest.
Disclaimer
The content is solely the responsibility of the authors and does not necessarily represent the official views of the National Institutes of Health.
Additional information
Publisher's Note
Springer Nature remains neutral with regard to jurisdictional claims in published maps and institutional affiliations.
About this article
Cite this article
Bell, S.A., Banerjee, M., Griggs, J.J. et al. The Effect of Exposure to Disaster on Cancer Survival. J GEN INTERN MED 35, 380–382 (2020). https://doi.org/10.1007/s11606-019-05465-x