Abstract
Background
Despite numerous interventions targeting medication adherence in patients with uncontrolled hypertension, practice-based trials in Latino patients are scant.
Objective
To evaluate the effect of a systems-level adherence intervention, delivered by medical assistants (MAs), versus a comparison condition on medication adherence and blood pressure (BP) in 119 hypertensive Latino patients who were initially non-adherent to their antihypertensive medications.
Study Design
Randomized control trial.
Participants
Patients (50% women; mean age, 61 years) were recruited from April 2013 to August 2015 in a community-based practice in New York.
Intervention
Systems-level approach that included an office system component built into the electronic health record and a provider support component consisting of nine MA-delivered health coaching sessions for improving medication adherence. The comparison group received the standard health coaching procedures followed at the clinic.
Main Outcome Measures
The primary outcome was rate of medication adherence measured by an electronic monitoring device (EMD) across 6 months. The secondary outcomes were self-reported medication adherence measured by the eight-item Morisky Medication Adherence Scale (MMAS-8) and BP reduction from baseline to 6 months.
Key Results
Adherence as measure by EMD worsened for both groups (p = 0.04) with no between-group difference (− 9.6% intervention and − 6.6% control, p = 0.66). While systolic BP improved in both groups, the difference between groups was not significant (− 6 mmHg in intervention vs. − 2.7 mmHg in control, p = 0.34). In contrast, the intervention group had a greater improvement in self-reported adherence (mean change 1.98 vs. 1.26, p = 0.03) when measured using the MMAS-8.
Conclusions
Among Latinos with poorly controlled BP who were non-adherent to their antihypertensive medications, a systems-level intervention did not improve adherence as measured by EMD nor blood pressure. However, many patients reported challenges to using the EMD. Improvements in self-reported adherence suggest that this measure captures different aspects of adherence behavior than EMD.
Clinical Trial Registration
NCT03560596
This is a preview of subscription content, log in to check access.
Access options
Buy single article
Instant unlimited access to the full article PDF.
US$ 39.95
Price includes VAT for USA
Subscribe to journal
Immediate online access to all issues from 2019. Subscription will auto renew annually.
US$ 99
This is the net price. Taxes to be calculated in checkout.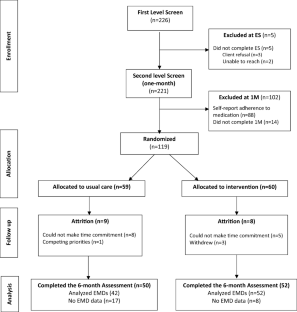 Notes
1.

Due to administrative errors in the clinicaltrials.gov account, the date of record indicates that the trial was registered after the completion of the trial. The original record was created July 17, 2012, and within 2 weeks of receipt of the original funding notice.

2.

Note that this scoring is the reverse of what was published in the protocol paper and reflects the corrected scoring as published by Moriksy and outlined in the license agreement. Reverse scoring the measure had no effect on the study sample.
References
1.

Centers for Disease Control and Prevention. Racial/Ethnic disparities in the awareness, treatment, and control of hypertension - United States, 2003-2010. MMWR Morb Mortal Wkly Rep. 2013;62(18):351-355.

2.

Gu A, Yue Y, Desai RP, Argulian E. Racial and Ethnic Differences in Antihypertensive Medication Use and Blood Pressure Control Among US Adults With Hypertension: The National Health and Nutrition Examination Survey, 2003 to 2012. Circ Cardiovasc Qual Outcomes. 2017;10(1).

3.

Sorlie PD, Allison MA, Aviles-Santa ML, et al. Prevalence of Hypertension, Awareness, Treatment, and Control in the Hispanic Community Health Study/Study of Latinos. Am J Hypertens. 2014; 27:793-800.

4.

Carson AP, Howard G, Burke GL, Shea S, Levitan EB, Muntner P. Ethnic differences in hypertension incidence among middle-aged and older adults: the multi-ethnic study of atherosclerosis. Hypertension (Dallas, Tex : 1979). 2011;57(6):1101-1107.

5.

Guzman NJ. Epidemiology and management of hypertension in the Hispanic population: a review of the available literature. Am J Cardiovasc Drugs 2012;12(3):165-178.

6.

Sudano JJ, Jr., Baker DW. Antihypertensive medication use in Hispanic adults: a comparison with black adults and white adults. Med Care 2001;39(6):575-587.

7.

Raebel MA, Ellis JL, Carroll NM, et al. Characteristics of patients with primary non-adherence to medications for hypertension, diabetes, and lipid disorders. J Gen Intern Med 2012;27(1):57-64.

8.

Ishisaka DY, Jukes T, Romanelli RJ, Wong KS, Schiro TA. Disparities in adherence to and persistence with antihypertensive regimens: an exploratory analysis from a community-based provider network. J Am Soc Hypertens 2012;6(3):201-209.

9.

Rolnick SJ, Pawloski PA, Hedblom BD, Asche SE, Bruzek RJ. Patient characteristics associated with medication adherence. Clin Med Res. 2013 https://doi.org/10.3121/cmr.2013.1113.

10.

Traylor AH, Schmittdiel JA, Uratsu CS, Mangione CM, Subramanian U. Adherence to cardiovascular disease medications: does patient-provider race/ethnicity and language concordance matter? J Gen Intern Med 2010;25(11):1172-1177.

11.

Natarajan S, Santa Ana EJ, Liao Y, Lipsitz SR, McGee DL. Effect of treatment and adherence on ethnic differences in blood pressure control among adults with hypertension. Ann Epidemiol 2009;19(3):172-179.

12.

Lai LL. Community pharmacy-based hypertension disease-management program in a Latino/Hispanic-American population. Consult Pharm 2007;22(5):411-416.

13.

Schoenthaler A, De La Calle F, Barrios-Barrios M, et al. A practice-based randomized controlled trial to improve medication adherence among Latinos with hypertension: study protocol for a randomized controlled trial. Trials. 2015;16(1):290.

14.

Nelson K, Pitaro M, Tzellas A, Lum A. Practice profile. Transforming the role of medical assistants in chronic disease management. Health Aff (Millwood) 2010;29(5):963-965.

15.

Morisky DE, DiMatteo MR. Improving the measurement of self-reported medication nonadherence: response to authors. J Clin Epidemiol 2011;64(3):255-257; discussion 258-263.

16.

Morisky DE, Ang A, Krousel-Wood M, Ward HJ. Predictive validity of a medication adherence measure in an outpatient setting. J Clin Hypertens (Greenwich) 2008;10(5):348-354.

17.

Berlowitz DR, Pajewski NM, Kazis LE. Intensive Blood-Pressure Treatment and Patient-Reported Outcomes. N Engl J Med 2017;377(21):2097.

18.

Bellg AJ, Borrelli B, Resnick B, et al. Enhancing treatment fidelity in health behavior change studies: best practices and recommendations from the NIH Behavior Change Consortium. Health Psychol 2004;23(5):443-451.

19.

Resnick B, Bellg AJ, Borrelli B, et al. Examples of implementation and evaluation of treatment fidelity in the BCC studies: where we are and where we need to go. Ann Behav Med 2005;29 Suppl:46-54.

20.

Meyer D, Leventhal H, Gutmann M. Common-sense models of illness: the example of hypertension. Health Psychol 1985;4(2):115-135.

21.

Baumann LJ, Leventhal H. "I can tell when my blood pressure is up, can't I?". Health Psychol 1985;4(3):203-218.

22.

Leventhal H. The role of theory in the study of adherence to treatment and doctor-patient interactions. Med Care 1985;23(5):556-563.

23.

Leventhal H, Cameron LD. Behavioral theories and the problem of compliance. Patient Educ Couns 1987;10:117-138.

24.

Mann DM, Ponieman D, Leventhal H, Halm EA. Predictors of adherence to diabetes medications: the role of disease and medication beliefs. J Behav Med 2009;32(3):278-284.

25.

Brown SA, Becker HA, Garcia AA, Barton SA, Hanis CL. Measuring health beliefs in Spanish-speaking Mexican Americans with type 2 diabetes: adapting an existing instrument. Res Nurs Health 2002;25(2):145-158.

26.

van Servellen G, Nyamathi A, Carpio F, et al. Effects of a treatment adherence enhancement program on health literacy, patient-provider relationships, and adherence to HAART among low-income HIV-positive Spanish-speaking Latinos. AIDS Patient Care STDs 2005;19(11):745-759.

27.

Ailinger RL, Martyn D, Lasus H, Lima Garcia N. The effect of a cultural intervention on adherence to latent tuberculosis infection therapy in Latino immigrants. Public Health Nurs 2010;27(2):115-120.

28.

Kronish I, Leventhal H, Horowitz CR. Understanding Minority Patients' Beliefs About Hypertension to Reduce Gaps in Communication Between Patients and Clinicians. J Clin Hypertens 2012;14:38-44.

29.

Vrijens B, Vincze G, Kristanto P, Urquhart J, Burnier M. Adherence to prescribed antihypertensive drug treatments: longitudinal study of electronically compiled dosing histories. BMJ. 2008;336(7653):1114-1117.

30.

Bodenheimer T, Laing BY. The teamlet model of primary care. Ann Fam Med 2007;5(5):457-461.

31.

Ogedegbe G, Chaplin W, Schoenthaler A, et al. A practice-based trial of motivational interviewing and adherence in hypertensive African Americans. Am J Hypertens 2008;21(10):1137-1143.

32.

Cohen J.Statistical power analysis for the behavioral sciences. 2nd ed. Hillsdale: Erlbaum; 1988.

33.

Deschamps AE, Van Wijngaerden E, Denhaerynck K, De Geest S, Vandamme A-M. Use of electronic monitoring induces a 40-day intervention effect in HIV patients. J Acquir Immune Defic Syndr 2006;43(2):247-248.

34.

Farmer KC. Methods for measuring and monitoring medication regimen adherence in clinical trials and clinical practice. Clin Ther 1999;21(6):1074-1090; discussion 1073.

35.

Wetzels GE, Nelemans PJ, Schouten JS, van Wijk BL, Prins MH. All that glisters is not gold: a comparison of electronic monitoring versus filled prescriptions--an observational study. BMC Health Serv Res 2006;6:8.

36.

Wetzels GE, Nelemans P, Schouten JS, Prins MH. Facts and fiction of poor compliance as a cause of inadequate blood pressure control: a systematic review. J Hypertens 2004;22(10):1849-1855.

37.

Waeber B, Leonetti G, Kolloch R, McInnes GT. Compliance with aspirin or placebo in the Hypertension Optimal Treatment (HOT) study. J Hypertens 1999;17(7):1041-1045.

38.

Knafl GJ, Schoenthaler A, Ogedegbe G. Secondary analysis of electronically monitored medication adherence data for a cohort of hypertensive African-Americans. Patient Prefer Adherence 2012;6:207-219.

39.

Lam WY, Fresco P. Medication Adherence Measures: An Overview. Biomed Res Int 2015;2015:217047-217047.

40.

Kreys E. Measurements of Medication Adherence: In Search of a Gold Standard. J Clin Pathways 2016;2:43-47.

41.

Thom DH, Willard-Grace R, Hessler D, et al. The impact of health coaching on medication adherence in patients with poorly controlled diabetes, hypertension, and/or hyperlipidemia: a randomized controlled trial. J Am Board Fam Med 2015;28(1):38-45.

42.

Garber MC, Nau DP, Erickson SR, Aikens JE, Lawrence JB. The concordance of self-report with other measures of medication adherence: a summary of the literature. Med Care 2004;42(7):649-652.

43.

Ho PM, Bryson CL, Rumsfeld JS. Medication adherence: its importance in cardiovascular outcomes. Circulation. 2009;119(23):3028-3035.

44.

DiMatteo MR. Variations in patients' adherence to medical recommendations: a quantitative review of 50 years of research. Med Care 2004;42(3):200-209.

45.

Margolius D, Bodenheimer T, Bennett H, et al. Health coaching to improve hypertension treatment in a low-income, minority population. Ann Fam Med 2012;10(3):199-205.

46.

Eisen SA, Miller DK, Woodward RS, Spitznagel E, Przybeck TR. The effect of prescribed daily dose frequency on patient medication compliance. Arch Intern Med 1990;150(9):1881-1884.
Acknowledgments
The authors would like to thank the Health Coaches (Palmira Brown, Cindy Ruiz, Ana Ventura, Jacqueline Camacho, and Luis Carrasco) at Union Health Center for their dedication to this project in the delivery of the intervention. Morisky Widget™, MMAS™, MMAS4™, MMAS-8™, Morisky Medication Adherence Protocol™, and Morisky Medication Adherence Scale™ content, name, and trademarks are protected by U.S. and International Trademark and Copyright laws. Permission for use of the scale and its coding is required. A license agreement is available from Donald E. Morisky, ScD, ScM, MSPH, 14735 NE 20th St Bellevue, WA 98007, USA; dmorisky@gmail.com or Trubow1@gmail.com.
Funding Information
This work was financially supported by grant 12GRNT11670001 from the American Heart Association (PI: Schoenthaler).
Ethics declarations
The study was approved by the NYU Institutional Review Board.
Conflict of Interest
The authors declare that they do not have a conflict of interest
Additional information
Publisher's Note
Springer Nature remains neutral with regard to jurisdictional claims in published maps and institutional affiliations.
About this article
Cite this article
Schoenthaler, A., de la Calle, F., Pitaro, M. et al. A Systems-Level Approach to Improving Medication Adherence in Hypertensive Latinos: a Randomized Control Trial. J GEN INTERN MED 35, 182–189 (2020) doi:10.1007/s11606-019-05419-3
Received:

Revised:

Accepted:

Published:

Issue Date:
KEY WORDS
medication adherence

hypertension

Latino

team care