Abstract
Background
Osteoporosis guidelines recommend pharmacologic therapy based on 10-year risk of major osteoporotic fracture (MOF) and hip fracture, which may fail to account for patient-specific experiences and values.
Objective
We aimed to determine whether patient decisions to initiate osteoporosis medication agree with guideline-recommended intervention thresholds.
Design and Participants
This prospective cohort study included women aged ≥ 45 with age-associated osteoporosis who attended a group osteoporosis self-management consultation at a tertiary osteoporosis center.
Intervention
A group osteoporosis self-management consultation, during which participants received osteoporosis education and then calculated1 their 10-year MOF and hip fracture risk using FRAX and2 their predicted absolute fracture risk with therapy (assuming 40% relative reduction). Participants then made autonomous decisions regarding treatment initiation.
Main Measures
We evaluated agreement between treatment decisions and physician-set intervention thresholds (10-year MOF risk ≥ 20%, hip fracture risk ≥ 3%).
Key Results
Among 85 women (median [IQR] age 62 [58–67]), 27% accepted treatment (median [IQR] MOF risk, 15.1% [9.9–22.0]; hip fracture risk, 3.3% [1.3–5.3]), 46% declined (MOF risk, 9.5% [6.5–11.6]; hip fracture risk, 1.8% [0.6–2.3]), and 27% remained undecided (MOF risk, 14.0% [9.8–20.2]; hip fracture risk, 4.4% [1.7–4.9]). There was wide overlap in fracture risk between treatment acceptors and non-acceptors. Odds of accepting treatment were higher in women with prior fragility fracture (50% accepted; OR, 5.3; 95% CI, 1.9–15.2; p = 0.0015) and with hip fracture risk ≥ 3% (32% accepted; OR, 3.6; 95% CI, 1.4–9.2; p = 0.012), but not MOF risk ≥ 20% (47% accepted; OR, 3.0; 95% CI, 1.0–8.5; p = 0.105).
Conclusions
Informed decisions to start osteoporosis treatment are highly personal and not easily predicted using fracture risk. Guideline-recommended intervention thresholds may not permit sufficient consideration of patient preferences.
This is a preview of subscription content, log in to check access.
Access options
Buy single article
Instant unlimited access to the full article PDF.
US$ 39.95
Price includes VAT for USA
Subscribe to journal
Immediate online access to all issues from 2019. Subscription will auto renew annually.
US$ 99
This is the net price. Taxes to be calculated in checkout.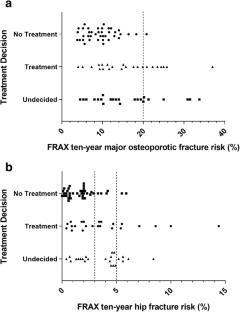 References
1.

Ubel PA. Medical Facts versus Value Judgements - Toward Preference-Sensitive Guidelines. N Engl J Med. 2015;372(26). https://doi.org/10.1056/NEJMp1504245

2.

Woolf SH, Grol R, Hutchinson A, Eccles M, Grimshaw J. Clinical guidelines: potential benefits, limitations, and harms of clinical guidelines. BMJ. 1999;318(7182):527-30. https://doi.org/10.1136/bmj.318.7182.527

3.

Papaioannou A, Morin S, Cheung AM, Atkinson S, Brown JP, Feldman S, et al. 2010 clinical practice guidelines for the diagnosis and management of osteoporosis in Canada: summary. CMAJ. 2010;182(17):1864-73. https://doi.org/10.1503/cmaj.100771

4.

Cosman F, de Beur SJ, LeBoff MS, Lewiecki EM, Tanner B, Randall S, et al. Clinician's Guide to Prevention and Treatment of Osteoporosis. Osteoporos Int 2014;25(10):2359-81. https://doi.org/10.1007/s00198-014-2794-2

5.

Reid IR. Efficacy, effectiveness and side effects of medications used to prevent fractures. J Intern Med 2015;277(6):690-706. https://doi.org/10.1111/joim.12339

6.

Leslie WD, Giangregorio LM, Yogendran M, Azimaee M, Morin S, Metge C, et al. A population-based analysis of the post-fracture care gap 1996-2008: the situation is not improving. Osteoporos Int 2012;23(5):1623-9. https://doi.org/10.1007/s00198-011-1630-1

7.

Kanis JA, Borgstrom F, Compston J, Dreinhofer K, Nolte E, Jonsson L, et al. SCOPE: a scorecard for osteoporosis in Europe. Arch Osteoporos 2013;8:144. https://doi.org/10.1007/s11657-013-0144-1

8.

Solomon DH, Johnston SS, Boytsov NN, McMorrow D, Lane JM, Krohn KD. Osteoporosis medication use after hip fracture in U.S. patients between 2002 and 2011. J Bone Miner Res 2014;29(9):1929-37. https://doi.org/10.1002/jbmr.2202

9.

Siris ES, Harris ST, Rosen CJ, Barr CE, Arvesen JN, Abbott TA, et al. Adherence to bisphosphonate therapy and fracture rates in osteoporotic women: relationship to vertebral and nonvertebral fractures from 2 US claims databases. Mayo Clin Proc 2006;81(8):1013-22. https://doi.org/10.4065/81.8.1013

10.

Burden AM, Paterson JM, Solomon DH, Mamdani M, Juurlink DN, Cadarette SM. Bisphosphonate prescribing, persistence and cumulative exposure in Ontario, Canada. Osteoporos Int 2012;23(3):1075-82. https://doi.org/10.1007/s00198-011-1645-7

11.

Modi A, Sajjan S, Insinga R, Weaver J, Lewiecki EM, Harris ST. Frequency of discontinuation of injectable osteoporosis therapies in US patients over 2 years. Osteoporos Int 2017;28(4):1355-63. https://doi.org/10.1007/s00198-016-3886-y

12.

Naderi SH, Bestwick JP, Wald DS. Adherence to drugs that prevent cardiovascular disease: meta-analysis on 376,162 patients. Am J Med 2012;125(9):882-7 e1. https://doi.org/10.1016/j.amjmed.2011.12.013

13.

Chapman RH, Benner JS, Petrilla AA, Tierce JC, Collins SR, Battleman DS, et al. Predictors of adherence with antihypertensive and lipid-lowering therapy. Arch Intern Med 2005;165(10):1147-52. https://doi.org/10.1001/archinte.165.10.1147

14.

Bungard TJ, Ghali WA, Teo KK, McAlister FA, Tsuyuki RT. Why Do Patients With Atrial Fibrillation Not Receive Warfarin? Arch Intern Med 2000;160(1):41. https://doi.org/10.1001/archinte.160.1.41

15.

Montgomery AA, Harding J, Fahey T. Shared decision making in hypertension: the impact of patient preferences on treatment choice. Fam Pract 2001;18(3):309-13.

16.

McAlister FA, Connor AM, Wells G, Grover SA, Laupacis A. When should hypertension be treated? The different perspectives of Canadian family physicians and patients. Can Med Assoc J 2000;163(4):403.

17.

Steel N. Thresholds for taking antihypertensive drugs in different professional and lay groups: questionnaire survey. Bmj. 2000;320(7247):1446-7. https://doi.org/10.1136/bmj.320.7247.1446

18.

Neuner JM, Schapira MM. The importance of physicians' risk perception in osteoporosis treatment decision making. J Clin Densitom 2012;15(1):49-54. https://doi.org/10.1016/j.jocd.2011.07.008

19.

Hall SF, Edmonds SW, Lou Y, Cram P, Roblin DW, Saag KG, et al. Patient-reported reasons for nonadherence to recommended osteoporosis pharmacotherapy. J Am Pharm Assoc (2003). 2017;57(4):503-9. https://doi.org/10.1016/j.japh.2017.05.003

20.

Lindsay BR, Olufade T, Bauer J, Babrowicz J, Hahn R. Patient-reported barriers to osteoporosis therapy. Arch Osteoporos 2016;11(1):1-8.

21.

Sinsky CA, Foreman-Hoffman V, Cram P. The impact of expressions of treatment efficacy and out-of-pocket expenses on patient and physician interest in osteoporosis treatment: implications for pay-for-performance programs. J Gen Intern Med 2008;23(2):164-8. https://doi.org/10.1007/s11606-007-0490-z

22.

Kalluru R, Petrie KJ, Grey A, Nisa Z, Horne AM, Gamble GD, et al. Randomised trial assessing the impact of framing of fracture risk and osteoporosis treatment benefits in patients undergoing bone densitometry. BMJ Open 2017;7(2):e013703. https://doi.org/10.1136/bmjopen-2016-013703

23.

Wouters H, Van Dijk L, Van Geffen EC, Geers HC, Souverein PC, Bouvy ML, et al. Do the benefits of statins outweigh their drawbacks? Assessing patients' trade-off preferences with conjoint analysis. Int J Cardiol 2014;176(3):1220-2. https://doi.org/10.1016/j.ijcard.2014.07.219

24.

Winzenberg TM, Oldenburg B, Frendin S, Jones G. The design of a valid and reliable questionnaire to measure osteoporosis knowledge in women: the Osteoporosis Knowledge Assessment Tool (OKAT). BMC Musculoskelet Disord 2003;4:17. https://doi.org/10.1186/1471-2474-4-17

25.

Khosla S, Shane E. A Crisis in the Treatment of Osteoporosis. J Bone Miner Res 2016;31(8):1485-7. https://doi.org/10.1002/jbmr.2888

26.

Majumdar SR, Lier DA, Hanley DA, Juby AG, Beaupre LA, Team S-P. Economic evaluation of a population-based osteoporosis intervention for outpatients with non-traumatic non-hip fractures: the "Catch a Break" 1i [type C] FLS. Osteoporos Int 2017;28(6):1965-77. https://doi.org/10.1007/s00198-017-3986-3

27.

Danila MI, Outman RC, Rahn EJ, Mudano AS, Redden DT, Li P, et al. Evaluation of a Multimodal, Direct-to-Patient Educational Intervention Targeting Barriers to Osteoporosis Care: A Randomized Clinical Trial. J Bone Miner Res 2018;33(5):763-72. https://doi.org/10.1002/jbmr.3395

28.

Cram P, Wolinsky FD, Lou Y, Edmonds SW, Hall SF, Roblin DW, et al. Patient-activation and guideline-concordant pharmacological treatment after bone density testing: the PAADRN randomized controlled trial. Osteoporos Int 2016;27(12):3513-24. https://doi.org/10.1007/s00198-016-3681-9

29.

Montori VM, Shah ND, Pencille LJ, Branda ME, Van Houten HK, Swiglo BA, et al. Use of a decision aid to improve treatment decisions in osteoporosis: the osteoporosis choice randomized trial. Am J Med 2011;124(6):549-56. https://doi.org/10.1016/j.amjmed.2011.01.013

30.

Fraenkel L, McGraw S. Participation in medical decision making: the patients' perspective. Med Decis Mak 2007;27(5):533-8. https://doi.org/10.1177/0272989X07306784

31.

Wozniak LA, Johnson JA, McAlister FA, Beaupre LA, Bellerose D, Rowe BH, et al. Understanding fragility fracture patients' decision-making process regarding bisphosphonate treatment. Osteoporos Int 2017;28(1):219-29. https://doi.org/10.1007/s00198-016-3693-5

32.

Scoville EA, Ponce de Leon Lovaton P, Shah ND, Pencille LJ, Montori VM. Why do women reject bisphosphonates for osteoporosis? A videographic study. PLoS One. 2011;6(4):e18468. https://doi.org/10.1371/journal.pone.0018468

33.

Fenton JJ, Robbins JA, Amarnath AD, Franks P. Osteoporosis overtreatment in a regional health care system. JAMA Intern Med 2016;176(3):391-3. https://doi.org/10.1001/jamainternmed.2015.6020
Ethics declarations
Informed consent was obtained from all participants prior to study enrollment, and the study received approval from the local Health Research Ethics Board.
Conflict of Interest
EOB reports receiving honoraria from Eli Lilly and Amgen for serving on their Scientific Advisory Boards, and has received research funding from Amgen. All remaining authors declare that they do not have a conflict of interest.
Additional information
Publisher's Note
Springer Nature remains neutral with regard to jurisdictional claims in published maps and institutional affiliations.
Electronic Supplementary Materials
About this article
Cite this article
Billington, E.O., Feasel, A.L. & Kline, G.A. At Odds About the Odds: Women's Choices to Accept Osteoporosis Medications Do Not Closely Agree with Physician-Set Treatment Thresholds. J GEN INTERN MED 35, 276–282 (2020) doi:10.1007/s11606-019-05384-x
Received:

Revised:

Accepted:

Published:

Issue Date:
KEY WORDS
osteoporosis

fracture

bisphosphonates

shared decision-making

patient preference

patient education