Abstract
Background
Premature mortality observed among the mentally ill is largely attributable to chronic illnesses. Veterans seen within Veterans Affairs (VA) have a higher prevalence of mental illness than the general population but there is limited investigation into the common causes of death of Veterans with mental illnesses.
Objective
To characterize the life expectancy of mentally ill Veterans seen in VA primary care, and to determine the most death rates of combinations of mental illnesses.
Design
Retrospective cohort study of decedents.
Setting/Participants
Veterans seen in VA primary care clinics between 2000 and 2011 were included. Records from the VA Corporate Data Warehouse (CDW) were merged with death information from the National Death Index.
Main Measures
Mental illnesses were determined using ICD9 codes. Direct standardization methods were used to calculate age-adjusted gender and cause-specific death rates per 1000 deaths for patients with and without depression, anxiety, post-traumatic stress disorder (PTSD), substance use disorder (SUD), serious mental illness (SMI), and combinations of those diagnoses.
Key Results
Of the 1,763,982 death records for Veterans with 1 + primary care visit, 556,489 had at least one mental illness. Heart disease and cancer were the two leading causes of death among Veterans with or without a mental illness, accounting for approximately 1 in 4 deaths. Those with SUD (n = 204,950) had the lowest mean age at time of death (64 ± 12 years). Among men, the death rates were as follows: SUD (55.9/1000); anxiety (49.1/1000); depression (45.1/1000); SMI (40.3/1000); and PTSD (26.2/1000). Among women, death rates were as follows: SUD (55.8/1000); anxiety (36.7/1000); depression (45.1/1000); SMI (32.6/1000); and PTSD (23.1/1000 deaths). Compared to men (10.8/1000) and women (8.7/1000) without a mental illness, these rates were multiple-fold higher in men and in women with a mental illness. A greater number of mental illness diagnoses was associated with higher death rates among men and women (p < 0.0001).
Conclusions
Veterans with mental illnesses, particularly those with SUD, and those with multiple diagnoses, had shorter life expectancy than those without a mental illness. Future studies should examine both patient and systemic sources of disparities in providing chronic illness care to Veterans with a mental illness.
This is a preview of subscription content, log in to check access.
Access options
Buy single article
Instant unlimited access to the full article PDF.
US$ 39.95
Price includes VAT for USA
Subscribe to journal
Immediate online access to all issues from 2019. Subscription will auto renew annually.
US$ 99
This is the net price. Taxes to be calculated in checkout.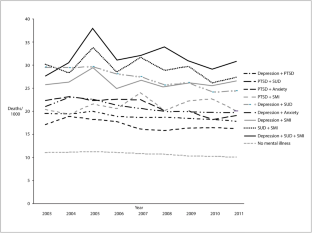 References
1.

Druss BG, Zhao L, Von Esenwein S, Morrato EH, Marcus SC. Understanding Excess Mortality in Persons with Mental Illness: 17-year Follow Up of a Nationally Representative US Survey. Med Care 2011;49(6):599-604.

2.

Walker ER, McGee RE, Druss BG. Mortality in mental disorders and global disease burden implications: a systematic review and meta-analysis. JAMA Psychiat 2015;72(4):334-341.

3.

Newcomer JW, Hennekens CH. Severe Mental Illness and Risk of Cardiovascular Disease. JAMA. 2007;298(15):1794-1796.

4.

Olfson M, Ascher-Svanum H, Faries DE, Marcus SC. Predicting Psychiatric Hospital Admission Among Adults with Schizophrenia. Psychiatr Serv 2011;62(10):1138-1145.

5.

Druss BG, Walker ER. Mental Disorders and Medical Comorbidity. The Synthesis project Research Synthesis Report 2011;(21):1-26.

6.

Pratt LA, Druss BG, Manderscheid RW, Walker ER. Excess mortality due to depression and anxiety in the United States: results from a nationally representative survey. Gen Hosp Psychiatry 2016;39:39-45.

7.

Trivedi RB, Post EP, Sun H, et al. Prevalence, Comorbidity, and Prognosis of Mental Health Among US Veterans. Am J Public Health 2015;105(12):2564-2569.

8.

Case A, Deaton A. Rising morbidity and mortality in midlife among white non-Hispanic Americans in the 21st century. Proc Natl Acad Sci U S A 2015;112(49):15078-15083.

9.

Kilbourne AM, Morden NE, Austin K, et al. Excess heart-disease-related mortality in a national study of patients with mental disorders: identifying modifiable risk factors. Gen Hosp Psychiatry 2009;31(6):555-563.

10.

Hoerster KD, Lehavot K, Simpson T, McFall M, Reiber G, Nelson KM. Health and Health Behavior Differences: U.S. Military, Veteran, and Civilian Men: Am J Prev Med 2012;43(5):483-489.

11.

Zivin K, Yosef M, Miller EM, et al. Associations between depression and all-cause and cause-specific risk of death: a retrospective cohort study in the Veterans Health Administration. J Psychosom Res 2015;78(4):324-331.

12.

Rosland AM, Nelson K, Sun H, et al. The patient-centered medical home in the Veterans Health Administration. Am J Manag Care 2013;19(7):e263-272.

13.

CDW (n.d.) Corporate Data Warehouse. In: Department of Veterans Affairs.

14.

Kim HM, Smith EG, Stano CM, et al. Validation of key behaviourally based mental health diagnoses in administrative data: suicide attempt, alcohol abuse, illicit drug abuse and tobacco use. BMC Health Serv Res 2012;12:18.

15.

VIReC. Mortality Data. In: Department of Veterans Affairs. https://vaww.virec.research.va.gov/Index.htm. Accessed 11 Sept 2019.

16.

Bossarte R. An overview of VA/DoD joint mortality data repository and data from studies conducted by the epidemiology program in VA's office of public health. In: VIReC Cyberseminar Archive. 2016.

17.

Lee J, Kresina TF, Campopiano M, Lubran R, Clark HW. Use of Pharmacotherapies in the Treatment of Alcohol Use Disorders and Opioid Dependence in Primary Care. Biomed Res Int 2015;2015:137020.

18.

Boggs JM, Simon GE, Ahmedani BK, Peterson E, Hubley S, Beck A. The Association of Firearm Suicide With Mental Illness, Substance Use Conditions, and Previous Suicide Attempts. Ann Intern Med 2017;167(4):287-288.

19.

Olfson M, Gerhard T, Huang C, Crystal S, Stroup TS. Premature Mortality Among Adults with Schizophrenia in the United States. JAMA Psychiat 2015;72(12):1172-1181.

20.

Gierisch JM, Nieuwsma JA, Bradford DW, et al. Pharmacologic and behavioral interventions to improve cardiovascular risk factors in adults with serious mental illness: a systematic review and meta-analysis. J Clin Psychiatry 2014;75(5):e424-440.

21.

Zivin K, Pfeiffer PN, Szymanski BR, et al. Initiation of Primary Care-Mental Health Integration programs in the VA Health System: associations with psychiatric diagnoses in primary care. Med Care 2010;48(9):843-851.
Acknowledgments
Dr. Trivedi was supported by a VA HSR&D CDA.
Funding Information:
This work was financially supported by the VA National Primary Care Analytic and Evaluation Unit.
Ethics declarations
Disclaimer
The views expressed herein are those of the authors and do not reflect those of the Department of Veterans Affairs.
Conflict of Interest
The authors declare that they do not have a conflict of interest.
Additional information
Publisher's Note
Springer Nature remains neutral with regard to jurisdictional claims in published maps and institutional affiliations.
Electronic Supplementary Material
About this article
Cite this article
Trivedi, R.B., Post, E.P., Piegari, R. et al. Mortality Among Veterans with Major Mental Illnesses Seen in Primary Care: Results of a National Study of Veteran Deaths. J GEN INTERN MED 35, 112–118 (2020) doi:10.1007/s11606-019-05307-w
Received:

Revised:

Accepted:

Published:

Issue Date:
KEY WORDS
mental disorders

cause of death

Veterans

primary care medical home