Abstract
Background
Programs for high-need, high-cost (HNHC) patients can improve care and reduce costs. However, it may be challenging to implement these programs in rural and underserved areas, in part due to limited access to specialty consultation.
Aim
Evaluate the feasibility of using the Extension for Community Health Outcomes (ECHO) model to provide specialist input to outpatient intensivist teams (OITs) dedicated to caring for HNHC patients.
Setting
Weekly group videoconferencing sessions that connect multidisciplinary specialists with OITs.
Participants
Six OITs across New Mexico, typically consisting of a nurse practitioner or physician assistant, a registered nurse, a counselor or social worker, and at least one community health worker.
Program Description
OITs and specialists participated in weekly teleECHO sessions focused on providing the OITs with case-based mentoring and support.
Program Evaluation
OITs and specialists discussed 427 highly complex patient cases, many of which had social or behavioral health components to address. In 70% of presented cases, the teams changed their care plan for the patient, and 87% reported that they applied what they learned in hearing case presentations to other HNHC patients.
Discussion
Pairing the ECHO model with intensive outpatient care is a feasible strategy to support OITs to provide high-quality care for HNHC patients.
This is a preview of subscription content, log in to check access.
Access options
Buy single article
Instant unlimited access to the full article PDF.
US$ 39.95
Price includes VAT for USA
Subscribe to journal
Immediate online access to all issues from 2019. Subscription will auto renew annually.
US$ 99
This is the net price. Taxes to be calculated in checkout.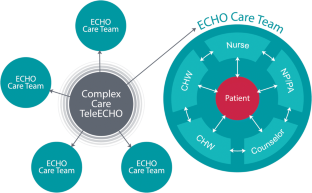 References
1.

Hamblin A, Somers SA. Introduction to Medicaid Care Management Best Practices. Hamilton, NJ: Center for Health Care Strategies, Inc.; 2011. Retrieved from: https://www.chcs.org/resource/introduction-to-medicaid-care-management-best-practices/ on 20 Mar 2019.

2.

Hochman M, Asch SM. Disruptive Models in Primary Care: Caring for High-Needs, High-Cost Populations. J Gen Intern Med 2017;32(4):392–397. https://doi.org/10.1007/s11606-016-3945-2

3.

Blumenthal D, Chernof B, Fulmer T, Lumpkin J, Selberg J. Caring for High-Need, High-Cost Patients — An Urgent Priority. N Engl J Med 2016;375(10):909–911. https://doi.org/10.1056/NEJMp1608511

4.

Bodenheimer T. Strategies to Reduce Costs and Improve Care for High-Utilizing Medicaid Patients: Reflections on Pioneering Programs. Center for Health Care Strategies; 2013:1–24. http://www.chcs.org/media/HighUtilizerReport_102413_Final3.pdf. Retrieved on 5 May 2017.

5.

Rich E, Lipson D, Libersky J, Parchman M. Coordinating Care for Adults with Complex Care Needs in the Patient-Centered Medical Home: Challenges and Solutions. Rockville, MD: Agency for Healthcare Research and Quality; 2012. https://pcmh.ahrq.gov/sites/default/files/attachments/coordinating-care-for-adults-with-complex-care-needs-white-paper.pdf. Retrieved on 5 March 2018.

6.

Loeb DF, Bayliss EA, Binswanger IA, Candrian C, deGruy FV. Primary Care Physician Perceptions on Caring for Complex Patients with Medical and Mental Illness. J Gen Intern Med 2012;27(8):945–952. https://doi.org/10.1007/s11606-012-2005-9

7.

Loeb DF, Bayliss EA, Candrian C, deGruy FV, Binswanger IA. Primary care providers' experiences caring for complex patients in primary care: a qualitative study. BMC Fam Pract 2016;17. https://doi.org/10.1186/s12875-016-0433-z

8.

Fiscella K, Epstein RM. So Much to Do, So Little Time: Care for the Socially Disadvantaged and the 15-Minute Visit. Arch Intern Med 2008;168(17):1843–1852. https://doi.org/10.1001/archinte.168.17.1843

9.

Health Care's Blind Side: Unmet Social Needs Leading To Worse Health. RWJF. https://www.rwjf.org/en/library/articles-and-news/2011/12/health-cares-blind-side-unmet-social-needs-leading-to-worse-heal.html. Published December 7, 2011. Retrieved on 13 Nov 2018.

10.

Arora S, Kalishman S, Dion D, et al. Partnering Urban Academic Medical Centers And Rural Primary Care Clinicians To Provide Complex Chronic Disease Care. Health Aff (Millwood) 2011;30(6):1176–1184. https://doi.org/10.1377/hlthaff.2011.0278

11.

Arora S, Kalishman S, Dion D, et al. Knowledge Networks for Treating Complex Diseases in Remote, Rural, and Underserved Communities. In: Mc Kee A, Eraut M, eds. Learning Trajectories, Innovation and Identity for Professional Development. Dordrecht: Springer Netherlands; 2012:47–70. https://doi.org/10.1007/978-94-007-1724-4_3

12.

Arora S, Thornton K, Murata G, et al. Outcomes of treatment for hepatitis C virus infection by primary care providers. N Engl J Med 2011;364(23):2199–2207. http://www.nejm.org/doi/full/10.1056/Nejmoa1009370. Accessed 18 Apr 2017.

13.

Komaromy M, Duhigg D, Metcalf A, et al. Project ECHO (Extension for Community Healthcare Outcomes): A new model for educating primary care providers about treatment of substance use disorders. Subst Abus 2016;37(1):20–24. https://doi.org/10.1080/08897077.2015.1129388

14.

Katzman JG, Comerci G, Boyle JF, et al. Innovative Telementoring for Pain Management: Project ECHO Pain. J Contin Educ Heal Prof 2014;34(1):68–75. https://doi.org/10.1002/chp.21210

15.

Hong CS, Siegel AL, Ferris TG. Caring for high-need, high-cost patients: what makes for a successful care management program. Issue Brief (Commonw Fund). 2014;19(1):9. https://www.communitycarenc.org/elements/media/publications/caring-for-high-need-high-cost-patients-what-makes.pdf. Accessed 8 May 2017.

16.

Bates DW, Saria S, Ohno-Machado L, Shah A, Escobar G. Big Data In Health Care: Using Analytics To Identify And Manage High-Risk And High-Cost Patients. Health Aff (Millwood) 2014;33(7):1123–1131. https://doi.org/10.1377/hlthaff.2014.0041

17.

Raven MC, Kushel M, Ko MJ, Penko J, Bindman AB. The Effectiveness of Emergency Department Visit Reduction Programs: A Systematic Review. Ann Emerg Med 2016;68(4):467–483.e15. https://doi.org/10.1016/j.annemergmed.2016.04.015

18.

Davis R. Using a Cost and Utilization Lens to Evaluate Programs Serving Complex Populations: Benefits and Limitations. Center for Health Care Strategies, Inc.; 2017. https://www.chcs.org/resource/using-cost-utilization-lens-evaluate-programs-serving-complex-populations-benefits-limitations/. Accessed 30 Mar 2018.

19.

Komaromy M, Bartlett J, Zurawski A, et al. A Novel Intervention for High-Need, High-Cost Medicaid Patients: A Study of ECHO Care. J Gen Intern Med. 2018;Under revision.

20.

Clarke JL, Bourn S, Skoufalos A, Beck EH, Castillo DJ. An Innovative Approach to Health Care Delivery for Patients with Chronic Conditions. Popul Health Manag 2017;20(1):23–30. https://doi.org/10.1089/pop.2016.0076
Acknowledgments
The authors would like to acknowledge Chris Ruge CNP, Devon Neale MD, and all OIT members and specialists; Jennifer Snead PhD, ECHO Institute; Mark Larson, Center for Healthcare Strategies; Nancy Smith Leslie, the NM State Medicaid Director; and the NM Medicaid MCOs.
Funding Information
This work was financially supported by the US Department of Health and Human Services (HHS), Centers for Medicare & Medicaid Services (Grant Number 1C1CMS330973-01-00).
Ethics declarations
Conflict of Interest
The authors declare that they do not have a conflict of interest.
Disclaimer
The content of this article is solely the responsibility of the authors and does not necessarily represent the official views of the US HHS or any of its agencies. The research presented was conducted by the awardee. Findings may or may not be consistent with or confirmed by the findings of the independent evaluation contractor.
Additional information
Publisher's Note
Springer Nature remains neutral with regard to jurisdictional claims in published maps and institutional affiliations.
Electronic Supplementary Material
About this article
Cite this article
Komaromy, M., Bartlett, J., Zurawski, A. et al. ECHO Care: Providing Multidisciplinary Specialty Expertise to Support the Care of Complex Patients. J GEN INTERN MED 35, 326–330 (2020) doi:10.1007/s11606-019-05205-1
Received:

Revised:

Accepted:

Published:

Issue Date:
KEY WORDS
ECHO model

continuing medical education

case-based learning

complex care

high-need, high-cost patients