Addressing social determinants of health in an ambulatory setting: quasi-experimental controlled study of a curricular intervention for residents
INTRODUCTION
Academic medical centers in the USA disproportionately care for low-income populations.1 Although several medical organizations now recommend social determinants of health (SDH) curricula be incorporated into internal medicine (IM) residency training, programs have been slow to respond.2–4 While models screening for SDH in adult-care settings have been described,5 there have been no published trials of SDH education targeting IM residents. We implemented a pilot SDH educational intervention to improve resident knowledge, confidence, and ability to address patients' unmet social needs.
METHODS
We conducted this study in two outpatient clinics at Montefiore Medical Center (Bronx, NY). All second-year (PGY2) IM residents (
N
 = 38) participated in the curriculum from September 2015 through April 2016 (Fig.
1
). Third-year (PGY3) IM residents served as a control group. Albert Einstein College of Medicine IRB approved this study.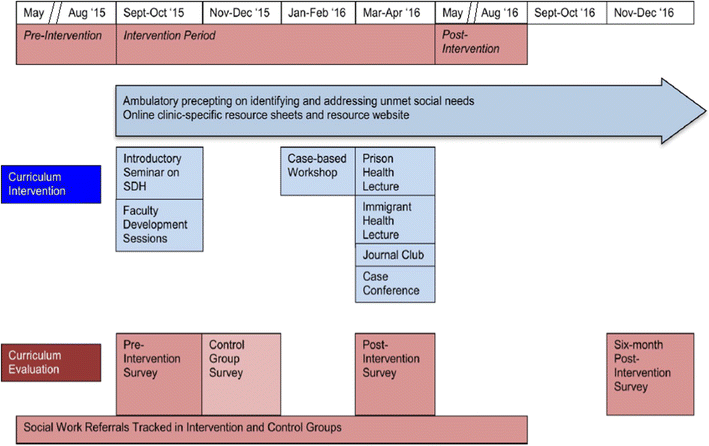 KEY WORDS
Social determinants of health 
Residency curriculum 
Internal medicine 
Notes
Acknowledgements
We would like to thank Carla Spagnoletti, MD, MS, for her invaluable feedback and assistance editing this manuscript. We would also like to thank Mike Elnicki, MD; Julia Fleming, MD; Asha Isable, MD; Jon Giftos, MD; Brian Dorsey, MD; and Maritza Casillas, LSW, for their feedback and contributions to this study.
Prior Presentations: This study was presented in part at the Society of General Internal Medicine Conference April 2017, Beyond Flexner Conference September 2016, and Society of General Internal Medicine Conference May 2016.
Compliance with ethical standards
Albert Einstein College of Medicine IRB approved this study.
Conflict of interest
The authors declare that they do not have a conflict of interest.
Copyright information
© Society of General Internal Medicine 2018