An Unusual Cause of Horner Syndrome
KEY WORDS
clinical image 
hospital medicine 
infectious disease 
A 24-year-old man presented with 6 months of progressive left shoulder pain with associated fever, weight loss, and left hand paresthesia. He had left eye miosis and partial ptosis (Fig. 
1
). Computed tomography of his chest demonstrated an 8.6 × 5.9 × 5.6 cm soft tissue mass eroding the T1–T3 vertebral bodies, with compression of his spinal cord and anterior mediastinal structures (Fig. 
2
). Biopsy revealed granulomatous inflammation with broad-based budding yeast consistent with blastomycosis. Treatment included C5–T6 fusion, 14 days of liposomal amphotericin B, and 6 months of outpatient itraconazole. His fever and left shoulder pain resolved.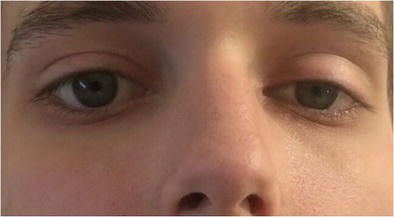 Blastomyces dermatitidis is a fungus endemic to the Mississippi and Ohio River valleys. Inhalation causes primary pulmonary infection, often followed by hematogenous spread to extrapulmonary sites, most commonly skin or bone.1 Osteomyelitis usually involves the vertebra, pelvis, and sacrum.1 The classic radiographic finding in osseous blastomycosis is a well-circumscribed osteolytic lesion with fronts of bone resorption surrounded by a periosteal reaction and remodeling.2, 3 Neurologic manifestations of blastomycosis include meningitis and epidural abscess, and occur in less than 5% of patients.4 Treatment typically involves induction therapy with amphotericin B, followed by 6–12 months of itraconazole.5
Notes
Acknowledgements
Drs. Larkin and Gray were the sole contributors to this manuscript. No funding or financial support was received. This work has not been presented at a conference to date.
Compliance with Ethical Standards
Conflict of Interest
The authors declare that they do not have a conflict of interest.
Copyright information
© Society of General Internal Medicine 2018