Purpura Fulminans in Acute Meningococcemia
Clinical Practice: Clinical Images
KEY WORDS
Purpura fulminans 
Acute meningococcemia 
Critical care medicine 
CLINICAL DESCRIPTION
A 22-year-old woman presented with a 3-day history of fever, vomiting and headache. She denied sore throat, cough, dyspnea or burning urination. On examination, her temperature was 100.5°F, her blood pressure was 95/50 mmHg and her pulse was 112 beats/min. She was acutely ill appearing and lethargic. Examination of her hands and feet are shown in Figures 
1
and
2
, respectively. Coagulation profiles were consistent with disseminated intravascular coagulopathy. She was treated for septic shock with normal saline, broad-spectrum antibiotics and protein C concentrate. She was intubated and required hemodynamic support with vasopressors. Over the next several days she gradually improved. Blood and cerebrospinal fluid (CSF) cultures grew
Neisseria meningitidis
.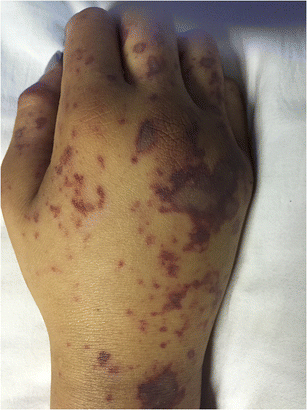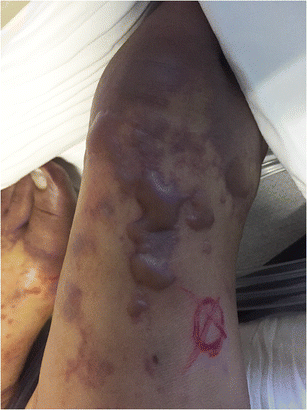 Purpura fulminans (PF) is a severe cutaneous complication of acute meningococcemia. It is characterized by cutaneous hemorrhage and necrosis due to vascular thrombosis of dermis and disseminated intravascular coagulopathy.1 PF is considered an important predictor of poor outcomes following meningococcal infection.1 Acquired severe protein C deficiency in meningococcemia is thought to play an important role in the pathogenesis of PF.2 There are no definitive treatments for PF; however, protein C concentrate, heparin and hemodiafiltration may improve clinical outcome and mortality in patients with acute meningococcemia.2
Notes
Acknowledgments
Contributors
We have no additional contributors other than those listed as Authors.
Compliance with Ethical Standards
Funders
We have no funding sources to declare.
Prior Presentations
This Clinical Image has never been presented at a conference or accepted for publication by another journal or institution.
Conflict of Interest
The authors declare that they do not have a conflict of interest.
References
1.

Darmstadt GL.

Acute infectious purpura fulminans: pathogenesis and medical management. Pediatr Dermatol. 1998;15(3):169–83.

CrossRef

PubMed

Google Scholar

2.

Smith OP, White B, Vaughan D, et al.

Use of protein-C concentrate, heparin, and haemodiafiltration in meningococcus-induced purpura fulminans. Lancet. 1997;350(9091):1590–3.

CrossRef

PubMed

Google Scholar
Copyright information
© Society of General Internal Medicine 2017