A Cluster Randomized Trial of Interventions to Improve Work Conditions and Clinician Burnout in Primary Care: Results from the Healthy Work Place (HWP) Study
ABSTRACT
BACKGROUND
Work conditions in primary care are associated with physician burnout and lower quality of care.
OBJECTIVE
We aimed to assess if improvements in work conditions improve clinician stress and burnout.
SUBJECTS
Primary care clinicians at 34 clinics in the upper Midwest and New York City participated in the study.
STUDY DESIGN
This was a cluster randomized controlled trial.
MEASURES
Work conditions, such as time pressure, workplace chaos, and work control, as well as clinician outcomes, were measured at baseline and at 12–18 months. A brief worklife and work conditions summary measure was provided to staff and clinicians at intervention sites.
INTERVENTIONS
Diverse interventions were grouped into three categories: 1) improved communication; 2) changes in workflow, and 3) targeted quality improvement (QI) projects.
ANALYSIS
Multilevel regressions assessed impact of worklife data and interventions on clinician outcomes. A multilevel analysis then looked at clinicians whose outcome scores improved and determined types of interventions associated with improvement.
RESULTS
Of 166 clinicians, 135 (81.3 %) completed the study. While there was no group treatment effect of baseline data on clinician outcomes, more intervention clinicians showed improvements in burnout (21.8 % vs 7.1 % less burned out, p = 0.01) and satisfaction (23.1 % vs 10.0 % more satisfied, p = 0.04). Burnout was more likely to improve with workflow interventions [Odds Ratio (OR) of improvement in burnout 5.9, p = 0.02], and with targeted QI projects than in controls (OR 4.8, p = 0.02). Interventions in communication or workflow led to greater improvements in clinician satisfaction (OR 3.1, p = 0.04), and showed a trend toward greater improvement in intention to leave (OR 4.2, p = 0.06).
LIMITATIONS
We used heterogeneous intervention types, and were uncertain how well interventions were instituted.
CONCLUSIONS
Organizations may be able to improve burnout, dissatisfaction and retention by addressing communication and workflow, and initiating QI projects targeting clinician concerns.
KEY WORDS
burnout 
primary care 
quality improvement 
work conditions 
INTRODUCTION
The context in which primary care is delivered is rarely evaluated as part of quality improvement initiatives or research studies. Often overlooked is the role of work conditions perceived by health care clinicians and the potential impact on clinicians and patients.1 A robust primary care workforce is needed in the wake of health care reform and the predicted marked increase in patients seeking primary care clinicians.2 Unfortunately, little attention has been paid to whether the US will be able to retain and recruit primary care clinicians impacted, in part, by the perception of work conditions expressed by current primary care practitioners.3
In the Physician Worklife Study (PWS) in 1996–2000, we demonstrated a high prevalence of stress and burnout, especially among women physicians and those who practiced primary care. We also showed that adverse work conditions were associated with an intention to leave the practice and perceptions of suboptimal patient care.1,4,5 The MEMO study (Minimizing Error, Maximizing Outcome) in 2001–2005 showed that work conditions in primary care were strongly associated with adverse physician outcomes, such as stress, burnout, dissatisfaction and intent to leave.6 MEMO also demonstrated that some patient outcomes were sensitive to primary care work conditions.6 Recent articles have called attention to the potential impact of physician burnout,7, 8, 9, 10 and of the adverse consequences of electronic health records for busy clinicians.11,12 We devised the current study (Healthy Work Place study, or HWP) to test whether knowledge of clinician perceptions of the workplace would prompt conversations among clinic leaders, staff and clinicians, and lead to interventions to address work conditions and improve clinician outcomes. Future results from HWP will focus on whether patient outcomes were altered by these efforts.
We hypothesized that workplace changes, prompted by feedback on clinician perceptions and outcomes, would lead to a decrease in clinician stress and improved care for patients. This paper specifically addresses the following question: Does receipt of baseline data on work conditions and targeted clinical interventions improve satisfaction, stress, burnout and intent to leave the practice?
RESULTS
Within 34 clinics, 166 clinicians were recruited into the study. One hundred and thirty-five clinicians at 32 clinics completed the project (81.3 % of clinicians and 94.1 % of clinics). Table 
2
describes clinicians in intervention versus control clinics by specialty, gender, age, percent physicians (versus nurse practitioners or physician assistants), discipline, and baseline and final outcome data, including stress, burnout, satisfaction and likelihood to leave the practice. A relatively small proportion (13.3 %) of the sample was comprised of non-physicians (nurse practitioners and physician assistants.) Burnout was present at a somewhat higher rate in intervention clinics, 41.4 % versus 30.1 % in controls (
p
 = 0.12). While dependency was found to be minimal due to ICCs < 0.11, with design effects < 2, this was still controlled for within the hierarchical models.
Table 2.
Characteristics of HWP Clinicians in Intervention Versus Control Sites
 

Pre-intervention

Post-intervention

Control group N = 83

Intervention group N = 83

p value

Control group N = 72

Intervention group N = 67

p value

Age

46.4 (9.4)

48.3 (8.9)

0.18

48.4 (9.5)

49.9 (8.7)

0.33

Duration in practices

11.6 (8.7)

14.1 (8.9)

0.07

a

a

 

Gender (males)

49.4 % (n = 41)

46.9 % (n = 39)

0.75

47.8 % (n = 34)

44.6 % (n = 29)

0.64

Ethnicity (% non-white)

20.7 % (n = 17)

12.0 % (n = 10)

0.14

a

a

 

Discipline (% GIM)

65.0 % (n = 54)

55.4 % (n = 46)

0.20

a

a

 

Physicians (%)

90.3 % (n = 83)

83.1 % (n = 83)

0.16

a

a

 

High work control (3 and greater)*

13.2 % (n = 83)

9.6 % (n = 83)

0.46

11.4 % (n = 70)

4.6 % (n = 65)

0.14

High satisfaction (4 and greater)**

51.8 % (n = 83)

38.5 % (n = 83)

0.08

45.7 % (n = 70)

40.0 % (n = 65)

0.50

High stress (4 and greater)**

27.7 % (n = 83)

30.1 % (n = 83)

0.73

24.2 % (n = 70)

30.7 % (n = 65)

0.39

Burnout (3 and greater)***

30.1 % (n = 83)

41.4 % (n = 82)

0.12

32.8 % (n = 70)

33.8 % (n = 65)

0.90

Chaos (4 and greater)**

45.5 % (n = 79)

56.9 % (n = 79)

0.15

54.4 % (n = 68)

55.3 % (n = 65)

0.91

Likelihood to leave in 2 years (3 and greater)**

17.0 % (n = 82)

31.7 % (n = 82)

0.03

22.3 % (n = 67)

29.0 % (n = 62)

0.38
All intervention site leaders reported that presentation and assessment of baseline worklife and work condition data facilitated important conversations about the work environment. Table 
2
shows that burnout decreased from 41.4 to 33.8 % (a relative decrease of 17.6 %) in intervention clinicians, while burnout increased from 30.1 to 32.8 % in control clinicians (an increase of 8.9 %). The initial multivariable modeling assessing the impact on clinician outcomes of OWL worklife and work condition data feedback and of the heterogeneous interventions at all intervention clinics combined did not disclose a group treatment effect. However, the person-centered improvement analysis showed significant treatment effects, with burnout decreasing more often in intervention clinicians (21.8 % fewer clinicians burned out vs 7.1 % fewer control clinicians,
p
 = 0.01, see Fig. 
2
). There were no significant differences in improvements in stress and intention to leave between intervention and control clinics. Satisfaction improved more often after the interventions (23.1 % of clinicians were more satisfied in intervention clinics versus 10.0 % in controls,
p
 = 0.04).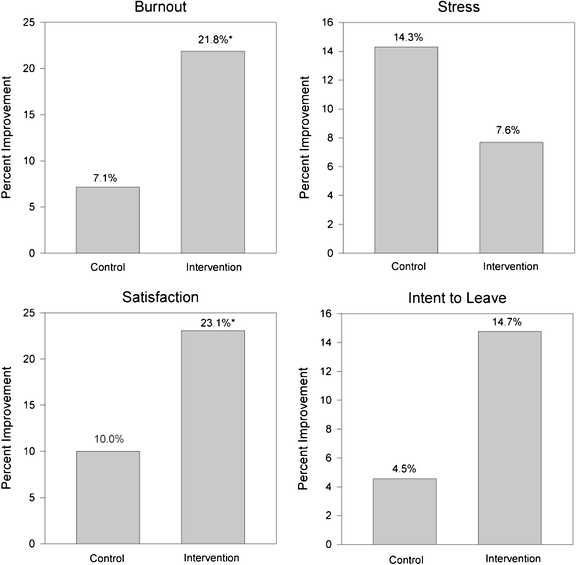 Clinicians in clinics performing workflow interventions were significantly more likely to have decreased burnout than those in control sites (OR of improvement in burnout in intervention clinics 5.9,
p
 = 0.02, see Tables 
3
and
4
). Clinicians in clinics performing targeted QI projects were also more likely to show decreases in burnout (OR of improvement 4.8;
p
 = 0.02). Clinician satisfaction improved more often in clinics with interventions in communication or workflow than in controls (OR of improvement in satisfaction 3.1,
p
 = 0.04). Communication or workflow interventions also led to borderline improvements in intention to leave (OR 4.2,
p
 = 0.06): The models showed no appreciable change after incorporating a variable reflecting "professional status" (physician versus nurse practitioner or physician assistant).
Table 3.
Multilevel Logistic Regression Analysis of Clinician Improvement by Specific Intervention Type: Control Clinics Versus 1) Communication Improvement and 2) Workflow Change Clinics
 

Improvement in burnout

Improvement in stress

Improvement in satisfaction

Improvement in Intent to Leave

Odds Ratio (se)

p value

95 % CI

Odds Ratio (se)

p value

95 % CI

Odds Ratio (se)

p value

95 % CI

Odds Ratio (se)

p value

95 % CI

Communication emphasis (n = 10)

3.0 (1.8)

0.08

(0.9, 9.94)

0.6 (0.4)

0.44

(0.2, 2.2)

3.6 (2.2)

0.04

(1.1, 12.0)

3.6 (2.7)

0.08

(0.8, 15.5)

Workflow changes (n = 6)

5.9 (4.3)

0.02

(1.4, 24.6)

0.3 (0.3)

0.27

(0.03, 2.6)

1.6 (1.3)

0.52

(0.4, 7.5)

2.7 (2.6)

0.30

(0.4, 18.1)
Table 4.
Separate Multilevel Logistic Regression Analysis of Clinician Improvement by Specific Intervention Type: Control Clinics Versus 1) Targeted QI Clinics and 2) Communication or Workflow Change Clinics
 

Improvement in burnout

Improvement in stress

Improvement in satisfaction

Improvement in intent to leave

Odds Ratio (se)

p value

95 % CI

Odds Ratio (se)

p value

95 % CI

Odds Ratio (se)

p value

95 % CI

Odds Ratio (se)

p value

95 % CI

Quality improvement (QI) (n = 6)

4.8 (3.2)

0.02

(1.3, 18.0)

0.6 (0.5)

0.47

(0.1, 2.8)

2.4 (1.6)

0.17

(0.7, 8.8)

2.1 (2.0)

0.44

(0.3, 13.5)

Communication or workflow emphasis (n = 11)

3.0 (1.9)

0.08

(0.9, 10.5)

0.5 (0.3)

0.30

(0.1, 1.9)

3.1 (1.7)

0.04

(1.0, 9.2)

4.2 (3.2)

0.06

(1.0, 18.3)
DISCUSSION
In this cluster randomized controlled study of 166 clinicians in 34 clinics, we found that data on clinician work conditions facilitated discussions on the need to improve worklife for the benefit of patients and clinicians. Burnout was prevalent, and reported in approximately 37 % of primary care clinicians. A significant effect on clinician outcomes was seen when assessing specific intervention types on individual clinicians. In particular, all three of the following types of interventions led to improvements in some clinician outcomes: 1) workflow redesign, 2) improved communication, especially among clinicians and staff, and 3) QI projects directed at clinician concerns. These data suggest that targeting a range of interventions to clinician perceptions can lead to improvements in meaningful clinician outcomes including burnout, dissatisfaction, and perhaps, retention.
There is little debate that the future of affordable and high quality care in America depends upon a large and dedicated primary care workforce. Current studies show that primary care clinicians are dissatisfied, not recommending the field to students, and in danger of leaving the field themselves.3 The current study addresses mechanisms for improving primary care work conditions, and may be the first to date that does so in a multi-center, randomized study design. Many issues have previously been identified that affect primary care clinicians, among them the electronic health record,11,12 inefficiencies in office practice, lack of teamwork, time pressure during office visits,6 a lack of control in the workplace,6 and a lack of career fit for time to do what one is most passionate about.20 Clinics serving minority patients have especially challenging work conditions,21 and primary care may be hardest to support where it is needed most.
The current study adds to this discussion, and begins to fill in knowledge gaps. Despite many warnings about burnout in primary care, our data show that burnout prevalence is high, and indeed is higher than in our prior studies, where it averaged 25–30 %.6 Pressures for increasing patient volumes remain, and few administrators appear to have incorporated clinician wellness into institutional quality measures.22 If clinicians leave their practices, replacement costs may exceed $250,000.23 These are among the many reasons for focusing on stress and burnout in primary care.
We propose that stress and burnout be measured and addressed as organizational quality metrics22; annual brief surveys may suffice, with more frequent measures in challenged clinics or departments. The current study provides data that demonstrate the potential power of new types of interventions in the workplace. There is emerging literature about interventions that individuals can undertake to better combat the tendency to burn out.24,25 Our study complements this work by showing that organizational change may also lead to reduced stress and improved clinician outcomes. Our most powerful intervention was workflow modification, such as reassigning clinic staff work and changing call schedules. Our next strongest intervention, championed by Dunn et al.,13 was communication improvement, especially among staff and clinicians. (This involves, for example, conducting meetings focused on topics with meaning for clinicians, such as clinical cases and issues of clinic worklife.) Finally, we have demonstrated that there is potential value in targeting an organization's QI projects to clinician concerns. A wide range of QI programs was used, including automated prescription phone lines and establishing mechanisms to improve quality metrics for routine screening.
The interventions in the HWP project moved the clinics in both important and replicable directions. Communication projects resulting in improved communication among clinicians and staff instilled a culture of enhanced communication in the primary care setting. Workflow changes promoted the primary care team as a critical unit in improving clinician work. Finally, QI projects addressed achieving quality metrics, medication reconciliation and improved screening processes, areas that tend to be taxing for primary care clinicians.
There are limitations to our study, including the absence of an overall group treatment effect with receipt of OWL worklife and work condition data followed by an undifferentiated series of QI projects. However, a significant effect was seen with the individually focused analysis, especially within each of the three types of interventions. We suspect that the absence of an effect in the initial analysis may be due, in part, to the multiplicity or diversity of interventions. Future studies on the impact of the three intervention types are thus encouraged to confirm our results. Other limitations include the uncertainty as to how well or reproducibly the interventions might have been instituted, and whether a longer duration of follow-up might have provided a better sense of the impact of these workplace changes. There are numerous strengths to our study, including the rigorous study design, the geographic and clinical diversity of the three sites, and the use of previously validated, robust measures of clinician outcomes.
In summary, our data suggest that high burnout among primary care clinicians may be addressed by programs that measure clinician and patient outcomes, provide meaningful feedback to clinics, and modify workplaces via improvements in workflow and communication, or by using QI projects targeted to clinician concerns.
Notes
Acknowledgements
The project was supported by a grant from the Agency for Healthcare Research and Quality (AHRQ), Grant # 5R18-HS018160-03.
Conflict of Interest
Dr. Hicks acknowledges royalties from a textbook. Mr. Barbouche is CEO of Forward Health Group, owns stock and has patents pending. There are no other conflicts of interest.
Copyright information
© Society of General Internal Medicine 2015