Abstract
Background
We systematically reviewed the literature on definitions and outcomes of large-for-size (LFS) syndrome in orthotopic liver transplantation (LT).
Methods
This systematic review was conducted according to the Preferred Reporting Items for Systematic Reviews and Meta-Analyses (PRISMA) guidelines. The Cochrane Library, PubMed, and Embase were searched (January 1990–January 2019) for studies reporting LFS in LT. Primary outcomes were definitions and mortality of LFS LT.
Results
Eleven studies reporting patients with LFS LT were identified. Four different formulas (graft-to-recipient weight ratio (GRWR), body surface area index (BSAi), donor standardized total liver volume (sTLV)–to–recipient sTLV ratio, and graft weight/right anteroposterior distance (RAP) ratio) with their critical thresholds were found. There were 81 patients (54% women) with a median weight and height of 62.5 kg (range, 40–105 kg) and 165 cm (range, 145–180 cm). The median graft weight was 1772 g (range, 1290–2400 g), and the median GWRW was 2.77% (range, 2.1–4.00%). Graft venous outflow obstruction was described in seven patients (8.6%). At the time of LT, fascial closure was not achieved in 24 patients (29.6%) and the graft size was reduced by a liver resection in three patients (3.7%). Thirteen deaths (16%) were reported in the first 90 postoperative days with two patients undergoing re-transplant.
Conclusions
LFS LT remains heterogeneously defined but characterized by high mortality rates despite the use of tailored surgical solutions (graft reduction and open abdomen). A composite definition is proposed in order to better describe LFS clinical syndrome.
This is a preview of subscription content, log in to check access.
Access options
Buy single article
Instant unlimited access to the full article PDF.
US$ 39.95
Price includes VAT for USA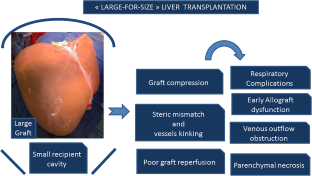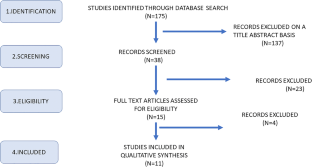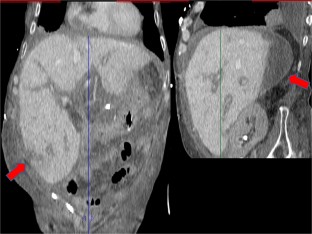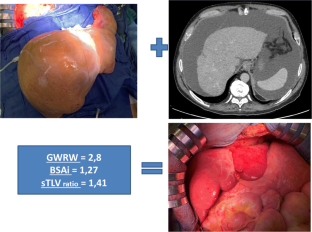 References
1.

Tschuor C, Ferrarese A, Kummerli C, et al. Allocation of Liver Grafts Worldwide Is there a best System? J Hepatol 2019.

2.

Fukazawa K, Nishida S. Size mismatch in liver transplantation. J Hepatobiliary Pancreat Sci 2016;23:457–66.

3.

Kiuchi T, Kasahara M, Uryuhara K, et al. Impact of graft size mismatching on graft prognosis in liver transplantation from living donors. Transplantation 1999;67:321–7.

4.

Oikawa K, Ohkohchi N, Kato H, et al. Graft weight/recipient body weight ratio (G/R ratio) in living-related liver transplantation for pediatric patients: abdominal wall closure in cases with a large G/R ratio. Transplant Proc 1998;30:3209–10.

5.

Ersoy Z, Kaplan S, Ozdemirkan A, et al. Effect of Graft Weight to Recipient Body Weight Ratio on Hemodynamic and Metabolic Parameters in Pediatric Liver Transplant: A Retrospective Analysis. Exp Clin Transplant 2017;15:53–6.

6.

Allard MA, Lopes F, Frosio F, et al. Extreme large-for-size syndrome after adult liver transplantation: A model for predicting a potentially lethal complication. Liver Transpl 2017;23:1294–304.

7.

Fukazawa K, Nishida S, Volsky A, Tzakis AG, Pretto EA, Jr. Body surface area index predicts outcome in orthotopic liver transplantation. J Hepatobiliary Pancreat Sci 2011;18:216–25.

8.

Fukazawa K, Nishida S, Pretto EA, Jr., Vater Y, Reyes JD. Detrimental graft survival of size-mismatched graft for high model for end-stage liver disease recipients in liver transplantation. J Hepatobiliary Pancreat Sci 2016;23:406–13.

9.

Xu HS, Pruett TL, Jones RS. Study of donor-recipient liver size match for transplantation. Ann Surg 1994;219:46–50.

10.

Leal AJ, Tannuri AC, Belon AR, et al. A simplified experimental model of large-for-size liver transplantation in pigs. Clinics (Sao Paulo) 2013;68:1152–6.

11.

Rangel Moreira Dde A, Aoun Tannuri AC, Belon AR, et al. Large-for-size liver transplantation: a flowmetry study in pigs. J Surg Res 2014;189:313–20.

12.

Allard MA, Baillie G, Castro-Benitez C, et al. Prediction of the Total Liver Weight using anthropological clinical parameters: does complexity result in better accuracy? HPB (Oxford) 2017;19:338–44.

13.

Levesque E, Duclos J, Ciacio O, Adam R, Castaing D, Vibert E. Influence of larger graft weight to recipient weight on the post-liver transplantation course. Clin Transplant 2013;27:239–47.

14.

Croome KP, Lee DD, Saucedo-Crespo H, et al. A novel objective method for deceased donor and recipient size matching in liver transplantation. Liver Transpl 2015;21:1471–7.

15.

Olthoff KM, Kulik L, Samstein B, et al. Validation of a current definition of early allograft dysfunction in liver transplant recipients and analysis of risk factors. Liver Transpl 2010;16:943–9.

16.

Brustia R, Perdigao F, Sepulveda A, Schielke A, Conti F, Scatton O. Negative wound therapy to manage large-for-size liver graft mismatch. Clin Res Hepatol Gastroenterol 2015;39:552–4.

17.

Eldeen FZ, Lee CF, Lee CS, Chan KM, Lee WC. "Passing loop" technique: a new modification of the piggyback technique tailored to voluminous liver grafts--case report. Transplant Proc 2013;45:831–2.

18.

Jacob M, Saif R, Reddy J, Medappil N, Asthana S, Lochan R. Extreme large-for-size syndrome after adult liver transplantation: A model for predicting a potentially lethal complication. Liver Transpl 2018;24:442–3.

19.

Jafri MA, Tevar AD, Lucia M, et al. Temporary silastic mesh closure for adult liver transplantation: a safe alternative for the difficult abdomen. Liver Transpl 2007;13:258–65.

20.

Kim EY, Yoon YC. Performing a Right Hemihepatectomy Sequentially After Deceased Donor Liver Transplantation--The Solution for a Large-for-size Graft: A Case Report. Transplant Proc 2015;47:3023–6.

21.

Lim C, Osseis M, Tudisco A, et al. Hepatic venous outflow obstruction after whole liver transplantation of large-for-size graft: versatile intra-operative management. Ann Hepatobiliary Pancreat Surg 2018;22:321–5.

22.

Nagatsu A, Yoshizumi T, Ikegami T, et al. In Situ Posterior Graft Segmentectomy for Large-for-Size Syndrome in Deceased Donor Liver Transplantation in Adults: A Case Report. Transplant Proc 2017;49:1199–201.

23.

Donataccio D GS, Donataccio M. A Simple and New Device to Avoid Hepatic Venous Outflow Obstruction in Adult Liver Transplantation. Surgical Science 2011;2:485–7.

24.

Chouker A, Martignoni A, Dugas M, et al. Estimation of liver size for liver transplantation: the impact of age and gender. Liver Transpl 2004;10:678–85.
Ethics declarations
Conflict of Interest
The authors declare that they have no conflict of interest.
Additional information
Publisher's Note
Springer Nature remains neutral with regard to jurisdictional claims in published maps and institutional affiliations.
About this article
Cite this article
Addeo, P., Noblet, V., Naegel, B. et al. Large-for-Size Orthotopic Liver Transplantation: a Systematic Review of Definitions, Outcomes, and Solutions. J Gastrointest Surg (2020) doi:10.1007/s11605-019-04505-5
Received:

Accepted:

Published:
Keywords
Anthropometrics

Graft reduction

Large-for-size

Liver transplantation

Mismatch

Negative pressure wound therapy