Abstract
Background
The combination of major hepatectomy and pancreatoduodenectomy (PD), that is, a hepatopancreatoduodenectomy (HPD), is the only curative treatment for bile duct cancer with extensive horizontal tumor spread invading both the hepatic hilum and the intrapancreatic bile duct. However, this aggressive procedure remains controversial with regard to the balance between the survival benefit and high risk of mortality and morbidity, especially the risk for postoperative hepatic failure and postoperative pancreatic fistula. Here, we describe the efficacy of a novel modified technique of HPD with delayed division of the pancreatic parenchyma for hilar cholangiocarcinoma, and focus on the surgical technique and the short-term outcomes, with a representative case.
Technical Presentation
This new surgical technique involves dissection of the pancreatic parenchyma and relevant mesoduodenum at the final step after dissecting the required parts on the inferior side and superior side of the tumor, enabling excision of the resected specimen. This technique described herein can prevent saponification of the resected surface of the pancreas by dissecting the pancreatic parenchyma toward the latter half of the surgical procedure as much as possible. The results suggest that there may also be a relationship between this technique and the prevention of postoperative pancreatic fistula.
Conclusion
This new surgical technique of HPD may be able to prevent postoperative pancreatic fistula by performing intraoperative dissection of the pancreatic parenchyma as late as possible, which in turn, may improve the safety of HPD.
This is a preview of subscription content, log in to check access.
Access options
Buy single article
Instant unlimited access to the full article PDF.
US$ 39.95
Price includes VAT for USA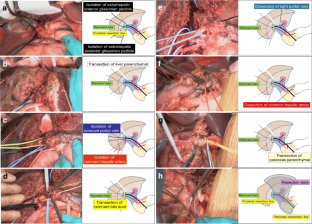 References
1.

Zhou Y, Zhang Z, Wu L, Li B. A systematic review of safety and efficacy of hepatopancreatoduodenectomy for biliary and gallbladder cancers. HPB (Oxford). 2016;18(1):1–6.

2.

Chiba N, Shimazu M, Takano K, et al. Predicting hepatic failure with a new diagnostic technique by preoperative liver scintigraphy and computed tomography: a pilot study in 123 patients undergoing liver resection. Patient Saf Surg. 2017;11:29. https://doi.org/10.1186/s13037-017-0143-z.

3.

Chiba N, Yokozuka K, Ochiai S, et al. The diagnostic value of 99m-Tc GSA scintigraphy for liver function and remnant liver volume in hepatic surgery: a retrospective observational cohort study in 27 patients. Patient Saf Surg. 2018;12:15. https://doi.org/10.1186/s13037-018-0161-5.

4.

Ebata T, Yokoyama Y, Igami T, et al. Hepatopancreatoduodenectomy for cholangiocarcinoma: a single-center review of 85 consecutive patients. Ann Surg. 2012;256:297–305.

5.

Sakamoto Y, Nara S, Kishi Y, et al. Is extended hemihepatectomy plus pancreaticoduodenectomy justified for advanced bile duct cancer and gallbladder cancer? Surgery. 2013;153:794–800.

6.

Aoki T, Sakamoto Y, Kohno Y, et al. Hepatopancreaticoduodenectomy for biliary cancer. Strategies for near-zero operative mortality and acceptable long-term outcome. Ann Surg. 2018;267(2):332–337.

7.

Sugioka A, Kato Y, Tanahashi Y. Systematic extrahepatic Glissonean pedicle isolation for anatomical liver resection based on Laennec's capsule: proposal of a novel comprehensive surgical anatomy of the liver. JHBPS 2017;24:17–23.

8.

Kawabata Y, Hayashi H, Yano S, et al. Liver parenchyma transection-first approach in hemihepatectomy with en bloc caudate lobectomy for hilar cholangiocarcinoma: A safe technique to secure favorable surgical outcomes. J Surg Oncol. 2017;115:963–970.
Ethics declarations
Conflict of Interest
The authors declare that they have no conflict of interest
Electronic Supplementary Material
About this article
Cite this article
Chiba, N., Abe, Y., Yokozuka, K. et al. Surgical Technique of Pancreatic Parenchyma Transection-Delayed Approach (PPTDA) in Hepatopancreatoduodenectomy for Hilar Cholangiocarcinoma. J Gastrointest Surg 23, 613–616 (2019) doi:10.1007/s11605-018-3923-6
Received:

Accepted:

Published:

Issue Date:
Keywords
Pancreas parenchyma transection

Hilar cholangiocarcinoma