Abstract
Laparoscopy-assisted proximal gastrectomy (LAPG) with esophagogastrostomy using a novel "open-door" technique was introduced recently, with the aim of preventing gastroesophageal reflux. However, quantitate assessment of gastroesophageal reflux after this surgery has not been performed till date. The aims of the current study were to investigate the safety and feasibility of this operation and to elucidate the postoperative reflux status. Twenty consecutive patients (18 men) with (y)cStage I gastric cancer in the upper third of the stomach who underwent LAPG at Kitasato University Hospital from May 2015 through September 2016 were retrospectively reviewed. We performed 24-h impedance-pH monitoring 3 months after surgery for the first eight patients and analyzed the postoperative reflux status. Median operation time was 333 min, while median anastomotic time was 81 min. None of the 20 patients experienced anastomotic leakage while two patients experienced anastomotic stricture requiring endoscopic balloon dilatation. No patient experienced heartburn without antacid drugs. During the 24-h impedance-pH monitoring, all but one patient had normal gastroesophageal acid reflux with the acid percent time of <1.1% and reflux percent time of <1.4%. One patient with marginally abnormal postoperative gastroesophageal reflux had a normal DeMeester score of 3.0. Our results showed that esophagogastrostomy using the "open-door" technique is a safe and feasible procedure for LAPG. The degree of gastroesophageal reflux was acceptable using this technique. Randomized controlled trials with long-term follow-ups are required to confirm that this technique would be superior to the others.
This is a preview of subscription content, log in to check access.
Access options
Buy single article
Instant unlimited access to the full article PDF.
US$ 39.95
Price includes VAT for USA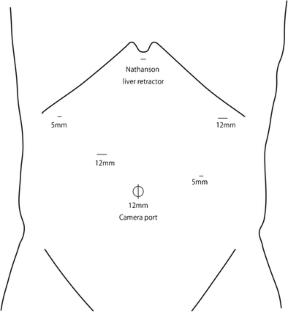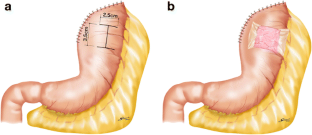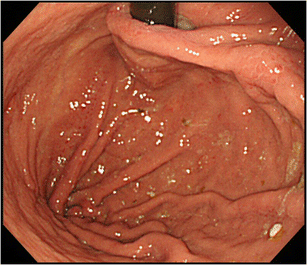 References
1.

Shiraishi N, Adachi Y, Kitano S, Kakisako K, Inomata M, Yasuda K. Clinical outcome of proximal versus total gastrectomy for proximal gastric cancer. World J Surg. 2002;26(9):1150-1154.

2.

Furukawa H, Hiratsuka M, Imaoka S, Ishikawa O, Kabuto T, Sasaki Y et al. Limited surgery for early gastric cancer in cardia. Ann Surg Oncol. 1998;5(4):338-341.

3.

Nashimoto A, Akazawa K, Isobe Y, Miyashiro I, Katai H, Kodera Y et al. Gastric cancer treated in 2002 in Japan: 2009 annual report of the JGCA nationwide registry. Gastric Cancer. 2013;16(1):1-27.

4.

Sakuramoto S, Yamashita K, Kikuchi S, Futawatari N, Katada N, Moriya H et al. Clinical experience of laparoscopy-assisted proximal gastrectomy with Toupet-like partial fundoplication in early gastric cancer for preventing reflux esophagitis. J Am Coll Surg. 2009;209(3):344-351.

5.

Hosoda K, Yamashita K, Katada N, Moriya H, Mieno H, Shibata T et al. Potential benefits of laparoscopy-assisted proximal gastrectomy with esophagogastrostomy for cT1 upper-third gastric cancer. Surg Endosc. 2015.

6.

Kamikawa YKT, Kamiyama S, Satomoto K. A new procedure of esophagogastrostomy to prevent reflux following proximal gastrectomy (in Japanese). Shoukakigeka. 2001;24:1053–1060.

7.

Nisizaki MKS, Matsumura T, Takashima H, Katoh H, Kikuchi S, Kuwada K, Kagawa S, Fujiwara T. Valvuloplastic esophagogastrostomy using double flap technique after proximal gastrectomy. Rinsho Geka. 2014;69:1464–1471.

8.

Japanese Gastric Cancer Association. Japanese gastric cancer treatment guidelines 2010 (ver. 3). Gastric Cancer. 2011;14(2):113–123.

9.

Johnson LF, Demeester TR. Twenty-four-hour pH monitoring of the distal esophagus. A quantitative measure of gastroesophageal reflux. Am J Gastroenterol. 1974;62(4):325-332.

10.

Kuribayashi S, Iwakiri K, Kawada A, Kawami N, Hoshino S, Takenouchi N et al. Variant parameter values-as defined by the Chicago Criteria-produced by ManoScan and a new system with Unisensor catheter. Neurogastroenterol Motil. 2015;27(2):188-194.

11.

Tanigawa N, Lee SW, Kimura T, Mori T, Uyama I, Nomura E et al. The Endoscopic Surgical Skill Qualification System for gastric surgery in Japan. Asian J Endosc Surg. 2011;4(3):112-115.

12.

Muraoka A, Kobayashi M, Kokudo Y. Laparoscopy-Assisted Proximal Gastrectomy with the Hinged Double Flap Method. World J Surg. 2016.
Authors' Contributions
All authors have made substantial contributions to the design and analysis of this work as well as drafting and appraisal of the manuscript. All authors have approved the final manuscript for submission and agreed to be accountable for the work.
Ethics declarations
Disclosures
Drs. Kei Hosoda, Keishi Yamashita, Hiromitsu Moriya, Hiroaki Mieno, and Masahiko Watanabe have no conflicts of interest or financial ties to disclose.
Conflicts of Interest and Sources of Funding
None declared
Electronic Supplementary Material
Below is the link to the electronic supplementary matherial
About this article
Cite this article
Hosoda, K., Yamashita, K., Moriya, H. et al. Laparoscopically Assisted Proximal Gastrectomy with Esophagogastrostomy Using a Novel "Open-Door" Technique. J Gastrointest Surg 21, 1174–1180 (2017). https://doi.org/10.1007/s11605-016-3341-6
Received:

Accepted:

Published:

Issue Date:
Keywords
Proximal gastrectomy

Gastric cancer

Esophagogastrostomy

Gastroesophageal reflux

Laparoscopic surgery

24-h impedance-pH monitoring

Open-door technique