Abstract
Laparoscopic cholecystectomy is the standard of care for cholelithiasis as well as cholecystitis. However, in the setting of Mirizzi syndrome or gangrenous cholecystitis where the critical view cannot be ascertained, subtotal cholecystectomy may be necessary. Using the robot-assisted approach, difficult cholecystectomies can be performed upfront without need for partial cholecystectomy. Even in the setting of Mirizzi syndrome where severe scarring and fibrosis are evident, definitive cholecystectomy and takedown of the cholechystocholedochal fistula can be performed in a safe and feasible fashion following successful endoscopic common bile duct stent placement. The purposes of this report are to review the history of Mirizzi syndrome as well as its traditional and novel treatment techniques and highlight technical pearls of the robotic approach to this diagnosis.
This is a preview of subscription content, log in to check access.
Access options
Buy single article
Instant unlimited access to the full article PDF.
US$ 39.95
Price includes VAT for USA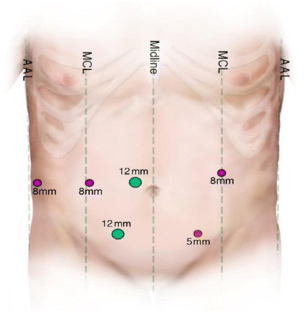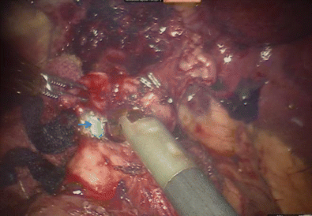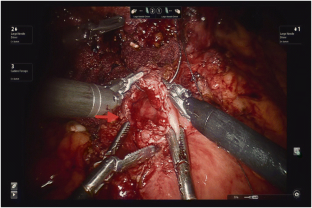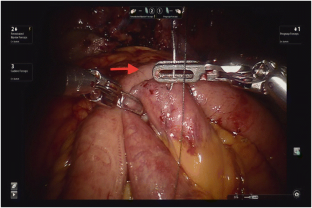 References
1.

Bornman PC, Terblanche J. Sub-total cholecystectomy: for the difficult gall bladder in portal hypertension and cholecystitis. Surgery 1985;98(1):1–6.

2.

Csendes A, Díaz JC, Burdiles P, Maluenda F, Nava O. Mirizzi syndrome and cholecystobiliary fistula: a unifying classification. Br J Surg 1989;76(11):1139–1143.

3.

Kumar A, Senthil G, Prakash A et al. Mirizzi Syndrome: Lessons learnt from 169 patients at a single center. Korean J Hepatobiliary Pancreat Surg. 2016 Feb. 20(1): 17–22.

4.

Douglas PR, Ham JM. Partial cholecystectomy. Aust N Z J Surg 1990;60(8):595–597.

5.

Cottier DJ, McKay C, Anderson JR. Subtotal cholecystectomy. Br J Surg 1991;78(11):1326–1328.

6.

Ibrarullah MD, Kacker LK, Sikora SS, Saxena R, Kapoor VK, Kaushik SP. Partial cholecystectomy—safe and effective. HPB Surg 1993;7(1):61–65.

7.

Johnson LW, Sehon JK, Lee WC, Zibari GB, McDonald JC. Mirizzi Syndrome: experience from a multi-institutional review. Am Surg. 2001; 67(1):11–14.

8.

Beltran MA, Csendes A, Cruces KS. The relationship of Mirizzi syndrome and cholecystoenteric fistula: validation of a modified classification. World J Surg. 2008 Oct;32(10):2237–43.

9.

Petricevic PB, Kontic OM, Petricevic MZ, Kontic MM, Smit G. Mirizzi syndrome—two case reports and a short review of the literature. Int Surg. 2011; 96(3): 228–232.

10.

Waisberg J, Corona A, de Abreu IW, Farah JF, Lupinacci RA, Goffi FS. Benign obstruction of the common hepatic duct (Mirizzi syndrome): diagnosis and operative management. Arg Gastroenterol. 2005; 42(1):13–18.

11.

Johnson AB, Fink AS. Alternative methods for management of the complicated gallbladder. Semin Laparosc Surg 1998;5(2):115–120.

12.

Mack MJ. Minimally invasive and robotic surgery. JAMA. 2001; 285: 568–572.

13.

Cadiere GB, Himpens J, Germay O, et al. Feasibility of robotic laparoscopic surgery: 146 cases. World J Surg 2001; 25: 1467–1477.

14.

Chowbey PK, Bandyopadhyay SK, Sharma A, Khullar R, Soni V, Baijal M. Laparoscopic reintervention for residual gallstone disease. Surg Laparosc Endosc Percutan Tech 2003;13(1):31–35.

15.

Piccinni G, Sciusco A, De Luca GM et al. Minimally Invasive Treatment of Mirizzi Syndrome: Is there a safe way? Report of a case series. Ann Hepatol 2014; 13(5):558–564.

16.

Janes S, Berry L, Dijkstra B. Management of post cholecystectomy Mirizzi Syndrome. J Min Access Surg 2005;1(1):34–36.

17.

Jayant M, Kaushik R. Presentation and management of gallbladder remnant after partial cholecystectomy. Trop Gastroenterol. 2013 Apr-Jun;34(2):99–103.

18.

Ji W, Li LT, Li JS. Role of laparoscopic subtotal cholecystectomy in the treatment of complicated cholecystitis. Hepatobiliary Pancreat Dis Int. 2006;5(4):584–589.

19.

Kwon AH, Inui H. Preoperative diagnosis and efficacy of laparoscopic procedures in the treatment of Mirizzi syndrome. J Am Coll Surg 2007;204(3):409–415.

20.

Kamalesh NP, Prakash K, Pramil K et al. Laparoscopic approach is safe and effective in the management of Mirizzi Syndrome. J Minim Access Surg. 2014;11(4): 246–250.

21.

Antoniou SA, Antoniou GA, Makridis C. Laparoscopic treatment of Mirizzi syndrome: a systematic review..Surg Endosc. 2010 Jan;24(1):33–9.

22.

Lee KF, Lee SC, Leong HT. Laparoscopic resection of gallbladder remnant: case report. Ann Coll Surg HK 2002;6:58–60.

23.

Lee KF, Chong CN, Ma KW et al. A Minimally Invasive strategy for Mirizzi Syndrome: the combined endoscopic and robotic approach. Surg Endosc 2014; 28(9):2690–2694.

24.

Tung KL, Tang CN, Lai EC et al. Robot-assisted laparoscopic approach of management for Mirizzi syndrome. Surg Laparosc Endosc Percutan Tech. 2013 Feb;23(1):17–21.

25.

Rieger R, Wayand W. Gallbladder remnant after laparoscopic cholecystectomy. Surg Endosc 1995;9(7):844.

26.

Gurel M, Sare M, Gurer S, Hilmioglu F. Laparoscopic removal of a gallbladder remnant. Surg Laparosc Endosc 1995;5(5):410–411.

27.

Kohn, G. P. and Martinie, J. B. (2009), Laparoscopic robot-assisted completion cholecystectomy: a report of three cases. Int. J. Med. Robotics Comput. Assist. Surg., 5: 406–409.

28.

Ransom KJ. Laparoscopic management of acute cholecystitis with subtotal cholecystectomy. Am Surg 1998;64(10):955–957.

29.

Clemente G, Giuliante F, Cadeddu F, Nuzzo G. Laparoscopic removal of gallbladder remnant and long cystic stump. Endoscopy 2001;33(9):814–815

30.

Schofer JM. Biliary causes of postcholecystectomy syndrome. J Emerg Med 2008.

31.

Kim JY, Kim KW, Ahn CS, Hwang S, Lee YJ, Shin YM, Lee MG. Spectrum of biliary and nonbiliary complications after laparoscopic cholecystectomy: radiologic findings. AJR Am J Roentgenol 2008;191(3):783–789.

32.

Vyas FL, Nayak S, Perakath B, Pradhan NR. Gallbladder remnant and cystic duct stump calculus as a cause of postcholecystectomy syndrome. Trop Gastroenterol 2005;26(3):159–160.

33.

Tiwisina T. "On the subject of "gallbladder regeneration", bile-hepatic duct diverticulum and pseudodiverticulum. Zentralbl Chir 1966;91(1):1–7.

34.

Blackard WG Jr, Baron TH. Leaking gallbladder remnant with cholelithiasis complicating laparoscopic cholecystectomy. South Med J 1995;88(11):1166–1168.

35.

Cohen SA, Attiyeh FF, Kasmin FE, Siegel JH. Persistence of the gallbladder following laparoscopic cholecystectomy: a case report. Endoscopy 1995;27(4):334–336.

36.

Walsh RM, Chung RS, Grundfest-Broniatowski S. Incomplete excision of the gallbladder during laparoscopic cholecystectomy. Surg Endosc 1995;9(1):67–70.

37.

Walsh RM, Ponsky JL, Dumot J. Retained gallbladder/cystic duct remnant calculi as a cause of postcholecystectomy pain. Surg Endosc 2002;16(6):981–984.

38.

Daly TD, Martin CJ, Cox MR. Residual gallbladder and cystic duct stones after laparoscopic cholecystectomy. ANZ J Surg 2002;72(5):375–377.

39.

Katsohis C, Prousalidis J, Tzardinoglou E, Michalopoulos A, Fahandidis E, Apostolidis S, Aletras H. Subtotal cholecystectomy. HPB Surg 1996;9(3):133–136.

40.

Glenn F, McSherry CK. Secondary abdominal operations for symptoms following biliary tract surgery. Surg Gynecol Obstet 1965;121(5):979–988.

41.

Rogy MA, Függer R, Herbst F, Schulz F. Reoperation after cholecystectomy. The role of the cystic duct stump. HPB Surg 1991;4(2):129–134. discussion 134–135.

42.

Lasson A. The postcholecystectomy syndrome: diagnostic and therapeutic strategy. Scand J Gastroenterol 1987;22(8):897–902.

43.

Tsoraides SS, Cha AI, Crawford D. Postcholecystectomy biliary symptoms. J Surg Educ 2007;64(4):228–233.

44.

Hellmig S, Katsoulis S, Fölsch U. Symptomatic cholecystolithiasis after laparoscopic cholecystectomy. Surg Endosc 2004;18(2):347.
Electronic Supplementary Material
Below is the link to the electronic supplementary material.
About this article
Cite this article
Magge, D., Steve, J., Novak, S. et al. Performing the Difficult Cholecystectomy Using Combined Endoscopic and Robotic Techniques: How I Do It. J Gastrointest Surg 21, 583–589 (2017). https://doi.org/10.1007/s11605-016-3323-8
Received:

Accepted:

Published:

Issue Date:
Keywords
Cholecystectomy

Robot-assisted

Mirizzi syndrome

Cholecystocholedochal fistula