Abstract
Background
Surgery for gastrointestinal stromal tumor (GIST) at the duodenojejunal junction is a technically challenging and difficult procedure because of the anatomical complexity. When it comes to laparoscopic surgery, it is more challenging than open surgery. This study aimed to introduce our laparoscopic procedure and to evaluate its clinical implication by comparing with open procedures.
Method
Between 2003 and 2013, 19 patients underwent segmental resection for a GIST at the duodenojejunal junction: laparoscopic segmental resection with side-to-side duodenojejunostomy (n = 8) and open surgery (n = 11). Clinicopathological findings, operation details, and postoperative outcomes were compared.
Results
Both groups were comparable in demographics and clinicopathological characteristics. Postoperative hospital stay of the laparoscopic group (6.3 days) was significantly shorter than the open group (15.7 days, P = 0.008) while no significant differences were observed regarding estimated blood loss, operation time, and morbidity. All patients in both groups underwent curative resection without operative mortality. Two patients experienced recurrence after open surgery whereas none of the patients after laparoscopic duodenojejunostomy had recurrence with a median follow-up period of 36 months.
Conclusion
Laparoscopic segmental resection with side-to-side duodenojejunostomy for a GIST at the duodenojejunal junction is a safe, feasible, and effective alternative to open approach, providing benefits of minimally invasive surgery.
This is a preview of subscription content, log in to check access.
Access options
Buy single article
Instant unlimited access to the full article PDF.
US$ 39.95
Price includes VAT for USA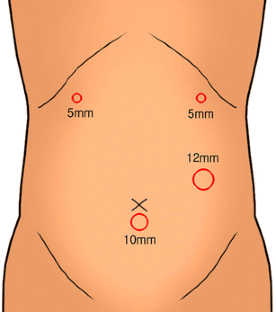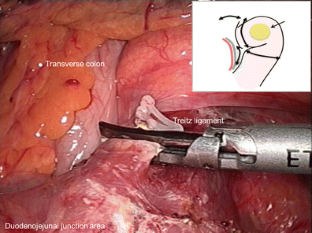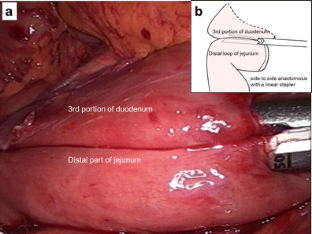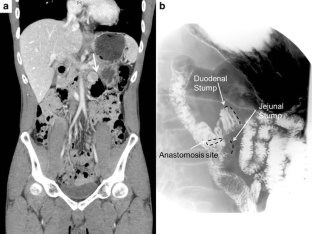 References
1.

Lewis JJ, Brennan MF. Soft tissue sarcomas. Curr Probl Surg 1996;33:817–872.

2.

Pandey R, Kochar R. Management of gastrointestinal stromal tumors: looking beyond the knife. An update on the role of adjuvant and neoadjuvant imatinib therapy. J Gastrointest Cancer 2012;43:547–552.

3.

Wu TJ, Lee LY, Yeh CN, Wu PY, Chao TC, Hwang TL, Jan YY, Chen MF. Surgical treatment and prognostic analysis for gastrointestinal stromal tumors (GISTs) of the small intestine: before the era of imatinib mesylate. BMC Gastroenterol 2006;6:29.

4.

Kim YM, Lim JS, Kim JH, Hyung WJ, Noh SH. Image-based approach for surgical resection of gastric submucosal tumors. J Gastric Cancer 2010;10:188–195.

5.

Ihn K, Hyung WJ, Kim HI, An JY, Kim JW, Cheong JH, Yoon DS, Choi SH, Noh SH. Treatment results of small intestinal gastrointestinal stromal tumors less than 10 cm in diameter: A comparison between laparoscopy and open surgery. J Gastric Cancer 2012;12:243–248.

6.

Sexton JA, Pierce RA, Halpin VJ, Eagon JC, Hawkins WG, Linehan DC, Brunt LM, Frisella MM, Matthews BD. Laparoscopic gastric resection for gastrointestinal stromal tumors. Surg Endosc 2008;22:2583–2587.

7.

Novitsky YW, Kercher KW, Sing RF, Heniford BT. Long-term outcomes of laparoscopic resection of gastric gastrointestinal stromal tumors. Ann Surg 2006;243:738–745.

8.

Chung JC, Kim HC, Chu CW. Segmental duodenectomy with duodenojejunostomy of gastrointestinal stromal tumor involving the duodenum. J Korean Surg Soc 2011;80 (Suppl 1):S12-16.

9.

Sakamoto Y, Yamamoto J, Takahashi H, Kokudo N, Yamaguchi T, Muto T, Makuuchi M. Segmental resection of the third portion of the duodenum for a gastrointestinal stromal tumor: a case report. Jpn J Clin Oncol 2003;33:364–366.

10.

Goh BK, Chow PK, Kesavan S, Yap WM, Wong WK. Outcome after surgical treatment of suspected gastrointestinal stromal tumors involving the duodenum: is limited resection appropriate? J Surg Oncol 2008;97:388–391.

11.

Jo JB, Song KY, Park CH. Laparoscopic duodenojejunostomy for superior mesenteric artery syndrome: report of a case. Surg Laparosc Endosc Percutan Tech 2008;18:213–215.

12.

Kim IY, Cho NC, Kim DS, Rhoe BS. Laparoscopic duodenojejunostomy for management of superior mesenteric artery syndrome: two cases report and a review of the literature. Yonsei Med J 2003;44:526–529.

13.

Munene G, Knab M, Parag B. Laparoscopic duodenojejunostomy for superior mesenteric artery syndrome. Am Surg 2010;76:321–324.

14.

Fletcher CD, Berman JJ, Corless C, Gorstein F, Lasota J, Longley BJ, Miettinen M, O'Leary TJ, Remotti H, Rubin BP, Shmookler B, Sobin LH, Weiss SW. Diagnosis of gastrointestinal stromal tumors: A consensus approach. Hum Pathol 2002;33:459–465.

15.

Dindo D, Demartines N, Clavien PA. Classification of surgical complications: A new proposal with evaluation in a cohort of 6336 patients and results of a survey. Ann Surg 2004;240:205–213.

16.

Kim SK, Cho CD, Wojtowycz AR. The ligament of Treitz (the suspensory ligament of the duodenum): anatomic and radiographic correlation. Abdom Imaging 2008;33:395–397.

17.

Connolly EM, Gaffney E, Reynolds JV. Gastrointestinal stromal tumours. Br J Surg 2003;90:1178–1186.
Acknowledgments
This study was supported by a grant from the National R&D Program for Cancer Control, Ministry of Health & Welfare, Republic of Korea (1320270). We acknowledge the assistance of BioScience Writers, LLC (Houston, TX, USA) in copyediting of the manuscript and corrections of English language usage.
Conflicts of Interest
None.
Sources of Financial Support
This work was supported by a grant of the Korea Healthcare technology R&D project, Ministry of Health, Welfare, & Family Affairs, Republic of Korea (1320270).
Electronic Supplementary Material
Below is the link to the electronic supplementary material.
Laparoscopic resection procedure for a gastrointestinal tumor at the duodenojejunal junction (MPG 38820 kb)
Laparoscopic side-to-side duodenojejunostomy after resection of a gastrointestinal tumor at the duodenojejunal junction. (MPG 38424 kb)
Laparoscopic resection procedure for a gastrointestinal tumor at the duodenojejunal junction (MPG 38820 kb)
Laparoscopic side-to-side duodenojejunostomy after resection of a gastrointestinal tumor at the duodenojejunal junction. (MPG 38424 kb)
About this article
Cite this article
Tanaka, E., Kim, M., Lim, J.S. et al. Usefulness of Laparoscopic Side-to-Side Duodenojejunostomy for Gastrointestinal Stromal Tumors Located at the Duodenojejunal Junction. J Gastrointest Surg 19, 313–318 (2015) doi:10.1007/s11605-014-2699-6
Received:

Accepted:

Published:

Issue Date:
Keywords
GIST

Duodenojejunal junction

Laparoscopy

Resection