Abstract
Background
Intraoperative cholangiography (IOC) is especially helpful for the detection of anomalous biliary anatomy during laparoscopic cholecystectomy. Fluorescent cholangiography using an intravenously injected fluorophore and near-infrared (NIR) imaging provides similar anatomical detail to standard radiographic cholangiography without ionizing radiation, puncture of the biliary system, or additional operative time.
This video shows a laparoscopic cholecystectomy performed under NIR cholangiographic guidance and highlights its ability to identify anomalous anatomy.
Methods
The attached video shows a laparoscopic cholecystectomy being performed on a 28-year-old female with a history of biliary colic and ultrasonographic evidence of cholelithiasis. This patient agreed to be part of a larger randomized study looking at near-infrared cholangiography and its ability to prevent common bile duct injuries (approved by the ethics review board of our institution and registered with clinicaltrials.gov Identifier# NCT01424215). This study uses the Pinpoint system (Novadaq, Ontario, Canada) for NIR imaging (Fig. 1). The Pinpoint mates a high definition white light laparoscopic view to the NIR cholangiography, providing an uninterrupted, augmented view of the anatomy. 1 cm3 of indocyanine green was injected intravenously prior to the procedure.
Results
As shown in the video, an anomalous duct was identified during dissection and development of the critical view of safety. Because of the possibility that this represented an aberrant right hepatic duct, the cystic duct was controlled and divided distal to the anomalous duct and the gall bladder excised from the fossa in the usual manner. The patient did well without sequelae at 1 week and 1 month follow-up.
Conclusion
Anomolous ductal anatomy of the biliary tree has been reported in up to 23 % of cases.1,2 The ability of IOC to elucidate biliary anatomy and thus prevent bile duct injury has led many to espouse routine cholangiography for all laparoscopic cholecystectomies.3,4
Near-infrared cholangiography (NIRC) is easy to perform, does not add steps to the operative procedure, and produces a similar anatomic roadmap of the hepatocystic triangle to that of standard IOC. Although the clinical significance of the anomalous duct identified in this video is unknown, this video highlights the excellent detail provided by NIRC. Recommendations regarding the routine use of this new technology await the results of an ongoing randomized control study.
This is a preview of subscription content, log in to check access.
Access options
Buy single article
Instant unlimited access to the full article PDF.
US$ 39.95
Price includes VAT for USA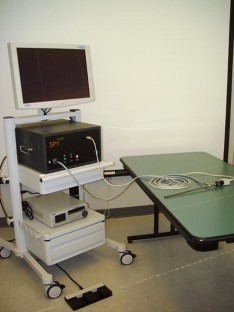 References
1.

Corbitt JD Jr, Leonetti LA. One thousand and six consecutive laparoscopic intraoperative cholangiograms. JSLS. 1997 Jan–Mar;1(1):13–6.

2.

Puente SG, Bannura GC. Radiological anatomy of the biliary tract: variations and congenital abnormalities. World J Surg. 1983 Mar;7(2):271–6.

3.

Waage A, Nilsson M. Iatrogenic bile duct injury: a population-based study of 152,776 cholecystectomies in the Swedish Inpatient Registry. Arch Surg. 2006 Dec;141(12):1207–13.

4.

Flum DR, Dellinger EP, Cheadle A, Chan L, Koepsell T. Intraoperative cholangiography and risk of common bile duct injury during cholecystectomy. JAMA. 2003 Apr 2;289(13):1639–44.
Disclosures
The authors have no financial disclosures related to this study.
Electronic supplementary materi
Below is the link to the electronic supplementary material.
About this article
Cite this article
Sherwinter, D.A. Identification of Anomolous Biliary Anatomy Using Near-Infrared Cholangiography. J Gastrointest Surg 16, 1814–1815 (2012) doi:10.1007/s11605-012-1945-z
Received:

Accepted:

Published:

Issue Date:
Keywords
Laparoscopic cholecystectomy

Common bile duct injury

Indocyanine green

Cholangiography