Abstract
Background
Intravital three-dimensional (3D) visualization of treatment efficacy in experimental colitis in living mice using two-photon laser scanning microscopy (TPLSM) has not been described.
Methods
Colitis was induced with dextran sulfate sodium (DSS) in green fluorescent protein (GFP) transgenic mice. The 3D tomographic image of DSS-induced colitis with or without prednisolone was obtained intravitally using TPLSM. A serosal-approaching method was developed, by which we could observe all layers of the cecum from serosa to luminal mucosa without opening and everting the cecum. The dynamic pathology and treatment efficacy were assessed in the same mouse on several occasions.
Results
The time-lapse 3D tomographic movie of DSS-induced colitis was obtained in living mice at a magnification of greater than ×600, which demonstrated irregularity of crypts, disappearance of crypts, inflammatory cell infiltrates in the lamina propria, and abscess formation at the bottom of crypts. Intravital TPLSM in the same mice demonstrated fewer infiltrating leukocytes and crypt abscesses on day 14 in the steroid group compared with the nonsteroid group.
Conclusions
Intravital 3D tomographic visualization of experimental colitis using TPLSM in combination with the serosal-approaching method can provide dynamic pathology at a high magnification, which may be useful in evaluating treatment efficacy in the same living mice.
This is a preview of subscription content, log in to check access.
Access options
Buy single article
Instant unlimited access to the full article PDF.
US$ 39.95
Price includes VAT for USA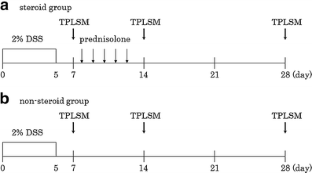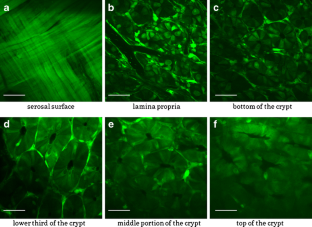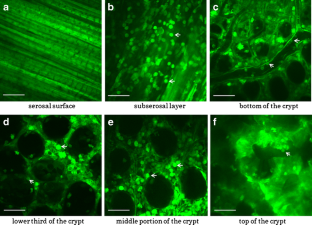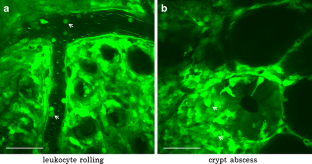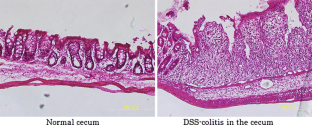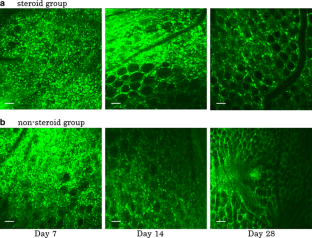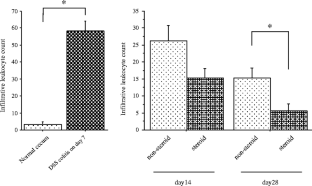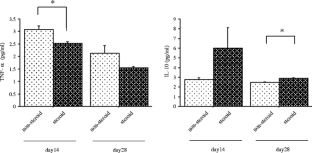 Abbreviations
TPLSM:

Two-photon laser scanning microscopy

GFP:

Green fluorescent protein

DSS:

Dextran sulfate sodium
References
1.

Wang BG, König K, Halbhuber KJ. Two-photon microscopy of deep intravital tissues and its merits in clinical research. J Microsc. 2010;238:1–20. Review.

2.

Quentmeier S, Denicke S, Gericke KH. Two-color two-photon fluorescence laser scanning microscopy. J Fluoresc. 2009;19:1037–1043.

3.

Hänninen P, Soukka J, Soini JT. Two-photon excitation fluorescence bioassays. Ann N Y Acad Sci. 2008;1130:320–326. Review.

4.

Benninger RK, Hao M, Piston DW. Multi-photon excitation imaging of dynamic processes in living cells and tissues. Rev Physiol Biochem Pharmacol. 2008;160:71–92. Review.

5.

Schenke-Layland K, Riemann I, Damour O, et al. Two-photon microscopes and in vivo multiphoton tomographs—powerful diagnostic tools for tissue engineering and drug delivery. Adv Drug Deliv Rev. 2006;58:878–896.

6.

Starodub OT, Demitrack ES, Baumgartner HK, et al. Disruption of the Cox-1 gene slows repair of microscopic lesions in the mouse gastric epithelium. Am J Physiol Cell Physiol. 2008;294:C223–C232.

7.

Toiyama Y, Mizoguchi A, Okugawa Y, et. al. Intravital imaging of DSS-induced cecal mucosal damage in GFP-transgenic mice using two-photon microscopy. J Gastroenterol. 2010;45:544–553.

8.

Fritsch Fredin M, Vidal A, Utkovic H, et al. The application and relevance of ex vivo culture systems for assessment of IBD treatment in murine models of colitis. Pharmacol Res. 2008;58:222–231.

9.

Islam MS, Murata T, Fujisawa M, et al. Anti-inflammatory effects of phytosteryl ferulates in colitis induced by dextran sulphate sodium in mice. Br J Pharmacol. 2008;154:812–824.

10.

Okabe M, Ikawa M, Kominami K, et al. 'Green mice' as a source of ubiquitous green cells. FEBS Lett. 1997;407:313–319.

11.

Li WB, Zuo XL, Li CQ, et al. Diagnostic value of confocal laser endomicroscopy for gastric superficial cancerous lesions. Gut. 2011;60:299–306.

12.

Moussata D, Goetz M, Gloeckner A, et al. Confocal laser endomicroscopy is a new imaging modality for recognition of intramucosal bacteria in inflammatory bowel disease in vivo. Gut. 2011;60:26–33.

13.

Tang S, Jung W, McCormick D, et al. Design and implementation of fiber-based multiphoton endoscopy with microelectromechanical systems scanning. J Biomed Opt. 2009;14:034005.

14.

Murari K, Zhang Y, Li S, Chen Y, Li MJ, Li X. Compensation-free, all-fiber-optic, two-photon endomicroscopy at 1.55 μm. Opt Lett. 2011;36:1299–1301.
Conflict of Interest Statement
None declared.
About this article
Cite this article
Morimoto, Y., Tanaka, K., Toiyama, Y. et al. Intravital Three-Dimensional Dynamic Pathology of Experimental Colitis in Living Mice Using Two-Photon Laser Scanning Microscopy. J Gastrointest Surg 15, 1842 (2011). https://doi.org/10.1007/s11605-011-1632-5
Received:

Accepted:

Published:
Keywords
Two-photon laser scanning microscopy

Green fluorescent protein

Dextran sulfate sodium

Colitis

Corticosteroid