Abstract
Background
Retraction of the liver is necessary to ensure an adequate working space in laparoscopic surgery, but the retraction force applied may cause transient liver dysfunction. We have introduced the technique using a Penrose drain to suspend the liver with the performance of laparoscopic gastrectomy for gastric adenocarcinoma.
Methods
111 patients with gastric adenocarcinoma underwent laparoscopic gastrectomy using either a Penrose drain (n = 47) or a Nathanson's retractor (n = 64) for displacement of the liver. Serum levels of alanine aminotransferase (ALT), aspartate aminotransferase (AST), total bilirubin, alkaline phoshatase (ALP) and albumin were compared among the groups at baseline, immediately after operation, and on postoperative days (POD) 1, 2, 3, 5, and 7.
Results
The levels of ALT on POD 2, 3, and 5 were significant higher in the Nathanson's retractor group than in the Penrose drain group. Levels of AST on POD 2 and 3 were also higher in the Nathanson's retractor group than in the Penrose drain group. There was no significant difference in total bilirubin, ALP, and serum albumin levels between groups.
Conclusions
The use of the Penrose drain for retraction of the liver appears to attenuate postoperative liver dysfunction during laparoscopic gastrectomy for gastric adenocarcinoma.
This is a preview of subscription content, log in to check access.
Access options
Buy single article
Instant unlimited access to the full article PDF.
US$ 39.95
Price includes VAT for USA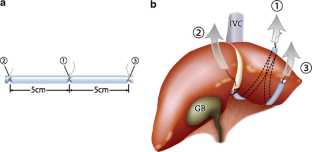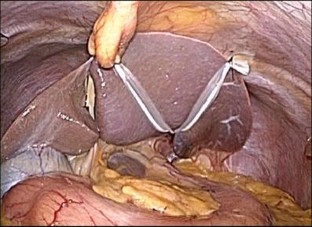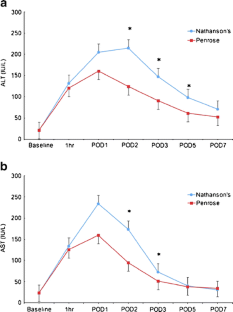 References
1.

Halevy A, Gold-Deutch R, Negri M, Lin G, Shlamkovich N, Evans S, Cotariu D, Scapa E, Bahar M, Sackier JM. Are elevated liver enzymes and bilirubin levels significant after laparoscopic cholecystectomy in the absence of bile duct injury? Ann Surg 1994;219:362–364.

2.

Schilling MK, Redaelli C, Krahenbuhl L, Siqner C, Buchler MW. Splanchnic microcirculatory changes during CO2 laparoscopy. J Am Coll Surg 1997;184:378–382.

3.

Klopfenstein CE, Morel DR, Clergue F, Pastor CM. Effects of abdominal CO2 insufflation and changes of position on hepatic blood flow in anesthetized pigs. Am J Physio 1998;275:900–905.

4.

Jakimowicz J, Stultiens G, Smulders F. Laparoscopic insufflation of the abdomen reduces portal venous flow. Surg Endosc 1998;12:129–132.

5.

Richter S, Olinger A, Hildebrandt U, Menger MD, Vollmar B. Loss of physiologic hepatic blood flow control ("hepatic arterial buffer response") during CO2-pneumoperitoneum in the rat. Anesth Analg 2001;93:872–877.

6.

Meierhenrich R, Gauss A, Vandenesch P, Georqieff M, Poch B, Schutz W. The effects of intraabdominally insufflated carbon dioxide on hepatic blood flow during laparoscopic surgery assessed by transesophageal echocardiography. Anesth Analg 2005;100:340–347.

7.

Nickkholgh A, Barro-Bejarano M, Liang R, Zorn M, Mehrabi A, Gebhard MM, Buchler MW, Gutt CN, Schemmer P. Signs of reperfusion injury following CO2 pneumoperitoneum: an in vivo microscopy study. Surg Endosc 2008;22:122–128.

8.

Andrei VE, Schein M, Margolis M, Rucinski JC, Wise L. Liver enzymes are commonly elevated following laparoscopic cholecystectomy: is elevated intra-abdominal pressure the cause? Dig Surg 1998;15:256–259.

9.

Nguyen NT, Braley S, Fleming NW, Lambourne L, Rivers R, Wolfe BM. Comparison of postoperative hepatic function after laparoscopic versus open gastric bypass. Am J Surg 2003;186:40–44.

10.

Etoh T, Shiraishi N, Tajima M, Shiromizu A, Yasuda K, Inomata M, Kitano S. Transient liver dysfunction after laparoscopic gastrectomy for gastric cancer patients. World J Surg 2007;31:1115–1120.

11.

Morris-Stiff G, Jones R, Mitchell S, Barton K, Hassn A. Retraction transaminitis: an inevitable but benign complication of laparoscopic fundoplication. World J Surg 2008;32:2650–2654.

12.

Uyama I, Sakurai Y, Komori Y, Nakamura Y, Syoji M, Tonomura S, Yoshida I, Masui T, Ochiai M. Laparoscopic gastrectomy with preservation of the vagus nerve accompanied by lymph node dissection for early gastric carcinoma. J Am Coll Surg 2005;200:140–145.

13.

Uyama I, Sakurai Y, Komori Y, Nakamura Y, Syoji M, Tonomura S, Yoshida I, Masui T, Inaba K, Ochiai M. Laparoscopy-assisted uncut Roux-en-Y operation after distal gastrectomy for gastric cancer. Gastric cancer 2005;8:253–257.

14.

Shinohara T, Kanaya S, Taniguchi K, Fuita T, Yanaga K, Uyama I. Laparoscopic total gastrectomy with D2 lymph node dissection for gastric cancer. Arch Surg 2009;144:1138–1142.

15.

Morino M, Giraudo G, Festa V. Alterations in hepatic function during laparoscopic surgery. An experimental clinical study. Surg Endosc 1998;12:968–972.

16.

Tan M, Xu FF, Peng JS, Li DM, Chen LH, Lv BJ, Zhao ZX, Huang C, Zheng CX. Changes in the level of serum liver enzymes after laparoscopic surgery. World J Gastroenterol 2003;9:364–367.

17.

Yassa NA, Peters JH. CT of focal hepatic injury due to surgical retractor. AJR 1996;166:599–602.

18.

Japanese Gastric Cancer Association. Japanese classification of gastric carcinoma. 2nd English ed. Gastric Cancer 1998;1:10–24.
Electronic supplementary material
Below is the link to the electronic supplementary material.
About this article
Cite this article
Shinohara, T., Kanaya, S., Yoshimura, F. et al. A Protective Technique for Retraction of the Liver During Laparoscopic Gastrectomy for Gastric Adenocarcinoma: Using a Penrose Drain. J Gastrointest Surg 15, 1043–1048 (2011). https://doi.org/10.1007/s11605-010-1301-0
Received:

Accepted:

Published:

Issue Date:
Keywords
Laparoscopic gastrectomy

Stomach neoplasm

Liver dysfunction

Liver retraction

Penrose drain