Abstract
Background
Enhanced recovery after surgery programs have been introduced with aims of improving patient care, reducing complication rates, and shortening hospital stay following colorectal surgery. The aim of this meta-analysis was to determine whether enhanced recovery after surgery programs, when compared to traditional perioperative care, are associated with reduced primary hospital length of stay in adult patients undergoing elective colorectal surgery.
Methods
MEDLINE, EMBASE, the Cochrane Central Registry of Controlled Trials, and the reference lists were searched for relevant articles. Only randomized controlled trials comparing an enhanced recovery program with traditional postoperative care were included.
Results
Three of four included studies showed significantly shorter primary lengths of stay for patients enrolled in enhanced recovery programs. There was no significant difference in postoperative mortality when the two groups were compared [relative risk (RR) = 0.53; 95% CI = 0.12–2.38; test for heterogeneity, p = 0.40 and I 2 = 0], and patients in enhanced recovery programs were less likely to develop postoperative complications (RR = 0.61, 95% CI = 0.42–0.88; test for heterogeneity, p = 0.95 and I 2 = 0).
Authors' Conclusions
There is some evidence to suggest that enhanced recovery after surgery programs are better than traditional perioperative care, but evidence from a larger, better quality randomized controlled trial is necessary.
This is a preview of subscription content, log in to check access.
Access options
Buy single article
Instant access to the full article PDF.
US$ 39.95
Price includes VAT for USA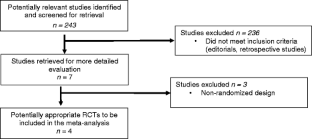 References
1.

Bokey EL, Chapuis PH, Fung C, Hughes WJ, Koorey CG, Brewer D et al. Postoperative morbidity and mortality following resection of the colon and rectum for cancer. Dis Colon Rectum 1995;38(5):480–487. doi:10.1007/BF02148847.

2.

Bradshaw BGG, Liu SS, Thirlby RC. Standardized perioperative care protocols and reduced length of stay after colon surgery. J Am Coll Surg 1998;186(5):501–506. doi:10.1016/S1072-7515(98)00078-7.

3.

Moiniche S, Bulow S, Hesselfeldt P, Hestbaek A, Kehlet H. Convalescence and hospital stay with balanced analgesia, early oral feeding and enforced mobilisation. Eur J Surg 1995;161:283–288.

4.

Wind J, Polle SW, Fung Kon Jin PHP, Dejong CHC, von Meyenfeldt MF, Ubbink DT et al. Systemic review of enhanced recovery programmes in colonic surgery. Br J Surg 2006;93:800–9. doi:10.1002/bjs.5384.

5.

Fearon KCH, Ljungqvist O, von Meyenfeldt M, Revhaug A, Dejong CHC, Lassen K et al. Enhanced recovery after surgery: a consensus review of clinical care for patients undergoing colonic resection. Clin Nutr 2005;24:466–477. doi:10.1016/j.clnu.2005.02.002.

6.

Nelson R, Edwards S, Tse B. Prophylactic nasogastric decompression after abdominal surgery. Cochrane Database Syst Rev, July 2007, issue 3:CD004929.

7.

Guenaga KF, Matos D, Castro AA, Atallah AN, Wille-Jorgensen P. Mechanical bowel preparation for elective colorectal surgery. Cochrane Database Syst Rev, January 2005, issue 1:CD001544.

8.

Basse L, Raskov HH, Hjort Jakobsen D, Sonne E, Billesbolle P, Hendel HW et al. Accelerated postoperative recovery programme after colonic resection improves physical performance, pulmonary function and body composition. Br J Surg 2002;89:446–453. doi:10.1046/j.0007-1323.2001.02044.x.

9.

Harris PH, Helfand M, Woolf SH, Lohr KN, Mulrow CD, Teutsch SM, Methods Work Group, Third US Preventive Services Task Force et al. Current methods of the U.S. Preventive Services Task Force: a review of the process. Am J Prev Med 2001;20(3S):21–35. doi:10.1016/S0749-3797(01)00261-6.

10.

Basse L, Thorbol JE, Lossl K, Kehlet H. Colonic surgery with accelerated rehabilitation or conventional care. Dis Colon Rectum 2004;47(3):271–278. doi:10.1007/s10350-003-0055-0.

11.

Raue W, Haase O, Junghans T, Scharfenberg Muller JM, Schwenk W. "Fast-track" multimodal rehabilitation program improves outcome after laparoscopic sigmoidectomy. Surg Endosc 2004;18:1463–1468. doi:10.1007/s00464-003-9238-y.

12.

Delaney CP, Zutshi M, Senagore AJ, Remzi FH, Hammel J, Fazio VW. Prospective, randomised, controlled trial between a pathway of controlled rehabilitation with early ambulation and diet and traditional postoperative care after laparotomy and intestinal resection. Dis Colon Rectum 2003;46(7):851–859. doi:10.1007/s10350-004-6672-4.

13.

Anderson ADG, McNaught CE, MacFie J, Tring I, Barker P, Mitchell CJ. Randomized clinical trial of multimodal optimisation and standard perioperative surgical care. Br J Surg 2003;90:1497–1504. doi:10.1002/bjs.4371.

14.

Gatt M, Anderson ADG, Reddy BS, Hayward-Sampson P, Tring IC, MacFie J. Randomized clinical trial of multimodal optimisation of surgical care in patients undergoing major colonic resection. Br J Surg 2005;92:1354–1362. doi:10.1002/bjs.5187.

15.

Khoo CK, Vickery CJ, Forsyth N, Vinall NS, Eyre-Brook IA. A prospective randomised controlled trial of multimodal perioperative management protocol in patients undergoing elective colorectal resection for cancer. Ann Surg 2007;245(6):867–872. doi:10.1097/01.sla.0000259219.08209.36.

16.

Chapman AE, Levitt MD, Hewett P, Woods R, Sheiner H, Maddern GJ. Laparoscopic-assisted resection of colorectal malignancies: a systematic review. Ann Surg 2001;234(5):590–606. doi:10.1097/00000658-200111000-00003.

17.

Braga M, Vignali A, Gianotti L, Zuliani W, Radaelli G, Gruarin P et al. Laparoscopic versus open colorectal surgery: a randomized trial on short-term outcome. Ann Surg 2002;236(6):759–766. doi:10.1097/00000658-200212000-00008.

18.

Lacy AM, Garcia-Valdecasas JC, Delgado S, Castells A, Taura P, Pique JM et al. Laparoscopy-assisted colectomy versus open colectomy for treatment of nonmetastatic colon cancer: a randomised trial. Lancet 2002;359(9325):2224–2229. doi:10.1016/S0140-6736(02)09290-5.

19.

Basse L, Jakobsen DH, Bardram L, Billesbolle P, Lund C, Mogensen T et al. Functional recovery after open versus laparoscopic colonic resection: a randomized, blinded study. Ann Surg 2005;241(3):416–423. doi:10.1097/01.sla.0000154149.85506.36.

20.

King PM, Blazeby JM, Ewings P, Franks PJ, Longman RJ, Kendrick AH et al. Randomized clinical trial comparing laparoscopic and open surgery for colorectal cancer within an enhanced recovery programme. Br J Surg 2006;93(3):300–308. doi:10.1002/bjs.5216.
Acknowledgments
The authors would like to thank Dr. Prakesh Shah, Department of Pediatrics, University of Toronto, for his input during the conduct of the systematic review and preparation of the manuscript and Dr. Joseph Beyene, Department of Medicine, University of Toronto and Population Health Sciences Research Institute, Hospital for Sick Children for his input during the statistical analysis.
Additional information
No funding was sought for the conduct of this study; it is not based on a previous communication to a society or meeting.
About this article
Cite this article
Eskicioglu, C., Forbes, S.S., Aarts, M. et al. Enhanced Recovery after Surgery (ERAS) Programs for Patients Having Colorectal Surgery: A Meta-analysis of Randomized Trials. J Gastrointest Surg 13, 2321 (2009). https://doi.org/10.1007/s11605-009-0927-2
Received:

Accepted:

Published:
Keywords
Enhanced recovery after surgery

Colorectal surgery

Meta-analysis

Postoperative complications