Abstract
Treatment of pelvic arteriovenous malformations (AVMs) is frequently challenging because of the complex structures and anatomical diversity among cases. We present a case series of six patients with pelvic AVMs. All patients had a similar anatomical structure consisting of multiple feeders from the unilateral internal iliac artery, collecting into a dilated venous sac in the unilateral paravesical space and draining into a single outflow, eventually joining the pre-prostatic vein or internal iliac vein. Five among these patients were successfully treated by catheter-directed embolo-sclerotherapy. In addition to our six cases, we identified six previous case reports of pelvic AVM with similar anatomical characteristics. Herein, we summarize the clinical and anatomical features of these 12 paravesical AVM cases. In all cases, the patients were men; the AVM was predominantly located at the right paravesical space and demonstrated good therapeutic effect of catheter-directed embolosclerotherapy. These paravesical AVMs may constitute a new subgroup of pelvic vascular anomalies with the same etiology that are treatable by adequate catheter intervention.
This is a preview of subscription content, log in to check access.
Access options
Buy single article
Instant access to the full article PDF.
US$ 39.95
Price includes VAT for USA
Subscribe to journal
Immediate online access to all issues from 2019. Subscription will auto renew annually.
US$ 99
This is the net price. Taxes to be calculated in checkout.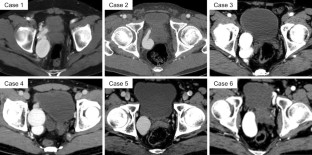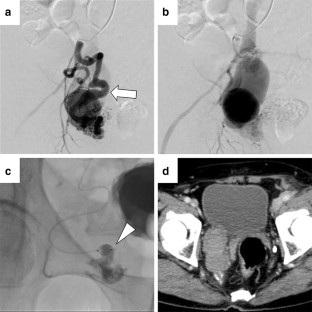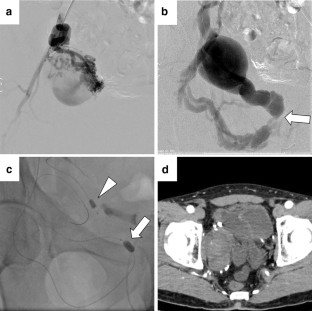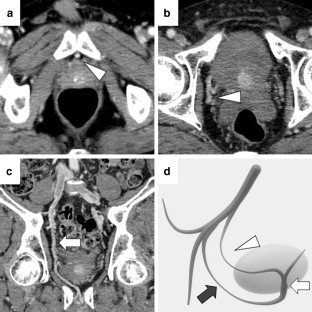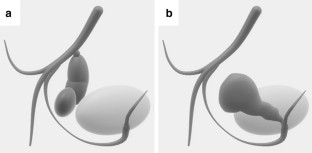 References
1.

Jacobowitz GR, Rosen RJ, Rockman CB, Nalbandian M, Hofstee DJ, Fioole B, et al. Transcatheter embolization of complex pelvic vascular malformations: results and long-term follow-up. J Vasc Surg. 2001;33:51–5.

2.

Game X, Berlizot P, Hassan T, Joffre F, Chokairi S, Houlgatte A, et al. Congenital pelvic arteriovenous malformation in male patients: a rare cause of urological symptoms and role of embolization. Eur Urol. 2002;42:407–12.

3.

Richards AJ, Hatrick A, Eden CG. Large pelvic arteriovenous malformation complicating laparoscopic radical prostatectomy. Urology. 2008;72:1359–61.

4.

Castaneda F, Goodwin SC, Swischuk JL, Wong GC, Bonilla SM, Wang MJ, et al. Treatment of pelvic arteriovenous malformations with ethylene vinyl alcohol copolymer (Onyx). J Vasc Interv Radiol. 2002;13:513–6.

5.

Gandini R, Angelopoulos G, Konda D, Messina M, Chiocchi M, Perretta T, et al. Transcatheter embolization of a large symptomatic pelvic arteriovenous malformation with Glubran 2 acrylic glue. Cardiovasc Interv Radiol. 2008;31:1030–3.

6.

Koganemaru M, Abe T, Iwamoto R, Suenaga M, Matsuoka K, Hayabuchi N. Pelvic arteriovenous malformation treated by superselective transcatheter venous and arterial embolization. Jpn J Radiol. 2012;30:526–9.

7.

Murakami K, Yamada T, Kumano R, Nakajima Y. Pelvic arteriovenous malformation treated by transarterial glue embolisation combining proximal balloon occlusion and devascularisation of multiple feeding arteries. BMJ Case Rep. 2014. https://doi.org/10.1136/bcr-2013-203492.

8.

Cho SK, Do YS, Shin SW, Kim DI, Kim YW, Park KB, et al. Arteriovenous malformations of the body and extremities: analysis of therapeutic outcomes and approaches according to a modified angiographic classification. J Endovasc Ther. 2006;13:527–38.

9.

Do YS, Kim YW, Park KB, Kim DI, Park HS, Cho SK, et al. Endovascular treatment combined with emboloscleorotherapy for pelvic arteriovenous malformations. J Vasc Surg. 2012;55:465–71.
Ethics declarations
Conflict of interest
All authors declare no conflict of interest.
Informed consent
All procedures performed in this study involving human participants were in accordance with the ethical standards of the institutional and/or national research committee and with the 1964 Helsinki declaration and its later amendments or comparable ethical standards. Owing to the retrospective study design, ethical approval was not sought from our institutional review board for this study. Informed consent was obtained from all individual participants included in this study.
Additional information
Publisher's Note
Springer Nature remains neutral with regard to jurisdictional claims in published maps and institutional affiliations.
About this article
Cite this article
Kishino, M., Nishida, K., Kimura, K. et al. Paravesical space arteriovenous malformation as a specific subgroup of pelvic vascular anomaly: a case series and review of literature. Jpn J Radiol (2020). https://doi.org/10.1007/s11604-020-00924-6
Received:

Accepted:

Published:
Keywords
Pelvic arteriovenous malformations

Paravesical space

Catheter intervention

Embolo-sclerotherapy