Abstract
Purpose
The purpose is to develop a new image toggle tool with automatic density normalization (ADN) and automatic alignment (AA) for comparing serial digital mammograms (DMGs).
Materials and methods
We developed an ADN and AA process to compare the images of serial DMGs. In image density normalization, a linear interpolation was applied by taking two points of high- and low-brightness areas. The alignment was calculated by determining the point of the greatest correlation while shifting the alignment between the current and prior images. These processes were performed on a PC with a 3.20-GHz Xeon processor and 8 GB of main memory. We selected 12 suspected breast cancer patients who had undergone screening DMGs in the past. Automatic processing was retrospectively performed on these images. Two radiologists subjectively evaluated them.
Results
The process of the developed algorithm took approximately 1 s per image. In our preliminary experience, two images could not be aligned approximately. When they were aligned, image toggling allowed detection of differences between examinations easily.
Conclusions
We developed a new tool to facilitate comparative reading of DMGs on a mammography viewing system. Using this tool for toggling comparisons might improve the interpretation efficiency of serial DMGs.
This is a preview of subscription content, log in to check access.
Access options
Buy single article
Instant unlimited access to the full article PDF.
US$ 39.95
Price includes VAT for USA
Subscribe to journal
Immediate online access to all issues from 2019. Subscription will auto renew annually.
US$ 99
This is the net price. Taxes to be calculated in checkout.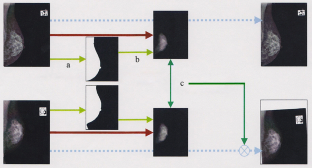 References
1.

Economy working group, Mammography evaluation committee, JIRA. Survey report of digital mammography. Japan Medical Imaging and Radiological Systems Industries Association (JIRA); 2010 (in Japanese).

2.

Doi K. Computer-aided diagnosis in medical imaging: historical review, current status and future potential. Comput Med Imaging Graph. 2007;31(4–5):198–211.

3.

ACR committee on quality assurance in mammography. Mammography quality control manual; American college of radiology. 1999.

4.

Hasegawa A, Neemuchwala H, Tsunoda-Shimizu H, Honda S, Shimura K, Sato M, et al. A tool for temporal comparison of mammograms: image toggling and dense-tissue-preserving registration. In: Krupinski EA, editor. Digital mammography, 9th international workshop IWDM'08. LNCS 5116. Heidelberg: Springer; 2008. p. 447–54.

5.

Skaane P, Skjennald A, Young K, Egge E, Jebsen I, Sager EM, et al. Follow-up and final results of the Oslo I study comparing screen-film mammography and full-field digital mammography with soft-copy reading. Acta Radiol. 2005;46(7):679–89.

6.

Morrow WM, Paranjape RB, Rangayyan RM, Desautels JEL. Region-based contrast enhancement of mammograms. IEEE Trans Med Imaging. 1992;11(3):392–406.

7.

Wolberg G, Zokai S. Robust image registration using log–polar transform. In: Proceedings of IEEE International Conference on Image Processing, 2000. vol 1, p. 493–6.

8.

Lewis JP. Fast normalized cross-correlation. Vis Interface. 1995;10(1):120–3.

9.

Brown LG. A survey of image registration techniques. ACM Comput Surv. 1992;24(4):325–76.

10.

Chan HP, Sahiner B, Hadjiiski LM. Computer-aided diagnosis for screening mammography. In: Advances in breast imaging: physics, technology, and clinical applications. RSNA; 2004. p. 191–204.

11.

Sickles EA. The use of computer-aided detection in mammographic interpretation: detection versus distraction. In: Advances in breast imaging: physics, technology, and clinical applications. RSNA; 2004. p. 119–134.

12.

Baker JA, Rosen EL, Lo JY, Gimenez EI, Walsh R, Soo MS. Computer-aided detection (CAD) in screening mammography: sensitivity of commercial CAD systems for detecting architectural distortion. AJR. 2003;181:1083–8.

13.

Rangayyan RM, Banik S, Desautels JE. Computer-aided detection of architectural distortion in prior mammograms of interval cancer. J Digit Imaging. 2010;23(5):611–31.

14.

Skaane P, Young K, Skjennald A. Population-based mammography screening: comparison of screen-film and full-field mammography with soft-copy reading—Oslo I study. Radiology. 2003;229:877–84.

15.

Skaane P, Hofvind S, Skjennald A. Randomized trial of screen-film versus full-field digital mammography with soft-copy reading in population-based screening program: follow-up and final results of Oslo II study. Radiology. 2007;244(3):708–17.

16.

Ishiyama M, Tsunoda-Shimizu H, Kikuchi M, Saida Y, Hiramatsu S. Comparison of reading time between screen-film mammography and soft-copied, full-field digital mammography. Breast Cancer. 2009;16:58–61.

17.

Japan Radiological Society and Japanese Society of Radiological Technology. Mammography guideline. 4th ed. Igaku Shoin: Tokyo; 2010 (in Japanese).
Acknowledgments
The authors gratefully acknowledge the assistance of Isam Ohashi, MD, PhD, Department of Radiology, Tokyo Medical and Dental University, whose comments and suggestions were of inestimable value for our study. We are indebted to Jay Starkey, Department of Radiology, University of California, San Francisco, who aided us in writing the manuscript in English.
Conflict of interest
Wataru Fukuda is an employee of Fujifilm Corp. The other authors declare that they have no conflict of interest.
Electronic supplementary material
Below is the link to the electronic supplementary material.
Supplementary Material 1 Movie: Image toggling on a mammography viewer. Comparison images are displayed interchangeably at the same position on the monitor. It is easier to perform detailed comparisons. In this example, interpretation images and the post-processeed reference images are displayed alternately (MPG 250 kb)
About this article
Cite this article
Honda, S., Tsunoda, H., Fukuda, W. et al. A novel image toggle tool for comparison of serial mammograms: automatic density normalization and alignment—development of the tool and initial experience. Jpn J Radiol 32, 725–731 (2014) doi:10.1007/s11604-014-0362-5
Received:

Accepted:

Published:

Issue Date:
Keywords
Digital mammography

Soft copy reading

Serial comparison

Image processing