Remarkably enhanced activity of 4A zeolite modified Pt/reduced graphene oxide electrocatalyst towards methanol electrooxidation in alkaline medium
Abstract
A novel 4A zeolite modified platinum/reduced graphene oxide (Pt/RGO-4A zeolite) electrocatalyst has been successfully synthesized by one-step chemical co-reduction method. The electrocatalytic performances of Pt/RGO-4A zeolite electrocatalyst for methanol electrooxidation are investigated in 1.0 M CH3OH containing 1.0 M KOH solution. The results demonstrate that, with loading of 10% of 4A zeolite, Pt/RGO-4A zeolite electrocatalyst shows higher current density of 319.40 mA mg−1 than Pt/RGO electrocatalyst (88.64 mA mg−1) at the potential of 0.70 V. In addition, Pt/RGO-4A zeolite electrocatalyst still exhibits high electrocatalytic activity even after 4000-s operation, suggesting satisfactory long-term durability. The remarkably enhanced electrocatalytic performances are attributed to the nanoporous structure of 4A zeolite, which significantly promotes the dispersion of Pt nanoparticles and provides substantial fast flow paths for reactants. The results suggest a potential application of Pt/RGO-4A zeolite electrocatalyst to methanol electrooxidation.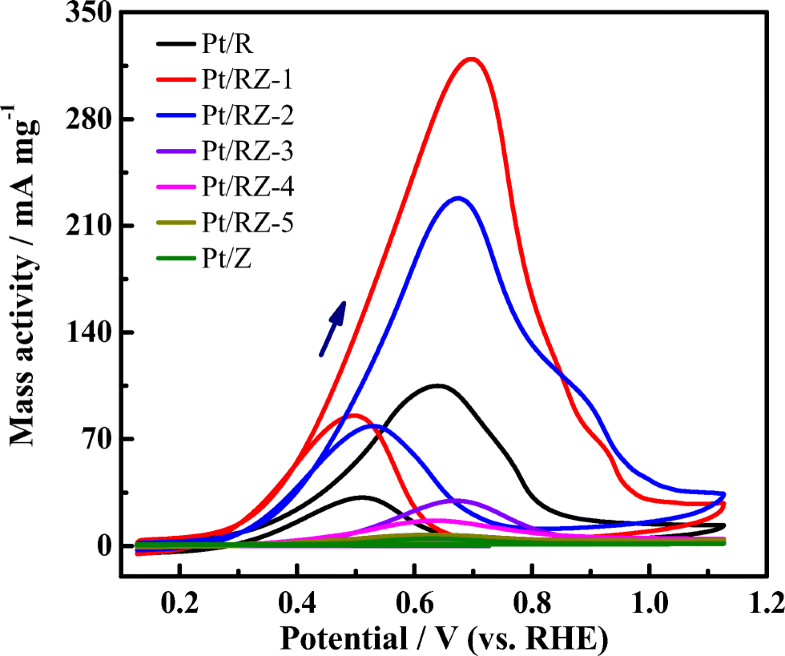 Keywords
Methanol 
Electrooxidation 
Electrocatalyst 
Platinum 
Reduced graphene oxide 
4A zeolite 
Notes
Funding information
This work was supported by the Postgraduate Innovation Fund Project of SWUST (No. 18YCX067), the Longshan Academic Talent Research Supporting Program of SWUST (Nos. 18LZX322 and 17LZX406), the project of Green Manufacturing and System Integration from the Ministry of Industry and Information Technology (17zg010202), the State Key Laboratory of Solid Waste Recycling and Energy-Saving Building Materials Program (SWR-2016-005), and the National Natural Science Foundation of China (No. 51602267).
Copyright information
© Springer-Verlag GmbH Germany, part of Springer Nature 2019