A method for recovering Li3PO4 from spent lithium iron phosphate cathode material through high-temperature activation
Abstract
Numerous LiFePO4 batteries have been retired with the increasing development of electric vehicles and hybrid electric vehicles; meanwhile, the spent LiFePO4 batteries will lead to an environment contamination and the resources squander if they do not recycled reasonable. In this paper, a green process is developed for the recovery of spent LiFePO4 cathode materials with a certain amount of impurities: the Li+ and small part of PO43− have been selectively leached into solution while iron and the major PO43− as a precipitate via H2SO4 selective leaching after oxidative activation at 600 °C under air atmosphere. The process is dissimilar from the previous process of using excess H2O2 or excess mineral acid to leach the elements into solution. The leaching rates of Li, Fe, and P are 98.46%, 0.010%, and 26.59%, respectively, under the optimized conditions. Around 85.56% Li and 99.58% Fe were recovered in the form of Li3PO4 and FePO4 under the experimental conditions. This research demonstrates an effective process for the recovering of spent LiFePO4 batteries in a simple, efficient, and lucrative way, which gives it a feasible industrially application.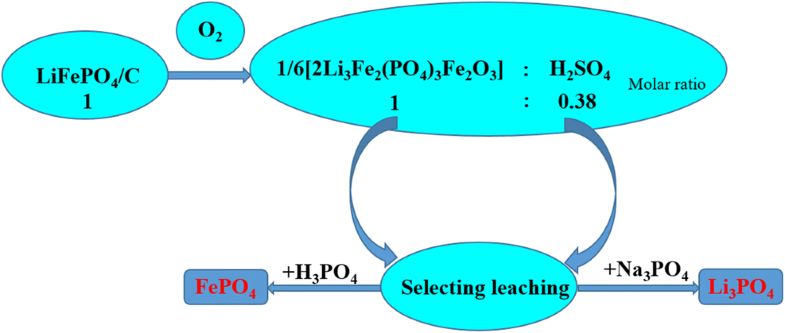 Keywords
Spent LiFePO4 batteries 
High-temperature activation 
Recovery 
H2SO4 
Li3PO4 
Notes
Funding information
This work was supported by the Natural Science Foundation of China (Grant Number 51371198) and the Natural Science Foundation of Hunan provincial (Grant Number 2017JJ2168).
Copyright information
© Springer-Verlag GmbH Germany, part of Springer Nature 2019