Electrospun 3D CNF–SiO2 fabricated using non-biodegradable silica gel as prospective anode for lithium–ion batteries
Abstract
An eco-friendly simple, cost-effective, and recyclable strategy was approached to fabricate high-capacity anode for lithium–ion batteries (LIBs). A non-biodegradable solid waste obtained from the used silica gel pack was pulverised and used directly as a source of silicon dioxide nanoparticles. The SiO2-incorporated carbon nanofiber (CNF–SiO2) composite was prepared via the electrospinning technique. LIB constructed with CNF–SiO2 nanocomposite electrode delivered enhanced initial discharge capacity of 900 mA h g−1 and a remarkable discharge capacity of 1000 mA h g−1 after 300 cycles of charge and discharge at a cycling rate of 0.1 C (current density ≈ 0.19 A g−1). The CNF–SiO2 electrode exhibited reduced charge transfer resistance and a higher rate capability at various cycling rates with highest reversible discharge capacity of nearly 975 mA h g−1 at 0.2 C. The excellent rate capability of CNF–SiO2 composite electrode obtained from non-indicative desiccant followed by electrospinning with improved charge discharge capacity demonstrates its potential application in LIBs.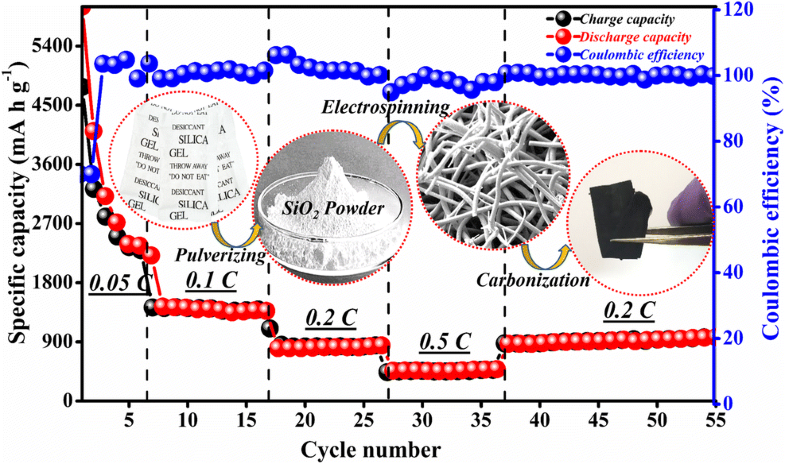 Keywords
Silica gel pack 
SiO2 nanoparticles 
CNF–SiO2 electrode 
High discharge capacity 
High-performance Li–ion battery 
Notes
Acknowledgments
RM acknowledges support from the SERB, Govt. of India (EMR/2017/000417). MMU Din thanks UGC-MANF Govt. of India for the fellowship support.
Author contributions
RM and PP proposed the research work. ADJ carried out the experimental work, materials characterization, data analysis and manuscript preparation. MMU Din, IMS and KK assisted in carrying out the experimental work. VR and GSN supported the research work. Major work was carried out in the High Energy Density Batteries Research Laboratory, Pondicherry University under the supervision of RM.
Compliance with ethical standards
Conflict of interest
The authors declare no competing financial interest.
Copyright information
© Springer-Verlag GmbH Germany, part of Springer Nature 2019