Kombucha scoby-based carbon as a green scaffold for high-capacity cathode in lithium–sulfur batteries
Abstract
A ternary composite cathode of sulfur, poly(acrylonitrile) (PAN), and carbon was investigated for the possible use in Li–S batteries. The carbon used in this work was obtained from kombucha tea or tea fungus with potassium hydroxide activation process. The flaky structure of functionalized carbon derived from a waste part of kombucha culture has micropores and mesopores with a large pore volume, which are favorable for impregnating elemental sulfur. The ration of the ternary composite was based on a simple process involving a dispersion of the carbon with that of S/PAN, followed by a simple heat treatment. The cathode delivered an initial discharge capacity of 1666 mAh g−1 at C/10 rate and a 100th cycle capacity of 838 mAh g−1. This study exploits the cumulative contribution of a conductive carbon and PAN in the improved performance of the cathode.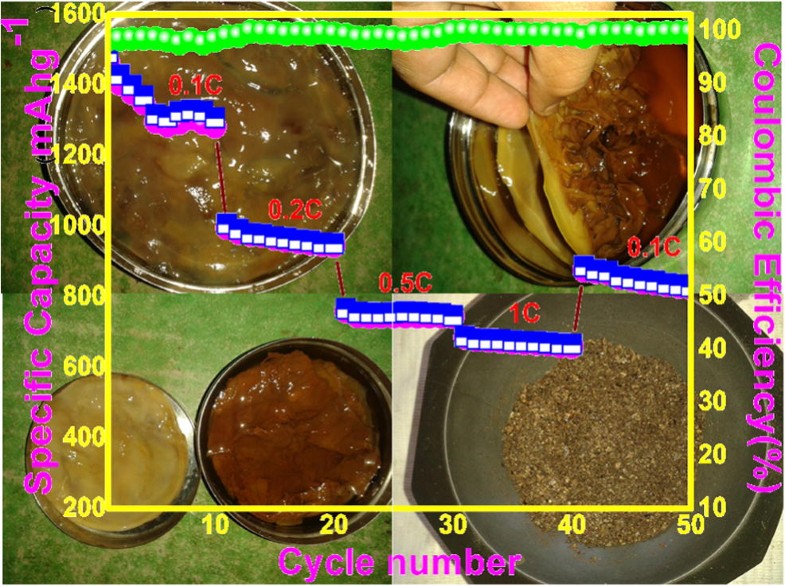 Keywords
Sulfur cathode 
Composite cathode 
Kombucha scoby 
Lithium–sulfur battery 
Notes
Funding information
This study was financially supported by BSR of University Grants Commission (UGC), New Delhi, India, and Ministry of Human Resource Development RUSA-Phase 2.0 grant sanctioned vide Lt.No.F-24-51/2014 U Policy (TNMulti Gen), Dept. of Education, Government of India.
Compliance with ethical standards
Conflict of interest
The authors declare that they have no conflict of interest.
Copyright information
© Springer-Verlag GmbH Germany, part of Springer Nature 2019