Influence of thiourea concentration on the CuS nanostructures and identification of the most suited electrolyte for high energy density supercapacitor
Abstract
The energy density of a supercapacitor is largely reliant on functional parameters of electrode material and electrolyte. To improve the energy density of the CuS asymmetric device, optimization of sulfur concentration (thiourea) in the precursor and identification of the most suited electrolyte have been attempted. The changes in thiourea concentration greatly affect the physical and electrochemical features of CuS. The highest specific capacitance of 298 F g−1 at 2 A g−1 was obtained for copper sulfide nanoparticles prepared with 1:2 ratio of copper acetate and thiourea (C3). It exhibits excellent cycling stability in 2 M KOH electrolyte. In addition, to evaluate the most suited electrolyte, electrochemical studies were performed with different electrolytes (H2SO4, Na2SO4, KOH and LiClO4 in propylene carbonate). Based on the electrochemical results, it was found that an outstanding performance has originated from H2SO4 electrolyte (773 F g−1 at 2 A g−1). The C3 electrode exhibits no perceptible degradation in capacity even after 4000 charge-discharge cycles in acidic electrolyte. Further, for real-life applications, an asymmetric device was fabricated using C3 as a cathode and PVA/ H2SO4 as electrolyte. The device attained a highest energy density of 21 W h kg−1 at a power density of 310 W kg−1. Furthermore, lighting up of red and yellow LEDs is demonstrated using the fabricated asymmetric device. The efficient device performances concluded that C3 is a potential cathode material for future supercapacitor applications.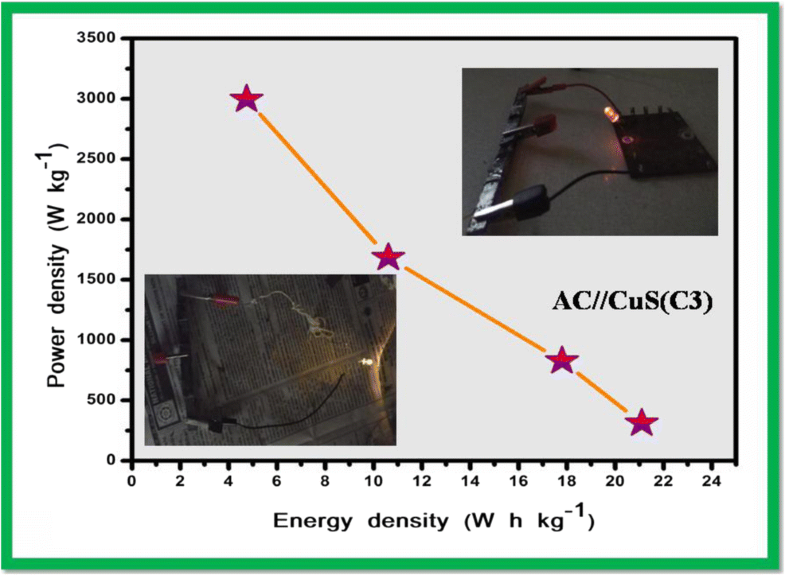 Keywords
Copper sulfide 
Hydrothermal method 
Various electrolytes 
Cyclic voltammetry 
Specific capacitance 
Notes
Funding information
One of the authors, S. Nandhini (RGNF-2015-17-SC-TAM-18395), is thankful to the University Grants Commission, New Delhi for providing the financial support through Rajiv Gandhi National Fellowship (RGNF).
Compliance with ethical standards
Conflict of interest
The authors declare that they have no conflict of interest.
Copyright information
© Springer-Verlag GmbH Germany, part of Springer Nature 2019