One-pot synthesis of Ag-decorated pomegranate seed-like Fe3O4 composite for high-performance lithium-ion battery
Abstract
The combination of high-capacity and long-term cyclability has always been regarded as the first priority for next-generation anode material for lithium-ion batteries (LIBs). To meet these requirements, in this work, the Ag-decorated pomegranate seed-like Fe3O4 anode was synthesized through a facile one-pot solvothermal method, without intervening of inert gas or any additional surfactants. The Ag nanocrystals uniformly decorated on the pomegranate seed-like Fe3O4 nanograins could significantly improve the rate capability and contribute to long-term cyclability. When used as anode for LIBs, the Ag-decorated Fe3O4 anode exhibited excellent cycling stability after 150 cycles with a high capacity of 550 mA h gcomposite−1 calculated on the composite at a current density of 0.5 C, corresponding to 696 mA h g−1 on the basis of Fe3O4. Furthermore, even at a very high current density of 2.0 C, the discharge-specific capacity remained as high as 390 mA h gcomposite−1.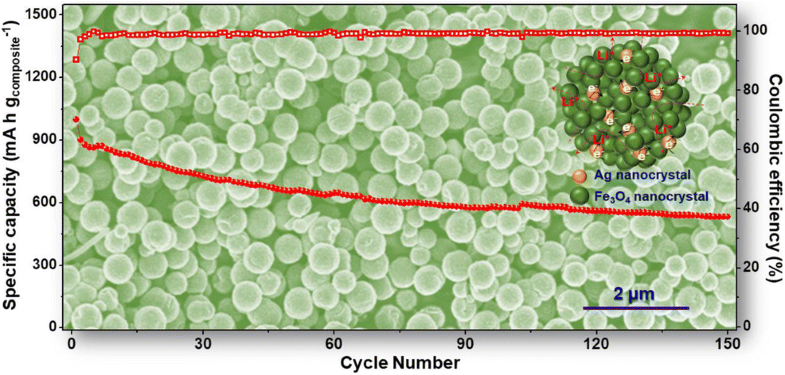 Keywords
Silver 
Fe3O4 nanocrystal 
Nanocomposite 
Anode 
Lithium-ion batteries 
Notes
Author contributions
The manuscript was written through contributions of all authors. All authors have given approval to the final version of the manuscript.
Funding information
This work was financially supported by the National Natural Science Foundation of China (21503033), the Doctoral Scientific Research Foundation of Liaoning Province (201501178), and the Fundamental Research Funds for the Central Universities (N172504029).
Compliance with ethical standards
The authors declare that they have no competing interest.
Copyright information
© Springer-Verlag GmbH Germany, part of Springer Nature 2019