DNA-functionalized dye-loaded carbon dots: ultrabright FRET platform for ratiometric detection of Hg(II) in serum samples and cell microenvironment
Abstract
The dual-emission carbon dots (CDs) are used to fabricate an ultra-sensitive and highly selective fluorescence resonance energy transfer (FRET) aptameric-sensor for the quantitation of Hg(II). The designed strategy worked based on hybridization between T-rich ssDNA(S1) immobilized on CDs and AuNPs modified with complementary aptamer (AuNPs-S2) and Rhodamine B (RB) as an extra internal reference. Under optimized experimental conditions, the intensity ratio of I580/I668 shows a good linear relationship with the Hg(II) concentration in concentration range of 1.0 × 10−18 to 50.0 × 10−5 M with detection limit of 5 × 10−19 M. The proposed FRET aptasensor showed high selectivity for Hg(II) determination even in the presence of other metal ions with higher concentration as high as 1000 times. Furthermore, the RB-CDs probe was demonstrated to be efficient for MDA-MB 231 cell imaging. The bifunctional signaling probe exhibits impressive simplicity, convenience, and low detection time and the proposed sensor can be applied in biomedicine study, food safety, and environmental protection.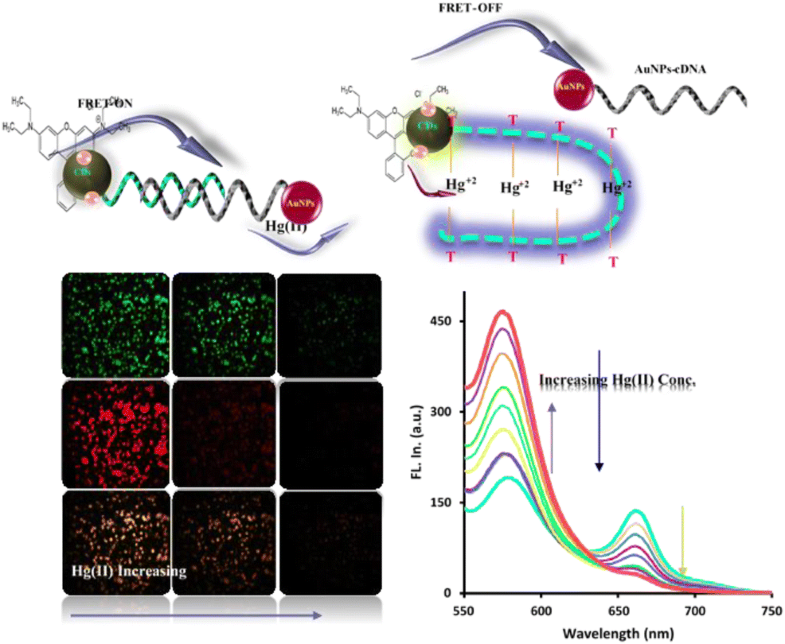 Keywords
Ratiometric 
Dual emission carbon dots 
Hg(II) 
Aptasensor 
Cellular imaging 
Fluorescence resonance energy transfer (FRET) 
Rhodamine B 
Notes
Acknowledgments
This work was supported with the Research Office of University of Kurdistan and Iranian Nanotechnology Initiative. We thank Dr. Fardin Fathi and Farzad Soleimani (Kurdistan Medical University for taking cellar fluorescence imaging.
Copyright information
© Springer-Verlag GmbH Germany, part of Springer Nature 2019