LiAlCl4·3SO2: a promising inorganic electrolyte for stable Li metal anode at room and low temperature
Abstract
LiAlCl4·3SO2 is a promising electrolyte used for Li metal batteries. At room and low temperature, a stable solid electrolyte interface film can be formed in LiAlCl4·3SO2 to achieve favorable protection for Li metal anodes. Here, Li|Cu cells with SO2-based inorganic electrolyte (LiAlCl4·3SO2) display higher average coulombic efficiency and more excellent cycling stability compared with a conventional organic electrolyte. Moreover, at 0.5 mA cm−2, the coulombic efficiency of Li|Cu cells with LiAlCl4·3SO2 electrolyte can reach 95% at − 20 °C, while the coulombic efficiency of the conventional organic electrolyte at − 20 °C is only about 79%. Furthermore, LiAlCl4·3SO2 electrolyte is non-combustible. Based on all the experimental results, LiAlCl4·3SO2 is a promising electrolyte candidate for safe Li metal batteries.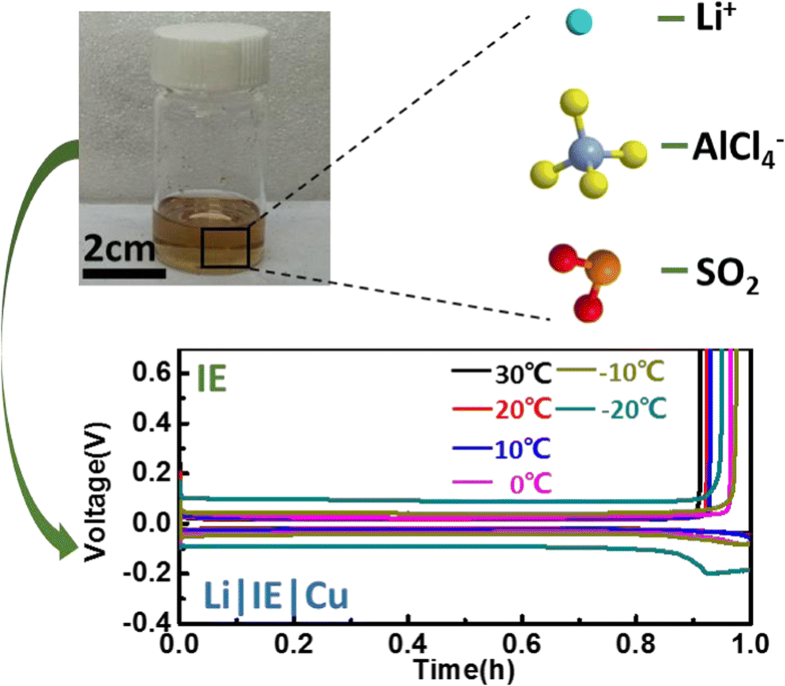 Keywords
LiAlCl4·3SO2 electrolyte 
Non-combustible 
Li metal anode 
Stable SEI film 
Low temperature 
Notes
Funding information
This study is funded by the National Natural Science Foundation of China (No. 51874110 and 51604089), the Fundamental Research Funds for the Central Universities (Grant No. HIT.NSRIF.2017024), the China Postdoctoral Science Foundation (Grant No. 2016 M601431 and 2018T110308), and the Heilongjiang Province Postdoctoral Science Foundation (Grant No. LBH-Z16056 and LBH-TZ1707).
Copyright information
© Springer-Verlag GmbH Germany, part of Springer Nature 2019