One-step synthesis of 3D-interconnected porous carbons derived from ephedra herb using calcium chloride and urea as co-activation for high-performance supercapacitors
Abstract
In this article, we propose a one-step strategy, utilizing calcium chloride and urea as co-activation, to synthesize 3D-interconnected porous carbon (3D-IPC) from ephedra herb. The 3D-IPC-based electrode displays excellent electrochemical performance for supercapacitors, such as a high specific capacitance of 240 F g−1 at 0.5 A g−1 and good rate capability. Especially, the symmetric supercapacitor assembled based on the 3D-IPC electrode material presents considerable energy density of 12.6 W h kg−1 at a power density 225 W kg−1, and 6.0 W h kg−1 at 9000 W kg−1 in 0.5 M Li2SO4 electrolyte. On the one hand, the urea was utilized as both activating agent for microporous pore formation in pyrolysis and nitrogen source to nitrogen doped into the 3D-IPC framework, as well as ideal synchronous carbonization and graphitization. On the other hand, ephedra herb collected from the Gobi Desert is reused as a high-value carbon material.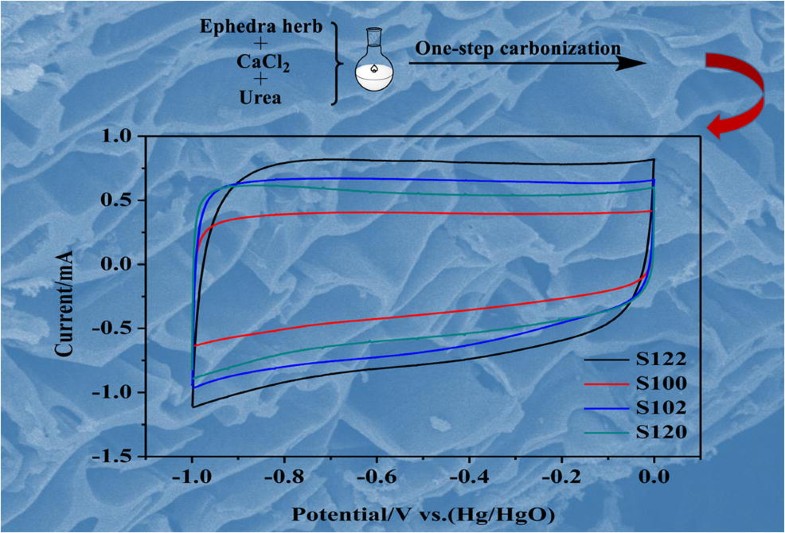 Keywords
Supercapacitors 
Carbon materials 
CaCl2 and urea activation 
Ephedra herb 
Notes
Acknowledgments
We thank Professor Erxin Ren for measurements.
Funding information
This study was supported by the National Natural Science Foundation of China (No. 21562036), the Scientific Research Project of Institutions of Higher Learning in Gansu Province (No. 2018B-112), and the Fundamental Research Funds of Gansu Police Vocational College (No. 2017GJYXM09)
Compliance with ethical standards
Conflicts of interest
There authors declare that they have no conflicts of interest.
Copyright information
© Springer-Verlag GmbH Germany, part of Springer Nature 2019