Nitrogen-doped carbon-coated Fe3O4/rGO nanocomposite anode material for enhanced initial coulombic efficiency of lithium-ion batteries
Abstract
Nitrogen-doped carbon-coated Fe3O4/reduced graphite oxide (NC@Fe3O4/rGO) nanocomposites with in situ polymerized melamine-formaldehyde resin (MFR) as the carbon sources were synthesized via the decomposition of MFR/Fe3O4/rGO nanocomposites. Fe3O4 NPs were embedded in the integrated carbon matrix composed of protective carbon layer and conductive rGO sheets offering excellent buffer effect. The NC@Fe3O4/rGO nanocomposites were tested as anode materials for lithium-ion batteries (LIBs) and displayed a large reversible specific capacity of above 900 mA h g−1 after 100 cycles at a current density of 50 mA g−1, high coulombic efficiency (~ 98%) with an initial coulombic efficiency of 86%. The high initial coulombic efficiency is critical for the practical application of the transition metal oxide–based anode materials.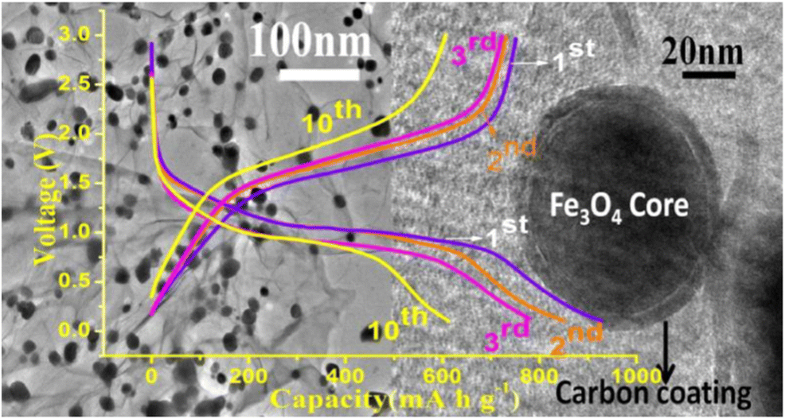 Keywords
Nitrogen-doped carbon 
Fe3O4/rGO 
Lithium-ion batteries 
Coulombic efficiency 
Notes
Acknowledgments
The authors also thank Mr. Chao-liang Zhang for his kind assistance in morphological observations.
Funding
This study was funded by the National Natural Science Foundation of China (NNSFC Grants 51422305 and 51421061), Sichuan Provincial Science Fund for Distinguished Young Scholars (2015JQO003), and State Key Laboratory of Polymer Materials Engineering (Grant No. sklpme 2014-2-02).
Compliance with ethical standards
Conflict of interest
The authors declare that they have no conflict of interest.
Copyright information
© Springer-Verlag GmbH Germany, part of Springer Nature 2019