Yttrium-substituted LiNi0.3Mn0.3Co0.3O2 cathode material with enhanced cycling stability for rechargeable lithium-ion batteries
Abstract
The layered structure of LiNi1/3Mn1/3Co1/3 – xYxO2 with different concentration of yttrium substituted (x = 0.00, 0.01, 0.03, and 0.05) cathode material was synthesized using the sol-gel method, followed by high-temperature calcination process. The influence of Y substitution on the microstructure and electrochemical performances of the prepared materials were investigated using X-ray diffraction (XRD), transmission electron microscopy (TEM), cyclic voltammetry and galvanostatic charge/discharge test respectively. The XRD result showed that the LiNi1/3Mn1/3Co1/3 − xYxO2 has a well-ordered hexagonal α-NaFeO2 structure with high crystallinity. The surface morphology of pristine material and Y-doped electrode material revealed the spherical-shaped particles which are uniformly distributed. The cyclic voltammograms of the proposed cathode material also yield a well-defined redox peaks at their corresponding potentials. As the doping of yttrium increases, the discharge capacity also increases attributed to the superior capacity retention at high voltage (4.2 V) even after 100 cycles. Therefore, this composition is a promising cathode material for lithium-ion batteries.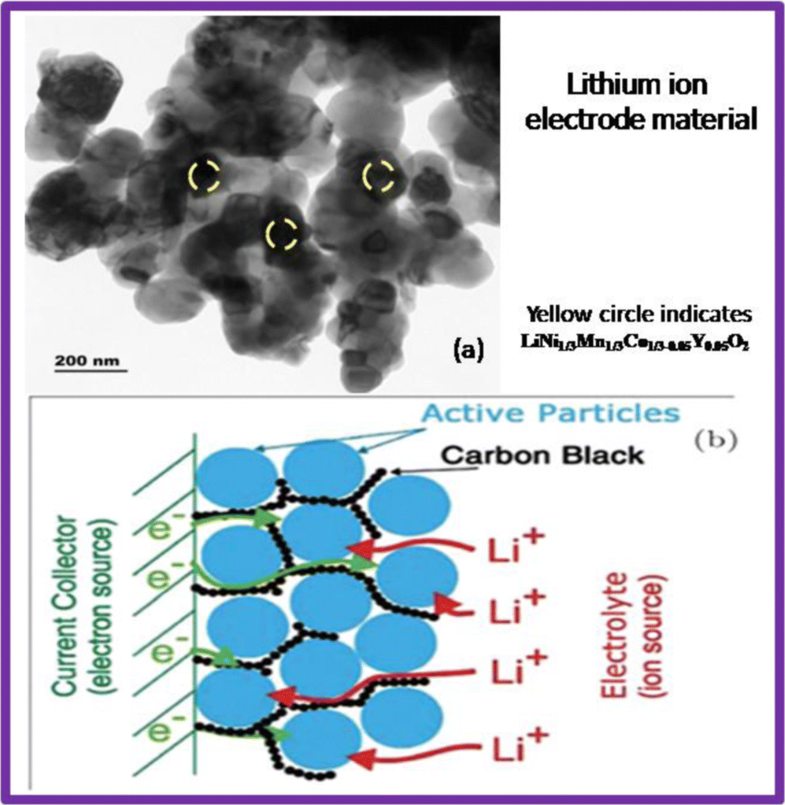 Keywords
Li-ion battery 
Cycling stability 
LiNi1/3Mn1/3Co1/3O2 
Cathode 
Notes
Acknowledgements
The first author would like to thank the Department of Science and Technology (DST), New Delhi, for providing financial assistance under DST-INSPIRE Program.
Funding information
The authors also thank the DST–PURSE–II and MHRD–RUSA–2.0, New Delhi, for providing financial assistance to carry out this research work.
Copyright information
© Springer-Verlag GmbH Germany, part of Springer Nature 2018