Investigation on polyvinyl alcohol and sodium alginate as aqueous binders for lithium-titanium oxide anode in lithium-ion batteries
Abstract
Aqueous binders are preferred over non-aqueous binders for lithium-ion batteries electrode fabrication process due to environmentally benign and low cost as they do not require humidity-controlled conditions. Herein, for the first time, polyvinyl alcohol and sodium alginate are used as aqueous binders in the preparation of lithium-titanium oxide anode for lithium-ion batteries. Electrodes have been prepared by varying the binder content from 3 to 5 wt% and are characterized by XRD, SEM, XPS, peel strength, and impedance analyzer. The electrodes with 3 wt% polyvinyl alcohol and 4 wt% sodium alginate content exhibited the initial discharge capacities of 130 and 104 mAhg−1 at 1C-rate with 96 and 93% capacity retention after 500 cycles, respectively. Whereas, the electrode with 4 wt% polyvinylidene fluoride binder delivered 135 mAhg−1 with 77% capacity retention after 500 cycles. In addition, the anode with 3 wt% polyvinyl alcohol binder delivers a discharge capacity as high as 80 mAhg−1 at 5C-rate. The lithium-titanium oxide electrode with polyvinyl alcohol binder showed the higher lithium-ion diffusion coefficient and lower polarization than that of sodium alginate and polyvinylidene fluoride binders, which resulted in a better capacity, cyclic stability and rate capability. Hence, polyvinyl alcohol and sodium alginate can be used as potential aqueous binders for lithium-titanate oxide anode.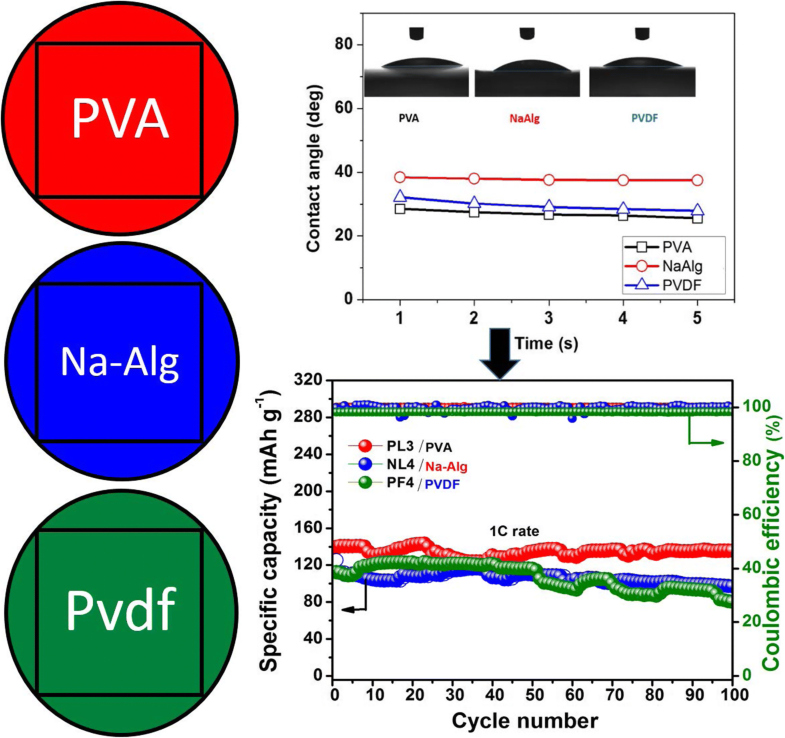 Keywords
Li4Ti5O12 
Na-Alg 
PVA 
Water soluble 
Contact angle 
Four probe 
Lithium-ion batteries 
Notes
Acknowledgements
This work was funded by Department of Science and Technology (DST) (TRC project AI/1/65/ARCI/2014(C)), Government of India. The authors are thankful to Dr. G. Padmanabham, (Director, ARCI) and Prof. G. Sundararajan, (DES, ARCI) for consistent support and encouragement for this work. We are thankful to Dr. R. Thrinath Reddy (Scientist, ARCI) for discussions of this work, Dr. D. Prabhu (Scientist, ARCI) and Mr. S. R. Sahu (Scientist, ARCI) for SEM, Dr. S. Anandan (Scientist, ARCI) for XPS and Dr. S. Sakthivel (Scientist, ARCI) for contact angle measurements. We also would like to thank Mrs. K. Tanuja (SRF) and Technical Assistants of CAEM for their help and involvement in the fabrication of electrodes.
Compliance with ethical standards
Conflict of interest
The authors declare that they have no conflict of interest.
Copyright information
© Springer-Verlag GmbH Germany, part of Springer Nature 2018