h-MoO3/Activated carbon nanocomposites for electrochemical applications
Abstract
MoO3 nanorods were synthesized through the microwave method and the nanocomposites of MoO3/activated carbon were prepared for supercapacitor and hydrogen evolution reaction (HER). The XRD pattern revealed that the prepared MoO3 has a hexagonal phase (h-MoO3). The as-prepared h-MoO3 was composited with activated carbon (AC) and tested for supercapacitor studies. The fabricated supercapacitor exhibited an appreciable specific capacitance, power density, and energy densities. Further, dedoping of nitrogen in the doped AC creates defects on AC (DAC). These DAC/MoO3 nanocomposites were prepared and tested for its electrocatalytic activity towards hydrogen evolution reactions. DAC/MoO3 nanocomposite showed much higher electrocatalytic activity than the neat MoO3.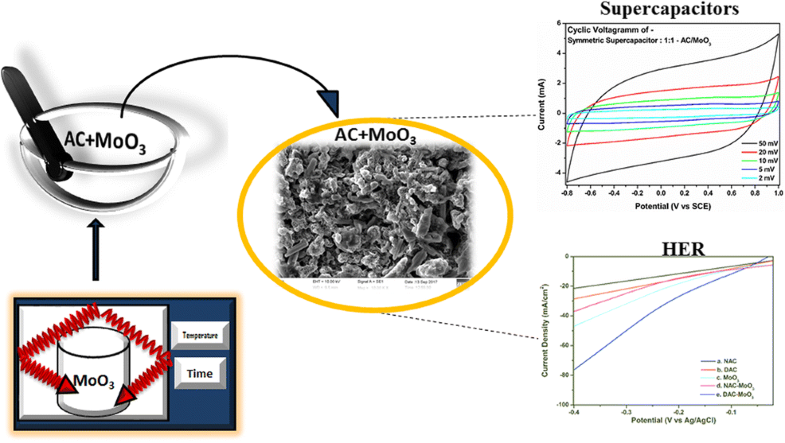 Keywords
h-MoO3 
Supercapacitors 
Specific capacitance 
Hydrogen evolution reactions 
Notes
Acknowledgments
The author acknowledges Manipal Academy of Higher Education for the research fellowship, the laboratory, and instrumentation facilities. Also, the authors are thankful to the Sophisticated Analytical Instrument Facility, IIT-Bombay, and Indian Institute of Technology, Kharagpur for the characterization facility.
Copyright information
© Springer-Verlag GmbH Germany, part of Springer Nature 2018