Amperometric determination of diazinon by gold nanorods/ds-DNA/graphene oxide sandwich-modified electrode
Abstract
Diazinon (DZ) is an organophosphorus pesticide which is used as an insecticide. Because of its harmful effects, finding a sensitive method to determination of DZ is important. So, in this study, a chemically modified electrode by graphene oxide (GO), functionalized double-strand DNA (ds-DNA) and gold nanorods (GNRs) was used. Interaction between oxygenated groups of GO and GNRs with amine-thiol groups of ds-DNA was used to construct a sandwich-modified electrode named GNRs/ds-DNA/GO/GCE. Characterization of synthesized GNRs and GO was done by transmission electron microscopy and scanning electron microscopy. To finding the effects of modifiers on DZ detection, cyclic voltammetry, and electrochemical impedance spectroscopy were used in each modification steps. The pH and scan rate were optimized at 6.0 and 0.1 V s−1, respectively. Dynamic range of GNRs/ds-DNA/GO/GCE in DZ determination was studied by amperometry with the concentration linear range of 1.9 × 10−6 to 5.6 × 10−5 mol L−1 and detection limit of 1.9 × 10−7 mol L−1. Finally, the application of modified electrode was evaluated on two polluted river water samples with 98.5 to 101% recovery.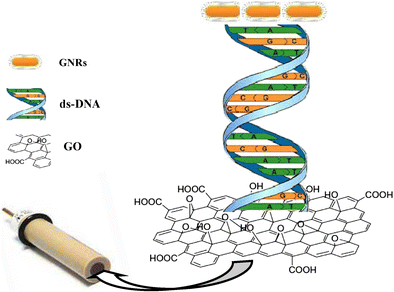 Keywords
Diazinon 
Biosensor 
ds-DNA 
Graphene oxide 
Gold nanorods 
Notes
Acknowledgements
We gratefully acknowledge the post-graduate office of Guilan University for supporting this work and the Samet Tak Khazar laboratory for providing the equipment of this study.
Compliance with ethical standards
Ethical approval
All procedures performed in studies were in accordance with the ethical standards of the institutional and/or national research committee and with the 1964 Helsinki declaration and its later amendments or comparable ethical standards.
This article does not contain any studies with human participants or animals performed by any of the authors.
Conflict of interest
The authors declare that they have no conflict of interest.
Copyright information
© Springer-Verlag GmbH Germany, part of Springer Nature 2017