Abstract
Multilateral development banks (MDBs) dramatically increased social lending for health, education, and safety nets after 1985. Yet the great powers' social policy preferences remained relatively static from 1980 to 2000. This contradicts the conventional view that powerful states control IOs. We argue that highly institutionalized IOs like MDBs require a complete model of possible member-state coalitions encompassing the preferences of all member states—not just major powers. We develop multiple measures of state preferences and include all member states in our coalitional model. We evaluate our model and alternatives with an analysis of more than 10,000 MDB loans from 1980 to 2000. We find that when we include all member states weighted by their voting shares, principal preferences are significantly related to lending outcomes.
This is a preview of subscription content, log in to check access.
Access options
Buy single article
Instant unlimited access to the full article PDF.
US$ 39.95
Price includes VAT for USA
Subscribe to journal
Immediate online access to all issues from 2019. Subscription will auto renew annually.
US$ 99
This is the net price. Taxes to be calculated in checkout.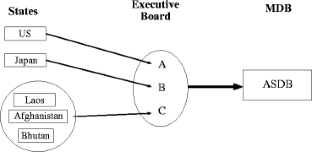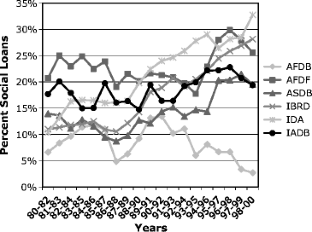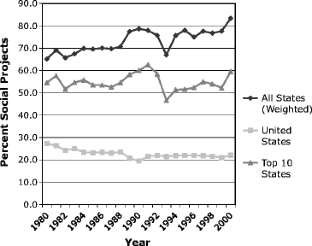 Notes
1.

2.

These conventional alternatives are rarely specified explicitly. We employ our preference specification and aggregate preference for the great powers model in a way that we believe best replicates the implicit model used by most analysts.

3.

Moravcsik (1998) persuasively argues that "The Commission was successful only when it was pursuing the policies that were emerging from Franco-German discussions" (205). Moravcsik's "intergovernmental" approach to understanding the EU is a conceptual predecessor to our focus on coalition politics within MDB executive boards. While Moravcsik focuses empirical attention on the power and preferences of the three largest member states of the EU, we demonstrate that accurate predictions of MDB agent behavior require analysis of the power and preferences of all member states.

4.

5.

The United States, which controls more than 15 percent of voting shares, can unilaterally block institutional change and thus provides the closest approximation to an independent principal of the World Bank. Although the United States can block major institutional changes, however, it does not have the authority to unilaterally bring them about. For any policy change or project approval, the United States requires coalition partners representing at least an additional 35 percent of the voting shares.

6.

Interview with Jan Piercy, June 2005, Washington DC.

7.

Interview with anonymous official, U.S. Department of State, March 2009, Washington DC; Interview with Cinnamon Dornsife, Former U.S. Executive Director as the ASDB, Washington DC June 2005.

8.

We confirmed that at least 92 of the 98 projects were approved by searching the online database of the World Bank website. It is entirely possible that the other 6 were also approved, but the documentation for these 6 projects was missing or incomplete. All data on voting history of U.S. EDs from 2004 to the present is published by the US Department of the Treasury Office of International Affairs.

9.

In this paper we assume that formal institutions are efficacious. In previous work one of the authors explains why this assumption is useful and under-utilized for analyzing the politics of IOs (Tierney 2008). However, specifying the general conditions under which this assumption is valid constitutes a critical future step in this research program. For an effort to specify these conditions and to reveal counter-intuitive formal results see Aghion and Tirole (1997) and Frieden (2004).

10.

We realize that such formalism flies in the face of consensus among IO specialists and IR theorists who typically champion the role of norms and informal power within IOs; but the utility of any assumption should be judged by its explanatory power when it confronts actual empirical evidence.

11.

As the former United States ED to the Asian Development Bank, Cinnamon Dornsife, explains, "The borrowing countries always vote as a bloc. In fact, I can only remember a single instance of a borrowing country voting against a project. The Taiwanese ED voted against a project for China…and when this happened, the collective inhaling of breath was audible. It was a rare exception." Dornsife Interview, Washington DC, June 2005.

12.

In a recent paper Copelovitch (2009) improves upon existing studies by modeling the G-5 as the collective principal of the IMF since these states maintain "de facto control over the Executive Board." While a focus on the top 5 is theoretically preferable to the hegemonic model so prevalent in the literature, a logical extension of Copelovich's approach would consider all member states rather than just five.

13.

The other governments in this shared constituency were Afghanistan, Bangladesh, Bhutan, India, and Tajikistan. Like Laos, 61 of the 64 member governments share a Director with other states. Hence, it is unwise to generalize from the United States case where the Director is responsible to only one government.

14.

In most MDBs, including the World Bank, the EDs who represent plural constituencies must vote all their shares in one direction or the other. This leaves EDs in a quandary when their constituencies are split. One might assume that such ED agents simply vote their own preference or that of their home country in such a situation, and they certainly have the authority to do so. However, interviews with participants suggest that EDs from plural constituencies work hard to represent all their member governments. Former United States ED at the World Bank, Jan Piercy, explains why a Dutch national is often chosen to represent their constituency on the board. "They would say, 'we are not instructed by the authorities at home. We represent all the countries in our constituency.' And they did." The point is made even clearer by a veteran ED from New Zealand who has served on both the ASDB and the World Bank Boards. At the ASDB, EDs are allowed to split their votes based on the expressed preferences of different member governments. As John Austin explains, "When I was at the ASDB it was a bit easier. I could play the role of budget hawk when voting the shares of New Zealand or Australia by voting "no," then I'd turn around and cast "yes" votes for Tonga, Samoa and the rest of the borrowers that I represented. However, at the World Bank I either find a consensus among our members, or else I might have to abstain on the vote." Interview with John Austin, ED at the World Bank from New Zealand. Washington DC, June 2005. Despite these assurances by participants in coalition politics of the Board, Kaja and Werker (2009) provide systematic evidence that individual EDs do, on average, bring home a "bonus" of loan dollars when they are selected to represent their constituency of governments on the Board.

15.

Interview with former United States ED at a regional development bank. Washington, DC. June 2005.

16.

Interviews with MDB staff, senior managers, and both current and former EDs suggest that coalitional politics on the Bank Boards are very important and can often be intense. The press coverage surrounding former World Bank President Paul Wolfowitz in the spring of 2007 reveals that authority ultimately resides with the Board and that coalition politics on the Board are consequential.

17.

Many of these same recipients were also democratizing their political institutions during this period. Schools, hospitals, and social safety nets are tangible goods that can benefit large numbers of voters. To the extent that citizens are able to hold their leaders accountable, these leaders are likely to pursue goods that are widely available, rather than goods that are narrowly targetable. Interview with Senior World Bank economist, July 2005.

18.

Interviews with senior World Bank staff members, July 2004 and July 2005, Washington, D.C.

19.

We did use this more primitive procedure in an early version of the paper and our statistical results were substantively similar as—though slightly weaker than—those reported below.

20.

21.

Online appendices are available as electronic supplementary material to the online version of this article.

22.

In pooled time-series–cross-sectional regressions using panel-corrected standard errors.

23.

Recall that the SPI was already set with 1996 as a baseline year allowing time-series variance. This temporal variance was preserved in the combined social index.

24.

As discussed above, we developed four measures of states' preferences for multilateral social lending and for each principal structure (hegemonic, great powers and all member states) we estimated models with each of the four proxy measures of preferences. For reasons of clarity and space, we report the results only for the hybrid measure of preferences. As explained in the previous section, this measure most accurately captures the preferences of both donor and recipient member states.

25.

Both the SPI and combined measures are relative measures, which compare the USA to other countries in 1996. The relative index scores allow the USA's position to vary over time.

26.

Or if the powerful actors can and do completely ignore the demands of the smaller states.

27.

Unidimensionality assumptions are more problematic if there is extensive trading or logrolling of policies between issue areas, but in the case of MDBs, voting in the Executive Board occurs on discrete loans, so omnibus packages do not occur. While trading may take place at the margins, formal institutions mitigate against it.

28.

29.

See Laver and Schofield (1990: 98–101).

30.

We developed a program to perform these calculations, written for SAS, which is available online.

31.

These values have been modified slightly and rounded to the nearest one hundredth for presentational purposes.
References
Aghion, P., & Tirole, J. (1997). Formal and real authority in organizations. Journal of Political Economy, 105, 29–44.

Andersen, T. B., Harr, T., & Tarp, F. (2006a). On US politics and IMF Lending. European Economic Review, 50, 1843–1852.

Andersen, T. B., Hansen, H., & Markussen, T. (2006b). U.S. politics and World Bank-IDA lending. Journal of Development Studies, 42, 772–794.

Ascher, W. (1992). The World Bank and U.S. control. In M. P. Karns & K. A. Mingst (Eds.), The United States and multilateral institutions: patterns of changing instrumentality and influence. London: Routledge.

Barnett, M. N. (2003). Eyewitness to a genocide: the United Nations and Rwanda. Ithaca: Cornell University Press.

Barnett, M. N., & Finnemore, M. (1999). The politics, power, and pathologies of international organizations. International Organization, 54, 699–732.

Copelovitch, M. (2009). Master or servant? International Studies Quarterly: Common Agency and the Political Economy of IMF Lending. in press.

Easterly, W. (2001). The elusive quest for growth: Economists adventures and mis-adventures in the tropics. MIT University Press.

Easterly, W. (2002). The cartel of good intentions: The political problem of bureaucracy in foreign aid. Journal of Policy Reform, 5, 223–250.

Fleck, R. K., & Kilby, C. (2006). World Bank independence: A model and statistical analysis of US influence. Review of Development Economics, 10, 224–240.

Frieden, J. A. (2004). One Europe, one vote? The political economy of European union representation in international organizations. European Union Politics, 5, 261–276.

Gilpin, R. (1987). The political economy of international relations. Princeton: Princeton University Press.

Grieco, J. (1988). Anarchy and the limits of cooperation: A realist critique of the newest liberal institutionalism. International Organization, 42, 485–508.

Grieco, J. (1990). Cooperation among nations: europe, america, and non-tariff barriers to trade. Ithaca: Cornell University Press.

Gruber, L. (2000). Ruling the world: Power politics and the rise of supranational institutions. Princeton University Press.

Hicks, R., Parks, B., Roberts, T., & Tierney, M. J. (2008). Greening aid? Understanding the environmental impact of development assistance. Oxford University Press.

Imbeau, L. M. (1988). Aid and ideology. European Journal of Political Research, 16, 3–28.

Kaja, A., & Werker, E. (2009). Corporate mis-governance at the World Bank. Harvard Business School Working Paper No. 09-108.

Kapur, D., Lewis, J., & Webb, R. (1997). The World Bank: its first half-century. Washington, DC: Brookings Institution.

Katzenstein, P. (1985). Small States in World markets: Industrial policy in Europe. Ithaca: Cornell University Press.

Keohane, R. (1984). After hegemony: Cooperation and discord in the world political economy. Princeton: Princeton University Press.

Kilby, C. (2006). Donor influence in multilateral development banks: the case of the Asian Development Bank. Review of International Organizations, 1, 173–195.

King, G., Honaker, J., Joseph, A., & Scheve, K. (2001). Analyzing incomplete political science data: An alternative algorithm for multiple imputation. American Political Science Review, 95(1), 49–69.

Klepak, H. (2003). Power multiplied or power restrained? The United States and multilateral institutions in the Americas. In R. Foot, S. N. MacFarlane, & M. Mastanduno (Eds.), US hegemony and international organizations (pp. 239–264). New York: Oxford University Press.

Krasner, S. (1976). State power and the structure of international trade. World Politics, 28, 317–343.

Krasner, S. (1985). Structural conflict: The third world against global liberalism. Berkeley: University of California Press.

Lake, D. (1999). Entangling relations: American foreign policy in its century. Princeton: Princeton University Press.

Laver, M., & Schofield, N. (1990). Multiparty government: The politics of coalition in Europe. New York: Oxford University Press.

Lumsdaine, D. (1993). Moral vision in international politics: The foreign aid regime, 1949–1989. Princeton: Princeton University Press.

Mallaby, S. (2004). The world's banker. New York: The Penguin.

Martin, L. L. (1992). Coercive cooperation: Explaining multilateral economic sanctions. Princeton: Princeton University Press.

McKeowen, T. & Yackee, J. (2000). The political determinants of IMF lending. presented at the Midwest Political Science Association, Chicago.

Mearsheimer, J. (1994/95). The false promise of international institutions. International Security, 19, 5–49.

Milner, H. (2006). Why multilaterailsm? Foreign aid and domestic principal-agent problems. In Hawkins et al. (Eds.), Delegation and agency in international organizations. Cambridge: Cambridge University Press.

Moravcsik, A. (1991). Negotiating the single European act: National interests and conventional statecraft in the European community. International Organization, 45, 19–56.

Moravcsik, A. (1998). The choice for Europe: Social purpose and state power from Messina to Maastricht. Ithaca: Cornell University Press.

Nielson, D., & Tierney, M. (2003). Delegation to international organizations: Agency theory and World Bank environmental reform. International Organization, 57, 241–276.

Noel, A., & Therien, J. P. (1995). From domestic to international justice: the welfare state and foreign aid. International Organization, 49, 523–553.

Oatley, T. & Yackee, J. (2000). Political determinants of IMF balance of payments lending: The curse of carabosse? Working Paper. Chapel Hill: University of North Carolina, Chapel Hill.

Oatley, T., & Yackee, J. (2004). American interests and IMF lending. Working Paper. Chapel Hill: University of North Carolina, Chapel Hill.

Pierson, P. (1996). The path to European integration: A historical institutionalist analysis. Comparative Political Studies, 29, 123–63.

Rich, B. (1994). Mortgaging the earth: The World Bank, environmental impoverishment, and the crisis of development. Boston: Beacon.

Snidal, D. (1985). The game theory of international politics. World Politics, 38, 25–57.

Sandholtz, W., & Zysman, J. (1989). Recasting the European bargain. World Politics, 42, 95–128.

Stokke, O. (1989). The determinants of Norwegian aid policy. In O. Stokke (Ed.), Western middle powers and global poverty: The determinants of the aid policies of Canada, Denmark, The Netherlands, Norway and Sweden. Uppsala and Oslo: The Scandinavian Institute of African Studies in cooperation with The Norwegian Institute of International Affairs.

Stone, R. W. (2002). Lending credibility: The international monetary fund and the post-communist transition. Princeton University Press: Princeton.

Strand, J. R. (2003a). Measuring voting power in an international institution: The United States and the Inter-American development bank. Economics of Governance, 4, 19–36.

Strand, J. R. (2003b). Power relations in an embedded institution: The European bank for reconstruction and development. Journal of European Integration, 25, 113–127.

Thacker, S. C. (1999). The high politics of IMF lending. World Politics, 52, 38–75.

Tierney, M. J. (2008). Delegation success and policy failure: Collective delegation and the search for Iraqi weapons of mass destruction. Law and Contemporary Problems, 71, 283–312.

Udall, L. (1998). The World Bank and public accountability: Has anything changed? In J. Fox & D. Brown (Eds.), The struggle for accountability: The World Bank, NGOs, and grassroots movements (pp. 391–436). Cambridge: MIT.

Upton, B. (2000). The multilateral development banks: improving U.S. leadership. Westport: Praeger.

Wade, R. (2001). The US role in the Malaise at the World Bank: get up gulliver. Paper for G-24 Middle Income Countries Report.

Woods, N. (2003). The United States and international financial institutions: Power and influence within the World Bank and the IMF. In R. Foot, S. N. MacFarlane & M. Mastanduno (Eds.), US hegemony and international organizations (pp. 92–114). New York: Oxford University Press.

World Bank. (2001). World development indicators. Washington, DC: World Bank.
Acknowledgements
The authors wish to thank Bill Bernhard, Lawrence Broz, Jeff Frieden, David Lake, Dave Lewis, Lisa Martin, Rich Nielsen, Ryan Powers, Duncan Snidal, and two anonymous referees for helpful comments on previous versions of this paper. We thank Will Brannon, Jess Hovick, Steve Kapfer, Tim Layton, Josh Loud, Chris Miller, Rich Nielsen, Megan Liaboe, Chris O'Keefe, and Phil Scarborough for their help as research assistants on this paper. The data collection for this project was funded by the National Science Foundation, the Bill and Melinda Gates Foundation and the William and Flora Hewlett Foundation.
Electronic Supplementary Material
Below is the link to the electronic supplementary material.
Appendices
Appendix A: OECD Creditor Reporting System Categories Coded as "Social"
110:

EDUCATION

111:

Education, level unspecified

11110:

Education policy and administrative management

11120:

Education facilities and training

11130:

Teacher training Teacher education

11181:

Educational research

112:

Basic education

11220:

Primary education

11230:

Basic life skills for youth and adults

11240:

Early childhood education

113:

Secondary education

11320:

Secondary education

11330:

Vocational training

114:

Post-secondary education

11420:

Higher education

11430:

Advanced technical and managerial training

120:

HEALTH

121:

Health, general

12110:

Health policy and administrative management

12181:

Medical education/training

12182:

Medical research

12191:

Medical services

122:

Basic health

12220:

Basic health care

12230:

Basic health infrastructure

12240:

Basic nutrition

12250:

Infectious disease control

12281:

Health education

12282:

Health personnel development

130:

POPULATION POLICIES/PROGRAMMES AND REPRODUCTIVE HEALTH

13010:

Population policy and administrative management

13020:

Reproductive health care

13030:

Family planning

13040:

STD control including HIV/AIDS

13081:

Personnel development for population and reproductive health

160:

OTHER SOCIAL INFRASTRUCTURE AND SERVICES

161:

Employment

16110:

Employment policy and administrative management

162:

Housing

16210:

Housing policy and administrative management

16220:

Low-cost housing

163:

Other social services

16310:

Social/welfare services

16320:

General government services

16330:

Settlement

16340:

Reconstruction relief

16350:

Culture and recreation

16361:

Narcotics control

16362:

Statistical capacity building

16381:

Research/scientific institutions

420:

WOMEN IN DEVELOPMENT

42010:

Women in development

430:

OTHER MULTISECTOR

43010:

Multisector aid

43020:

Multisector aid for basic social services

43030:

Urban development and management

43040:

Rural development

43050:

Non-agricultural alternative development

43081:

Multisector education/training

520:

DEVELOPMENT FOOD AID/FOOD SECURITY ASSISTANCE

52010:

Food aid/Food security programmes
Appendix B: Constructing a Time-Series Index of Social Policy
To construct a social policy index (SPI), we used factor analysis to extract the common factor in our fourteen social variables. We first standardized these variables to the 1996 mean and standard deviations to preserve variation over time (i.e. we subtract the 1996 mean from all observations' values for the social variables for all years and divide by the 1996 standard deviations). We then performed factor analysis to isolate the variable indicating social policy performance. The first factor has an eigenvalue above eight across all five datasets, while none of the remaining factors have eigenvalues above one. This strongly suggests a single key factor, which we have labeled "social policy" and use as our index values. The loadings are summarized below (see Table 3).
As noted, we are primarily concerned with policy preferences, not simply social outcomes. Since social outcomes are a result of both government policy and other factors exogenous to policy, we focused on those variables for which a compelling argument could be made that they were the product, at least to a significant degree, of government policies. Time series data on fourteen underlying variables exist in large sets for the 211 countries included in this study.
To deal with missing data, we employ multiple imputation as recommended by Gary King and collaborators (King et al. 2001). To impute the missing values, we used the program Amelia II, as it takes into account the unique nature of time-series cross-sectional data (King et al. 2001). For the imputation, we constrained all imputed values to fall within the 97.5th percentile and 2.5th percentile of the pre-imputed dataset. For the variables used to impute the missing data, see Table 4. We set the number of imputations at five.
The factor analysis was then performed on each of the five imputed datasets (as were the later logistic regressions). The social policy factor was generated in each case, and then the datasets were combined as per the usual multiple imputation rules.
Appendix C: Pivotal-Weighted Preferences
A more faithful modeling of coalition formation draws on coalition theory in comparative politics in order to specify which coalitions can be built given majority voting rules. We employ the pivotal player model in order to predict which coalitions among the possibilities are most likely to form. We assume a one-dimensional policy space, where actor preferences can be arrayed along a single policy continuum. This assumption is defensible given our consideration of the single policy dimension of social protection.Footnote 27
Second, we assume that our actors form voting coalitions, not governing coalitions. Because voting takes place on discrete policy questions that can be arrayed in unidimensional space, and the votes do not affect executive tenure (as in confidence votes), little incentive exists for the formation of voting coalitions that are non-contiguous.Footnote 28 For example, if a given measure is closer to the ideal point of actor A than actor B, and B votes in favor of the measure, then A should also vote in favor. Coalitions thus will not drop "dummies" or potential members that are not necessary to reach the majority threshold but that nevertheless are aligned in issue space.Footnote 29 While voting coalitions are arguably less stable than governing coalitions, they likely violate the assumptions of preference-aggregation models less than governing coalitions, where office holding is a key consideration.
The pivotal-players model emphasizes the role of strategically well-positioned actors in the coalition-formation process. Within the many possible connected majority coalitions that might form, some potential members might be "pivotal" in the sense that the combination of their centrist position and their size makes them very attractive coalition partners, and it will prove difficult to form connected coalitions without them. Thus, pivotal players can veto a large set of the possible coalitions that might form and can extract policy concessions from their coalition partners that their size alone would not necessarily predict. Large centrist players thus have a strong advantage over similarly large extremist players. We use a weighting formula to capture states' centrality to coalition formation based on their pivotalness.
Specifically, for each bank year we arrayed all countries in each executive director's constituency from highest to lowest based on the hybrid proxy measure of preferences for social loans. We then summed all possible values of the voting shares of countries adjoining one another, creating a matrix of all potential coalitions. For all of the coalitions where the sum of voting shares was greater than .50 of the constituency's total vote, we computed the consequence to the potential coalition of the defection of the partner at each of the two extreme ends of the coalition. If the defection of a partner on one of the ends of the potential coalition would cause the coalition's collapse (vote shares fell below a majority plus one), we counted this as an instance where the defecting country would prove pivotal.
We summed all such instances where the given country proved pivotal to a potential coalition and gave each country a "pivotalness" score within the constituency. In general, this design meant that countries proved more pivotal where they had large vote shares and/or where their scores were near the center of the constituency's continua for the social indices. We then weighted all countries' social preference by the pivotalness score. Finally, we summed the products of all of the countries' social index values multiplied by their pivotalness scores to produce an aggregate preference for social lending for each constituency by bank year. Using these values for each constituency, we then repeated this process for each executive board for each bank year.Footnote 30
In Table 5 we provide a simple example of this technique for the 2000 constituency at the African Development Bank that included Belgium, Italy, France, Spain, and Switzerland. First, the members of the constituency are arrayed according to their preferred outcome along the SPI scale from 1.08 to 1.46.Footnote 31 Next, we count all possible contiguous coalitions, where the combined voting shares are at least fifty percent plus one. Next, we counted all "critical coalitions" where, if one of the members on either end of the coalition defects, the coalition collapses. In this example there are four such potential critical coalitions: Switzerland-Belgium-Italy, Switzerland-Belgium-Italy-Spain, Belgium-Italy-Spain-France, and Italy-Spain-France. By dropping off of the end of the first two coalitions, Switzerland could prove pivotal in two instances. Switzerland's vote share and position situates it strategically, providing advantages in coalition formation. Likewise, Italy and France could prove pivotal in two instances. Belgium and Spain are not pivotal in any instance. Thus, the total number of potential critical defections—instances of pivotal players—is six.
We then weight each country's ideal point by the "pivotalness" share. For example, Italy's ideal point of 1.402 is multiplied by its pivotalness share of .33 (2 of 6 pivotal instances), producing a product of .36. Finally, we sum each of these products to produce an overall preference for the constituency, which in this example is 1.30.
Critically, coalition formation at the development banks occurs in two stages. First, most member governments have formed semi-permanent coalitions with a few to several other governments, usually in the same region, and they jointly delegate voting authority to a single ED charged to represent their collective interests on the executive board. At any given bank, all but a few countries share executive directorates with multiple other countries in this fashion. The member governments delegating to a common ED (henceforth, constituency), can meet and vote on lending policies prior to executive board meetings. In this way countries in a constituency can instruct their shared ED, who usually comes from the largest member country in the constituency. In the second stage, the EDs, with marching orders in hand from their constituencies, then all meet together on the executive board to make policy decisions for the bank as a whole.
This two-stage process requires that we model both stages of coalition formation. First, we model the coalition formation process that consists of the member states delegating to their ED. In this case, the potential coalition partners are the member-states of each constituency. We calculate the pivotal players for each constituency at each bank for each year. We then derive a unique preference for each constituency by constructing a weighted average based on the degree to which each member country could prove pivotal in constituency voting, as discussed above.
In step two, we follow this same procedure, this time using the EDs (each of whose preferences for percentage of social loans we derived in the previous step) as the potential coalition partners. We calculate the pivotalness score for each of these EDs with the same procedure used when analyzing individual member states in each constituency as discussed above. Finally, as above, we weight each ED's derived preference by their pivotalness shares and sum the weighted values to produce a single predicted social policy preference for each bank for each year.
About this article
Cite this article
Lyne, M.M., Nielson, D.L. & Tierney, M.J. Controlling coalitions: Social lending at the multilateral development banks. Rev Int Organ 4, 407 (2009) doi:10.1007/s11558-009-9069-2
Received:

Revised:

Accepted:

Published:
Keywords
Multilateral development banks

World Bank

Principal-agent theory

Coalitions

Social lending

Foreign aid
JEL Codes

D72

F35

F42

F53

F55

F59