Abstract
There are five described Rhynchosporium species, Rhynchosporium commune, R. secalis, R. agropyri, R. orthosporum and R. lolii, that cause scald diseases on Poaceae. This study used morphological (conidial shape and size) and phylogenetic analyses of two loci (the internal transcribed spacer region (ITS) and β-tubulin (TUBB)) to identify Rhynchosporium species and their host ranges in Iran. Despite the large variation observed for Rhynchosporium conidial dimensions, the phylogenetic analyses of the ITS region and concatenated ITS and TUBB loci revealed that all isolates from wild grasses in Iran belong to R. commune. R. commune was isolated from Hordeum murinum ssp. glaucum, Hordeum vulgare ssp. spontaneum, Lolium multiflorum and Avena sativa in Iran. A. sativa has only been reported from Iran as a host for R. commune. After cross inoculation, A. sativa was considered as the most resistant host showing the lowest susceptibility to R. commune isolates. Of the grass hosts tested, H. vulgare ssp. spontaneum was the most susceptible. The most aggressive isolate across all tested hosts was isolated from Hordeum murinum ssp. glaucum. Cross-infection of the R. commune isolates from all hosts onto uncultivated grasses and cultivated barley suggests the potential of the uncultivated grasses as inoculum sources for cultivated barley epidemics and pathogen evolution. Thus, management of uncultivated grasses in the vicinity of barley fields should assist in managing the disease on cultivated barley.
This is a preview of subscription content, log in to check access.
Access options
Buy single article
Instant access to the full article PDF.
US$ 39.95
Price includes VAT for USA
Subscribe to journal
Immediate online access to all issues from 2019. Subscription will auto renew annually.
US$ 118
This is the net price. Taxes to be calculated in checkout.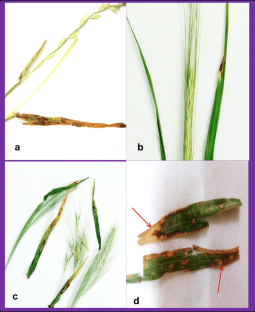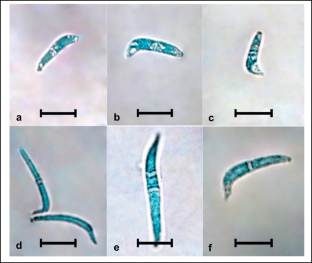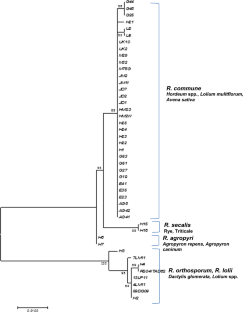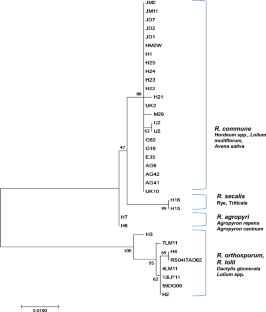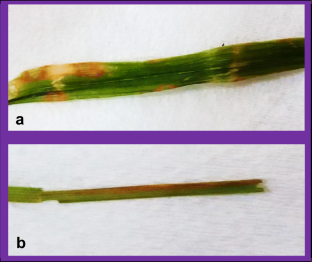 References
Ali S, Gladieux P, Rahman H et al (2014) Inferring the contribution of sexual reproduction, migration and off-season survival to the temporal maintenance of microbial populations: a case study on the wheat fungal pathogen Puccinia striiformis f. sp. tritici. Mol Ecol 23:603–617

Ali SM (1981) Barley grass as a source of pathogenic variation in Rhynchosporium secalis. Aust J Agric Res 32:21–25

Avrova A, Knogge W (2012) Rhynchosporium commune: a persistent threat to barley cultivation. Mol Plant Pathol 13:986–997

Beigi S, Zamanizadeh H, Razavi M, Zare R (2013) Genetic diversity of Iranian isolates of barley scald pathogen (Rhynchosporium secalis) making use of molecular markers. J Agric Sci Technol 15:843–854

Black BD, Padgett GB, Russin JS et al (1996) Potential weed hosts for Diaporthe phaseolorum var. caulivora, causal agent for soybean stem canker. Plant Dis 80:763–765

Brown JS (1985) Pathogenic variation among isolates of Rhynchosporium secalis from cultivated barley growing in Victoria, Australia. Euphytica 34:129–133

Burdon JJ, Roelfs AP (1985) The effect of sexual and asexual reproduction on the isozyme structure of populations of Puccinia graminis. Phytopathology 75:1068–1073

Burdon JJ, Thrall PH (2008) Pathogen evolution across the agro-ecological interface: implications for disease management. Evol Appl 1:57–65

Caldwell RM (1937) Rhynchosporium scald of barley, rye, and other grasses. J Agric Res 55:175–198

Charrad M, Ghazzali N, Boiteau V, et al (2014) Package "NbClust." J Stat Softw 61:1–36

Cuénoud P, Savolainen V, Chatrou LW et al (2002) Molecular phylogenetics of Caryophyllales based on nuclear 18S rDNA and plastid rbcL, atpB, and matK DNA sequences. Am J Bot 89:132–144

Davies DL, Bouldin DW (1979) A cluster separation measure. IEEE Trans Pattern Anal Mach Intell 1:224–227

Drumwright AM, Allen BW, Huff KA et al (2011) Survey and DNA barcoding of Poaceae in flat rock cedar glades and barrens state natural area, Murfreesboro, Tennessee. Castanea 76:300–310

Ershad J (2009) Fungi of Iran, 3rd edn. Agricultural Research, Education and Extention Organization, Tehran

Forgan AH, Knogge W, Anderson PA (2007) Asexual genetic exchange in the barley pathogen Rhynchosporium secalis. Phytopathology 97:650–654

Foster SJ, Fitt BDL (2003) Isolation and characterization of the mating-type (MAT) locus from Rhynchosporium secalis. Curr Genet 44:277–286

Frank AB (1897) Über die Zerstörung der Gerste durch einen neuen Getreidepilz. Wochenschr Brau 42:518–520

Genger RK, Nesbitt K, Brown DA et al (2005) A novel barley scald resistance gene: genetic mapping of the Rrs15 scald resistance gene derived from wild barley, Hordeum vulgare ssp. spontaneum. Plant Breed 124:137–141

Goodwin SB (2002) The barley scald pathogen Rhynchosporium secalis is closely related to the discomycetes Tapesia and Pyrenopeziza. Mycol Res 106:645–654

Heinsen E (1901) Beobachtungen uiber den neuen Getreidepilz Rhynchosporium graminicola. Jahrb Hamburg Wiss Anstalt 18:43–55

Jarosz AM, Burdon JJ (1996) Resistance to barley scald (Rhynchosporium secalis) in wild barley grass (Hordeum glaucum and Hordeum leporinum) populations in South-Eastern Australia. Aust J Agric Res 47:413–425

King KM, West JS, Brunner PC et al (2013) Evolutionary relationships between Rhynchosporium lolii sp. nov. and other Rhynchosporium species on grasses. PLoS One 8:e72536. https://doi.org/10.1371/journal.pone.0072536

Kumar S, Stecher G, Tamura K (2016) MEGA7: molecular evolutionary genetics analysis version 7.0 for bigger datasets. Mol Biol Evol 33:1870–1874

Linde CC, Smith LM, Peakall R (2016) Weeds, as ancillary hosts, pose disproportionate risk for virulent pathogen transfer to crops. BMC Evol Biol 16:101. https://doi.org/10.1186/s12862-016-0680-6

Linde CC, Smith LM (2019) Host specialisation and disparate evolution of Pyrenophora teres f. teres on barley and barley grass. BMC Evol Biol 19:139. https://doi.org/10.1186/s12862-019-1446-8

Matlab R (2013) Version 8.1. 0.604 (R2013a). Natrick, Massachusetts MathWorks Inc.

Mourelos CA, Malbrán I, Balatti PA et al (2014) Gramineous and non-gramineous weed species as alternative hosts of Fusarium graminearum, causal agent of Fusarium head blight of wheat, in Argentina. Crop Prot 65:100–104

Mułenko W, Majewski T, Ruszkiewicz-Michalska M (2008) A preliminary checklist of micromycetes in Poland. Polish Academy of Sciences, Poland

Murray MG, Thompson WF (1980) Rapid isolation of high molecular weight plant DNA. Nucleic Acids Res 8:4321–4326

Otsu N (1979) A threshold selection method from gray-level histograms. IEEE Trans Syst Man Cybern 9:62–66

Oudemans C (1897) Observations mycologiques. Konink Akad Wetensch Amsterdam 6:86–92

Seifollahi E, Sharifnabi B, Javan-Nikkhah M, Linde CC (2018) Low genetic diversity of Rhynchosporium commune in Iran, a secondary Centre of barley origin. Plant Pathol 67:1725–1734

Shipton WA, Boyd WJR, Ali SM (1974) Scald of barley. Rev Plant Pathol 53:839–861

Team RDC (2011) R development Core team: R: a language and environment for statistical computing. R Foundation for Statistical Computing, Vienna

Thompson JD, Higgins DG, Gibson TJ (1994) CLUSTAL W: improving the sensitivity of progressive multiple sequence alignment through sequence weighting, position-specific gap penalties and weight matrix choice. Nucleic Acids Res 22:4673–4680

Welty RE, Metzger R (1996) First report of scald of triticale caused by Rhynchosporium secalis in North America. Plant Dis 80:1220–1223

White TJ, Bruns T, Lee S, Taylor J (1990) Amplification and direct sequencing of fungal ribosomal RNA genes for phylogenetics. PCR Protoc 18:315–322

Wilkins P (1973) Infection of Lolium multifiorum with Rhynchosporium species. Plant Pathol 22:107–111

Zaffarano PL, McDonald BA, Linde CC (2011) Two new species of Rhynchosporium. Mycologia 103:195–202

Zaffarano PL, McDonald BA, Linde CC (2008) Rapid speciation following recent host shifts in the plant pathogenic fungus Rhynchosporium. Evolution 62:1418–1436
Acknowledgements
E.S. thanks Isfahan University of Technology for financial support. The authors thank S. Beigi, J. Shokri and A. Ahmadpour who contribute during sampling. Also, we thank J. Gholami for technical assistance, L. Smith for guidance in pathogenicity test, S. Taghadomi-Saberi for image processing, M.R. Sabzalian and M. Isapareh for guidance with statistical analysis.
Funding
This study was funded by Isfahan University of Technology (grant number NA).
Ethics declarations
Conflict of interest
The authors declare that they have no conflict of interest.
Additional information
Publisher's note
Springer Nature remains neutral with regard to jurisdictional claims in published maps and institutional affiliations.
Section Editor: Gerhard Rambold
Electronic supplementary material
About this article
Cite this article
Seifollahi, E., Sharifnabi, B., Javan-Nikkhah, M. et al. Scald on gramineous hosts in Iran and their potential threat to cultivated barley. Mycol Progress 19, 223–233 (2020). https://doi.org/10.1007/s11557-019-01553-8
Received:

Revised:

Accepted:

Published:

Issue Date:
Keywords
Avenae
β-tubulin

Host specificity

ITS

Morphology

Rhynchosporium