Abstract
The phylogeny of several species-complexes of the genera Pluteus and Volvopluteus (Agaricales, Basidiomycota) was investigated using molecular data (ITS) and the consequences for taxonomy, nomenclature and morphological species recognition in these groups were evaluated. Conflicts between morphological and molecular delimitation were detected in sect. Pluteus, especially for taxa in the cervinus-petasatus clade with clamp-connections or white basidiocarps. Some species of sect. Celluloderma are apparently widely distributed in Europe, North America and Asia, either with (P. aurantiorugosus, P. chrysophlebius, P. fenzlii, P. phlebophorus) or without (P. romellii) molecular differentiation in collections from different continents. A lectotype and a supporting epitype are designated for Pluteus cervinus, the type species of the genus. The name Pluteus chrysophlebius is accepted as the correct name for the species in sect. Celluloderma, also known under the names P. admirabilis and P. chrysophaeus. A lectotype is designated for the latter. Pluteus saupei and Pluteus heteromarginatus, from the USA, P. castri, from Russia and Japan, and Volvopluteus asiaticus, from Japan, are described as new. A complete description and a new name, Pluteus losulus, are given for the African P. cervinus var. ealaensis. The American Volvopluteus michiganensis is described in detail. Taxonomic comments and a morphology-based key to all known species of Volvopluteus are provided.
This is a preview of subscription content, log in to check access.
Access options
Buy single article
Instant access to the full article PDF.
US$ 39.95
Price includes VAT for USA
Subscribe to journal
Immediate online access to all issues from 2019. Subscription will auto renew annually.
US$ 118
This is the net price. Taxes to be calculated in checkout.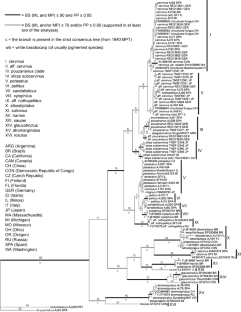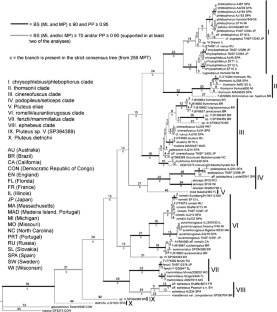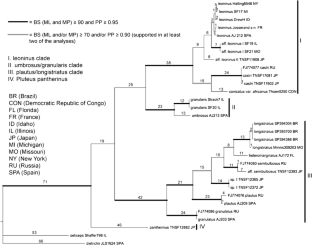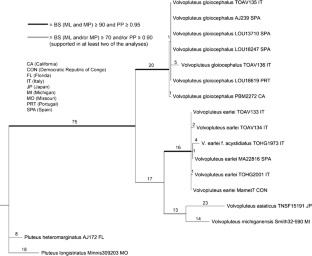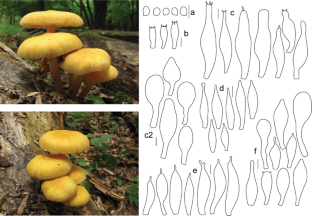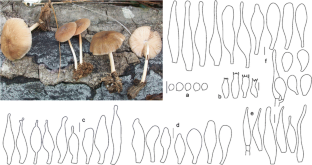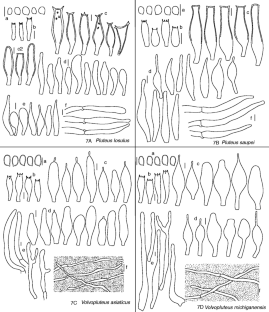 References
Banerjee P, Sundberg WJ (1993a) Preliminary observations on germination of Pluteus basidiospores. Mycologia 85:811–813

Banerjee P, Sundberg WJ (1993b) Three new species and a new variety of Pluteus from the United States. Mycotaxon 47:389–394

Banerjee P, Sundberg WJ (1995) The genus Pluteus section Pluteus (Pluteaceae, Agaricales) in the midwestern United States. Mycotaxon 53:189–246

Boekhout T (1990) Volvariella. In: Bas C, Kuyper ThW, Noordeloos ME, Vellinga EC (eds) Flora Agaricina Neerlandica vol 2. A.A. Balkema, Rotterdam, pp 56–64

Campanella JJ, Bitincka L, Smalley J (2003) MatGAT: An application that generates similarity/identity matrices using protein or DNA sequences. BMC Bioinform 4:29

Contu M (1998) Studi sulle Pluteaceae della Sardegna. I. Volvariella cookei spec. nov., una nuova specie della sezione Macrosporae. Micologia Italiana 27(3):37–41

Contu M (2001) Studies on the Pluteaceae of Sardinia II: a new species of Pluteus with clamp-connections. Mycologia Helvetica 11:137–144

Contu M (2007) Volvariella earlei (Basidiomycota, Pluteaceae), nuova per l'Europa, e note sulla tassonomia di Volvariella media sensu J Lange. Micologia e Vegetazione Mediterranea 21:101–106

Corriol G, Moreau PA (2007) Agaricus (Annularia) fenzlii redécouvert dans les Pyrénées. Notes sur le genre Chamaeota en Europe Persoonia 19:233–250

Frøslev TG, Jeppesen TS, Læssøe T, Kjøller R (2006) Molecular phylogenetics and delimitation of species in Cortinarius section Calochroi (Basidiomycota, Agaricales) in Europe. Mol Phylogenet Evol 44:217–227

Gardes M, Bruns TD (1993) ITS primers with enhanced specificity for basidiomycetes application to the identification of mycorrhizae and rusts. Mol Ecol 2:132–118

Heinemann P (1975) Flore Illustrée des champignons d'Afrique centrale 4: Volvariella. National Botanical Garden of Belgium, Meise

Homola R (1972) Section Celluloderma of the genus Pluteus in North America. Mycologia 64:937–1210

Horak E, Heinemann P (1978) Flore Illustrée des champignons d'Afrique centrale 6: Pluteus & Volvariella (compléments). National Botanical Garden of Belgium, Meise

Hughes K, Petersen RH, Mata JL, Psurtseva NV, Kovalenko AE, Morozova OV, Lickey EB, Blanco JC, Lewis DP, Nagasawa E, Halling RE, Takehashi S, Aime MC, Bau T, Henkel TW (2007) Megacollybia (Agaricales). Reports of the Tottori Mycological Institute. 45: 1–57

Hughes K, Petersen RH, Lickley EB (2009) Using heterozygosity to estimate percentage DNA sequence similarity for environmental species delimitation across basidiomycete fungi. New Phytol 182:795–798

Justo A, Castro ML (2007a) An annotated checklist of Pluteus in the Iberian Peninsula and Balearic Islands. Mycotaxon 102:231–234

Justo A, Castro ML (2007b) Observations in Pluteus section Pluteus in Spain: Two new records for Europe. Mycotaxon 102:209–220

Justo A, Castro ML (2007c) Pluteus nothopellitus sp.nov. and a review of white species of Pluteus section Pluteus. Mycotaxon 102:221–230

Justo A, Castro ML (2010a) An annotated checklist of Volvariella in the Iberian Peninsula and Balearic Islands. Mycotaxon 112:271–273

Justo A, Castro ML (2010b). The genus Volvariella in Spain: V. dunensis comb. & stat nov. and observations in V. earlei. Mycotaxon 112:261–270

Justo A, Castro ML, Rodríguez-Ramos N, Infante F (2006) Neotipificación de Pluteus sandalioticus. Cryptogam Mycol 27:197–200

Justo A, Vizzini A, Minnis AM, Menolli Jr N, Capelari M, Rodríguez O, Malysheva E, Contu, M, Ghignone S, Hibbett DS (2010) Phylogeny of the Pluteaceae (Agaricales, Basidiomycota): Taxonomy and character evolution. Fungal Biology (http://dx.doi.org/10.1016/j.funbio.2010.09.012)

Kühner R, Romagnesi H (1956) Espèces nouvelles, critiques our rares de Volvariacees. Bull Trimest Soc Mycol Fr 72:181–249

Maddison DR, Maddison WP (2002) MacClade4: analysis of phylogeny and character evolution. Sinauer Associates, Sunderland. MA, USA

Malysheva E, Morozova O, Zvyagina E (2007) New records of the annulate Pluteus in Europe and Asian Russia. Acta Mycologica 42:153–160

Menolli N Jr, Capelari M (2010) Notes on Pluteus (Pluteaceae, Agaricales) from Brazil including two new species and a new record. Mycologia 102:697–707

Menolli N Jr, Asai T, Capelari M (2010) Records and new species of Pluteus from Brazil based on morphological and molecular data. Mycology 1(2):130–153

Minnis AM, Sundberg WJ (2010) Pluteus section Celluloderma in the U.S.A. N Amer Fungi 5: 1–107

Minnis AM, Sundberg WJ, Methven AS, Sipes SD, Nickrent DL (2006) Annulate Pluteus species: a study of the genus Chamaeota in the United States. Mycotaxon 96:31–39

Munsell Color (ed) (2009) Munsell Soil-Color Charts. Grand Rapids, Michigan (U.S.A.)

Murrill WA (1911) The Agaricaceae of tropical North America. Mycologia 3:271–282

Nilsson RH, Kristiansson E, Ryberg M, Hallenberg N, Larsson KH (2008) Intraspecific ITS variability in the kingdom Fungi as expressed in the international sequence databases and its implications for molecular species identification. Evolutionary Bioinformatics 4:193–201

Orton PD (1986) British Fungus Flora. Agarics and Boleti 4: Pluteaceae: Pluteus and Volvariella. Royal Botanic Garden, Edinburgh

Pegler DN (1983) Agaric Flora of the Lesser Antilles. Kew Bulletin (Additional Series) 9:1–668

Pegler DN (1997) The agarics of São Paulo. Brasil, Royal Botanic Gardens, Kew, London

Pradeep CK, Vrinda KB, Abraham (2002) Pluteus section Pluteus from Kerala State, India. Mycotaxon 83:59–66

Rodríguez O (2010) Type studies of Pluteus (Agaricales, Pluteaceae). Persoonia (submitted)

Rodríguez O, Guzmán-Dávalos L (2007) Nuevos registros de Pluteus Fr. (Basidiomycetes, Agaricales, Pluteaceae) en México. Acta Botánica Mexicana 80:21–39

Rodríguez O, Moreno G, Heykoop M (2004) El género Pluteus en México. Diagnosis latina y comentarios taxonómicos, corológicos y ecológicos. Boletín Sociedad Micológica Madrid 28:291–313

Ronquist F, Huelsenbeck JP (2003) MrBayes3: Bayesian phylogenetic inference under mixed models. Bioinformatics 19:1572–1574

Saupe SG (1981) Occurrence of psilocybin/psilocin in Pluteus salicinus (Pluteaceae). Mycologia 73:781–784

Schaeffer JC (1771) Fungorum qui in Bavaria et Palatinatu circa Ratisbonam nascuntur vol. III. Regensburg

Schaeffer JC (1774) Fungorum qui in Bavaria et Palatinatu circa Ratisbonam nascuntur vol. IV. Regensburg

Shaffer R (1957) Volvariella in North America. Mycologia 49:545–579

Singer R (1956) Contributions towards a monograph of the genus Pluteus. Transactions of the British Mycological Society 39:145–232

Singer R (1958) Monographs of South American Basidiomycetes, especially those of the East Slope of the Andes and Brazil 1: The Genus Pluteus in South America. Lloydia 21:195–299

Singer R (1986) The Agaricales in modern taxonomy, 4th edn. Koeltz Scientific Books, Koenigstein

Smith AH (1934) New and unusual agarics from Michigan. Annales Mycologici 32:471–484

Smith AH (1968) Speciation in Higher Fungi in relation to modern generic concepts. Mycologia 60:742–755

Smith AH, Bartelli I (1965) A previously undescribed species of Pluteus from Michigan. Michigan Botanist 4:60–61

Smith AH, Stuntz DE (1958) Studies in the genus Pluteus I Redescription of the American Species based on a study of the type specimens. Lloydia 21:115–136

Stamatakis A, Hoover P, Rougemont J (2008) A Rapid Bootstrap Algorithm for the RAxML Web-Servers. Syst Biol 75:758–771

Swofford DL (2002) PAUP*: phylogenetic analysis using parsimony (and other methods) 4.0 Beta. Sinauer Associates, Sunderland. MA, USA

Takehashi S, Kasuya T (2009a) Pluteus magnus and Pluteus podospileus f. podospileus, two agaric species new to Japan. Mycoscience 50:74–77

Takehashi S, Kasuya T (2009b) First record of Pluteus chrysophaeus and reexamination of Pluteus leoninus from Japan. Mycoscience 50:321–325

Takehashi S, Hoshina T, Kasuya T (2010) Taxonomic Studies on Agaricales of Hokkaido, Northern Japan, with special references to Melanoleuca, Oudemansiella, Xerula, Volvariella and Pluteus, NPO The Forum of Fungi in Northern Japan, Sapporo

Taylor JW, Jacobson DJ, Kroken S, Kasuga T, Geiser DM, Hibbett DS, Fisher MC (2000) Phylogenetic species recognition and species concepts in fungi. Fungal Genet Biol 31:21–32

Thiers B (2010) Index Herbariorum: a global directory of public herbaria and associated staff. New York Botanical Gardens's Virtual Herbarium (continuously updated). http://sweetgum.nybg.org/ih/

Vellinga EC (1988) Glossary. In: Bas C, Kuyper ThW, Noordeloos ME, Vellinga EC (eds) Flora Agaricina Neerlandica vol 1. A.A. Balkema, Rotterdam, pp 54–64

Vellinga EC (1990) Pluteus. In: Bas C, Kuyper ThW, Noordeloos ME, Vellinga EC (eds) Flora Agaricina Neerlandica vol 2. A.A. Balkema, Rotterdam, pp 31–55

Vellinga EC (2003) Chlorophyllum and Macrolepiota (Agaricaceae) in Australia. Australian Systematic Botany 16:361–370

Vellinga EC (2007) Lepiotaceous fungi in California, U.S.A.–5. Lepiota oculata and its look-alikes. Mycotaxon 102:267–280

Vellinga EC, Schreurs J (1985) Pluteus Fr. in Western Europe. Persoonia 12:337–373

Vizzini A, Contu M (2010) Volvariella acystidiata (Agaricomycetes, Pluteaceae), an African species new to Europe, with two new combinations in Volvariella. Mycotaxon 112:25–29

White TJ, Bruns T, Lee SS, Taylor J (1990) Amplification and direct sequencing of fungal ribosomal RNA genes for phylogenetics. In: Innis MA, Gelfand DH, Sninsky JJ, White TJ (eds) PCR Protocols: A Guide to Methods and Applications. Academic Press, New York, pp 315–322
Acknowledgments
The curators of BR, CBM, EIU, F, ILLS, LOU, MA, MICH, NYBG, REG, SIU, SP and TNSF are gratefully acknowledged for managing the loans of their respective collections. The assistance of Nathan Kallen in the lab bench made this work much easier. The technical support of and helpful discussions with Manfred Binder are greatly appreciated. Dimitris Floudas and Brian Seitzman helped with the collecting trips in Massachusetts and Florida. Comments from two reviewers helped to improve the manuscript. Financial support was received from a postdoctoral grant of the Autonomous Government of Galicia (Spain) to A. Justo and from the NSF grant DEB0933081. A. Minnis acknowledges the support from the Alexander H. and Helen V. Smith Research Fund (Mycological Society of America) and also D. Nickrent and S. Sipes (SIU) for providing lab supplies for earlier molecular work. N. Menolli and M. Capelari thank FAPESP (grant 04/04319-2) for the financial support.
About this article
Cite this article
Justo, A., Minnis, A.M., Ghignone, S. et al. Species recognition in Pluteus and Volvopluteus (Pluteaceae, Agaricales): morphology, geography and phylogeny. Mycol Progress 10, 453–479 (2011). https://doi.org/10.1007/s11557-010-0716-z
Received:

Revised:

Accepted:

Published:

Issue Date:
Keywords
Biodiversity

ITS

Phylogeny

Pluteus

Species delimitation

Volvopluteus