Abstract
Most literature on fingertips reviews new surgical techniques of coverage while many surgeons prefer the results of secondary healing. This article reviews the current best evidence and concepts about secondary healing in fingertip injuries.
This is a preview of subscription content, log in to check access.
Access options
Buy single article
Instant unlimited access to the full article PDF.
US$ 39.95
Price includes VAT for USA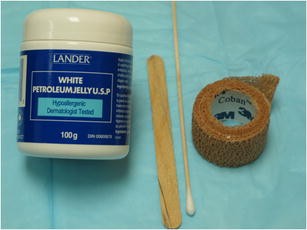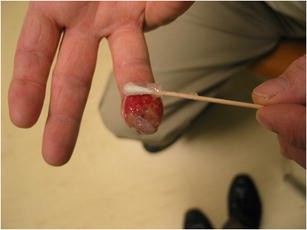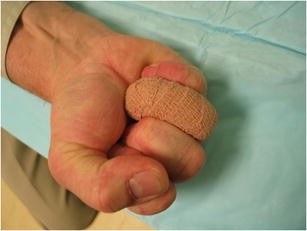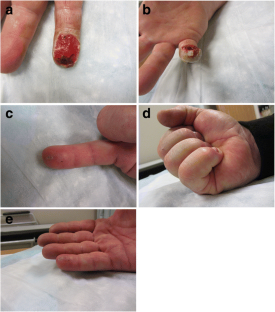 References
1.

Allen MJ. Conservative management of finger tip injuries in adults. Hand. 1980;12:257–65.

2.

Alqahtani M, Lalonde DH. Sterile versus nonsterile clean dressings. Can J Plast Surg 2006;14:25–27.

3.

Arbel R, Goodwin DRA, Otremski I. Treatment of finger-tip injuries with silver sulphadiazine occlusion dressing. Injury. 1989;20:161–3.

4.

Bubak PJ, Richey MD, Engrav LH. Hook nail deformity repaired using a composite toe graft. Plast Reconstr Surg. 1992;90(6):1079–82.

5.

Buckley SC, Das SSK. Late review of the use of silver sulphadiazine dressings for the treatment of fingertip injuries. Injury. 2000;31:301–4.

6.

Chow SP, Ho E. Open treatment of fingertip injuries in adults. J Hand Surg. 1982;7:470–6.

7.

Damert HG, Altmann S. Treatment of fingertip amputations using semiocclusive dressing (German). Trauma Surgeon. 2012;115:798–801.

8.

Douglas BS. Conservative management of guillotine amputation of the finger in children. Aust Paediatr J. 1972;8:86–9.

9.

Farrell RG, Disher WA, Nesland RS, et al. Conservative management of fingertip amputations. JACEP. 1977;6:243–6.

10.

Fox J, Golden F, Rodeheaver G, et al. Non-operative management of finger tip pulp amputation by occlusive dressings. Am J Surg. 1977;133:255–6.

11.

Halim AS, Stone CA, Devvaraj VS. The Hyphecan cap: a biological fingertip dressing. Injury. 1998;29:261–3.

12.

Hattori Y, Doi K, Ikeda K, et al. A retrospective study of functional outcomes after successful replantation versus amputation closure for single fingertip amputations. J Hand Surg. 2006;31A:811–8.

13.

Hoigne D, Hug U, Schurch M, et al. Semi-occlusive dressing for the treatment of fingertip amputations with exposed bone: quantity and quality of soft-tissue regeneration. J Hand Surg (Eur) 2013; epub: 1–5.

14.

Hook-nail deformity. Surgical treatment with a homodigital advancement flap. Dumontier C, Gilbert A, Tubiana R. J Hand Surg Br. 1995;20(6):830–5.

15.

Ipsen T, Frandsen PA, Barfred T. Conservative treatment of fingertip injuries. Injury. 1987;18:203–5.

16.

Keming W, Sears ED, Shauver MJ, Chung KC. A systematic review of outcomes of revision amputation treatment for fingertip amputations. Hand. 2013;8:139–45.

17.

Krister S.J. Primary treatment of fingertip injuries by skin grafting. BMJ 1947:152.

18.

Kumar VP, Satku K. Treatment and prevention of "hook nail" deformity with anatomic correlation. J Hand Surg Am. 1993;18(4):617–20.

19.

Lamon RP, Cicero JJ, Frascone RJ, et al. Open treatment of fingertip amputations. Ann Emerg Med. 1983;12:358–60.

20.

Lee LP, Lau PY, Chan CW. A simple and efficient treatment for fingertip injuries. J Hand Surg (Br). 1995;20B:63–71.

21.

Louis DS, Palmer AK, Burney RE. Open treatment of digital tip injuries. JAMA. 1980;244:697–8.

22.

Ma KK, Chan MF, Pang SM. The effectiveness of using a lipido-colloid dressing for patients with traumatic digital wounds. Clin Nurs Res. 2006;15:119–35.

23.

Ma GFY, Cheng LCY, Chan KT, et al. Finger tip injuries—a prospective study on seven methods of treatment on 200 cases. Ann Acad Med. 1982;11:207–13.

24.

Mennen U, Wiese A. Fingertip injuries management with semi-occlusive dressing. J Hand Surg (Br). 1993;18B:416–22.

25.

Muhldorfer-Fodor M, Hohendorff AS, Vorderwindkler K-P, et al. Treatment of fingertip defect injuries with a semi-occlusive dressing according to Mennen and Wiese (German). Oper Orthop Traumatol. 2013;25:104–14.

26.

Newmeyer WL, Kilgore ES. Fingertip injuries: a simple, effective method of treatment. J Trauma. 1974;14:58–64.

27.

O'Donovan DA, Mehdi SY, Eadie PA. The role of Mepitel silicone net dressings in the management of fingertip injuries in children. J Hand Surg (Br). 1999;24B:727–30.

28.

Riyat MS, O'Dwyer G, Quinton DN. Comparison of silver sulphadiazine and paraffin gauze dressings in the treatment of fingertip amputations. J Hand Surg (Br). 1997;22B:530–2.

29.

Soderberg T, Nystrom A, Hallamns G, et al. Treatment of fingertip amputations with bone exposure. A comparative study between surgical and conservative treatment methods. Scand J Plast Reconstr Surg. 1983;17:147–52.

30.

Strick MJ, Bremner-Smith AT, Tonkin MA. Antenna procedure for the correction of hook nail deformity. J Hand Surg Br. 2004;29(1):3–7.

31.

van den Berg WB, Vergeer RA, van der Sluis CK, et al. Comparison of three types of treatment modalities on the outcome of fingertip injuries. J Trauma Acute Care Surg. 2012;72:1681–7.

32.

Weichman KE, Wilson SC, Samra F, et al. Treatment and outcomes of fingertip injuries at a large metropolitan public hospital. Plast Reconstr Surg. 2013;131:107–12.
Conflict of Interest
Emily M. Krauss declares that she has no conflict of interest.
Donald H. Lalonde declares that he has no conflict of interest.
Statement of Human and Animal Rights
This article does not contain any studies with human or animal subjects.
Statement of Informed Consent
Additional informed consent was obtained from all patients for which identifying information is included in this article.
Electronic Supplementary Material
Below is the link to the electronic supplementary material.
About this article
Cite this article
Krauss, E.M., Lalonde, D.H. Secondary healing of fingertip amputations: a review. HAND 9, 282–288 (2014) doi:10.1007/s11552-014-9663-5
Keywords
Fingertip amputation

Fingertip injury

Fingertip secondary healing

Conservative management of fingertip injury