Abstract
A latissimus dorsi muscle flap was used to simultaneously resurface the dorsal index, middle, and ring fingers of a 10-year-old child who had sustained a severe abrasion burn from a go-kart injury. Rather than performing multiple individual flaps, or a single flap in which a secondary division procedure would have been needed, the flap was divided into three vascular territories, permitting a single-stage reconstruction. Use of this strategy minimized the need for prolonged rehabilitation, and the functional outcome was optimized.
This is a preview of subscription content, log in to check access.
Access options
Buy single article
Instant unlimited access to the full article PDF.
US$ 39.95
Price includes VAT for USA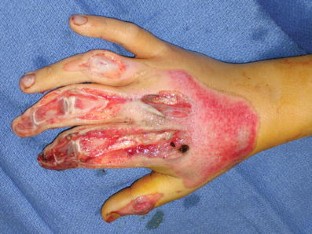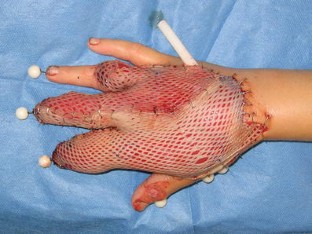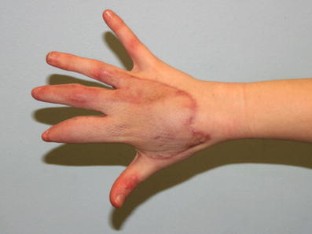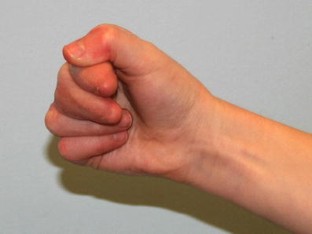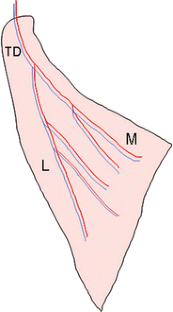 References
1.

Brooks D, Buntic RF. Partial muscle harvest: our first 100 cases attempting to preserve form and function at the donor site. Microsurgery. 2008;28:606–11.

2.

Buntic RF, Horton KM, Brooks D, et al. The free partial superior latissimus muscle flap: preservation of donor-site form and function. Plast Reconstr Surg. 2008;121:1659–63.

3.

Hallock GG. In an era of perforator flaps, are muscle flaps passe? Plast Reconstr Surg. 2009;123:1357–63.

4.

Tobin GR, Moberg AW, DuBou RH, et al. The split latissimus dorsi myocutaneous flap. Ann Plast Surg. 1981;7:272–80.
Financial disclosures
none.
Additional information
Institutional Review Board Approval Statement
Consent was obtained from the family, in accordance with the Human Research Protection Office, to publish this research.
Electronic supplementary material
Below is the link to the electronic supplementary material.
Six-month postoperative video demonstrating digital flexion and extension (WMV 85 kb)
Three-month postoperative video demonstrating the patient's ability to tie his shoes (WMV 248 kb)
Six-month postoperative video demonstrating digital flexion and extension (WMV 85 kb)
Three-month postoperative video demonstrating the patient's ability to tie his shoes (WMV 248 kb)
About this article
Cite this article
Borschel, G.H. A Three-Subunit Latissimus Dorsi Muscle Free Flap for Single-Stage Coverage of the Hand and Three Adjacent Fingers. HAND 5, 99–101 (2010) doi:10.1007/s11552-009-9208-5
Received:

Accepted:

Published:

Issue Date:
Keywords
Vascular territory

Angiosome

Free tissue transfer

Free flap

Dorsal hand wound

Reconstruction

Pediatric

Hand trauma

Partial free flap

Go-kart

Free muscle flap

Hand reconstruction