Abstract
Purpose
Facet syndrome is a condition that may cause 15–45 % of chronic lower back pain. It is commonly diagnosed and treated using facet joint injections. This needle technique demands high accuracy, and ultrasound (US) is a potentially useful modality to guide the needle. US-guided injections, however, require physicians to interpret 2-D sonographic images while simultaneously manipulating an US probe and needle. Therefore, US-guidance for facet joint injections needs advanced training methodologies that will equip physicians with the requisite skills.
Methods
We used Perk Tutor—an augmented reality training system for US-guided needle insertions—in a configuration for percutaneous procedures of the lumbar spine. In a pilot study of 26 pre-medical undergraduate students, we evaluated the efficacy of Perk Tutor training compared to traditional training.
Results
The Perk Tutor Trained group, which had access to Perk Tutor during training, had a mean success rate of 61.5 %, while the Control group, which received traditional training, had a mean success rate of 38.5 % (\(p = 0.031\)). No significant differences in procedure times or needle path lengths were observed between the two groups.
Conclusions
The results of this pilot study suggest that Perk Tutor provides an improved training environment for US-guided facet joint injections on a synthetic model.
This is a preview of subscription content, log in to check access.
Access options
Buy single article
Instant access to the full article PDF.
US$ 39.95
Price includes VAT for USA
Subscribe to journal
Immediate online access to all issues from 2019. Subscription will auto renew annually.
US$ 99
This is the net price. Taxes to be calculated in checkout.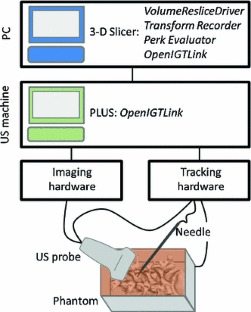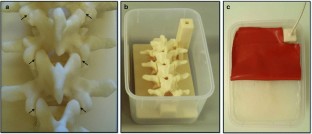 References
1.

Boswell M, Singh V, Staats PS, Hirsch JA (2003) Accuracy of precision diagnostic blocks in the diagnosis of chronic spinal pain of facet or zygapophysial joint origin: a systematic review. Pain Phys 6:449–456

2.

Boswell M, Colson J, Sehgal N, Dunbar E, Epter R (2007) A systematic review of therapeutic facet joint interventions in chronic spinal pain. Pain Phys 10:229–253

3.

Chen CP, Lew HL, Tsai WC, Hung YT, Hsu CC (2011) Ultrasound-guided injection techniques for the low back and hip joint. Am J Phys Med Rehabil 90:860–867

4.

Clarke C, Moore J, Wedlake C, Lee D, Ganapathy S, Salbalbal M, Wilson T, Peters T, Bainbridge D (2010) Virtual reality imaging with real-time ultrasound guidance for facet joint injection: a proof of concept. Anesth Analg 110:1461–1463

5.

Fedorov A, Beichel R, Kalpathy-Cramer J, Finet J, Fillion-Robin JC, Pujol S, Bauer C, Jennings D, Fennessy F, Sonka M, Buatti J, Aylward S, Miller JV, Pieper S, Kikinis R, (2012) 3D slicer as an image computing platform for the quantitative imaging network. Magn Reson Imaging 30:1323–1341

6.

Galiano K, Obwegeser A, Bodner G, Freund M, Maurer H, Kamelger F, Schatzer R, Ploner F (2005) Ultrasound guidance for facet joint injections in the lumbar spine: a computed tomography-controlled feasibility study. Anesth Analg 101:579–583

7.

Galiano K, Obwegeser AA, Walch C, Schatzer R, Ploner F, Gruber H (2007) Ultrasound-guided versus computed tomography-controlled facet joint injections in the lumbar spine: a prospective randomized clinical trial. Reg Anesth Pain Med 32:317–322

8.

Lasso A, Heffter T, Pinter C, Ungi T, Fichtinger G (2012) Implementation of the plus open-source toolkit for translational research of ultrasound-guided intervention systems. In: MICCAI, pp 1–12

9.

Ma IW, Brindle ME, Ronksley PE, Lorenzetti DL, Sauve RS, Ghali WA (2011) Use of simulation-based education to improve outcomes of central venous catheterization: a systematic review and meta-analysis. Acad Med 86:1137–1147

10.

Magee D, Zhu Y, Ratnalingam R, Gardner P, Kessel D (2007) An augmented reality simulator for ultrasound guided needle placement training. Med Biol Eng Comput 45:957–967

11.

Moore J, Clarke C, Bainbridge D, Wedlake C, Wiles A, Pace D, Peters T (2009) Image guidance for spinal facet injections using tracked ultrasound. In: MICCAI vol 523, pp 516–523

12.

Sehgal N, Dunbar EE, Shah RV, Colson J (2007) Systematic review of diagnostic utility of facet (zygapophysial) joint injections in chronic spinal pain: an update. Pain Phys 10:213–228

13.

Tokuda J, Fischer GS, Papademetris X, Yaniv Z, Ibanez L, Cheng P, Liu H, Blevins J, Arata J, Golby AJ, Kapur T, Pieper S, Burdette EC, Fichtinger G, Tempany CM, Hata N (2009) OpenIGTLink: an open network protocol for image-guided therapy environment. Int J Med Robot 5:423–434

14.

Ungi T, Abolmaesumi P, Jalal R, Welch M, Ayukawa I, Nagpal S, Lasso A, Jaeger M, Borschneck DP, Fichtinger G, Mousavi P (2012) Spinal needle navigation by tracked ultrasound snapshots. IEEE Trans Biomed Eng 59(10):2766–2772

15.

Ungi T, Sargent D, Moult E, Lasso A, Pinter C, McGraw R, Fichtinger G (2012) Perk Tutor: an open-source training platform for ultrasound-guided needle insertions. IEEE Trans Biomed Eng 59(12):3475–3481
Acknowledgments
The authors wish to thank Jennifer Andrea and Kim Garrison for their kind assistance in setting up the Perk Tutor system.
Conflict of interest
The authors declare that they have no conflict of interest.
Additional information
E. Moult and M. Welch were supported by the NSERC USRA program. G. Fichtinger was supported as a Cancer Care Ontario Research Chair. T. Ungi was supported as an Ontario Ministry of Research and Innovation Postdoctoral Fellow.
About this article
Cite this article
Moult, E., Ungi, T., Welch, M. et al. Ultrasound-guided facet joint injection training using Perk Tutor. Int J CARS 8, 831–836 (2013). https://doi.org/10.1007/s11548-012-0811-5
Received:

Accepted:

Published:

Issue Date:
Keywords
Facet joint injection

Ultrasound-guidance

Medical education

Simulation training

Perk Tutor