Abstract
Purpose
Patient-reported outcome measures can be useful to assess symptoms in head and neck cancer (HNC) patients treated with radio-chemotherapy. This is a pilot study on the VHNSS-IT (the Italian version of the Vanderbilt head and neck symptom survey) performed to assess both the feasibility and utility of its administration in clinical practice.
Methods
The outcomes analyzed were feasibility to recruit patients, feasibility to complete the questionnaire, feasibility to review the questionnaire, utility perceived by clinicians, distribution of patient's answers reflecting symptom's intensity.
Results
Among the 38 patients enrolled, 37 completed the VHNSS-IT (refusal rate 2.6%). Median time of completion was 6′57″. Time of completion was influenced by age (p = 0.002), grade of education (p = 0.023) and employment status (p = 0.004). Time after the start of the radiotherapy course (< 6 months vs. > 6 months) and surgery (yes vs. no) influenced symptoms' intensity. Median time for review was 2′15″. Time burden was perceived to be acceptable for all clinicians; they all also found the questionnaire easy to use. Rates of global perceived utility and future intention to use the questionnaire were 100%.
Conclusions
The VHNSS-IT has demonstrated to be a useful measurement of symptoms' burden for patients with HNC. The survey can be easily completed during the clinic routine without interfering with doctors' visits schedule, and it can help healthcare providers to identify symptoms that require referral, education or intervention.
This is a preview of subscription content, log in to check access.
Access options
Buy single article
Instant unlimited access to the full article PDF.
US$ 39.95
Price includes VAT for USA
Subscribe to journal
Immediate online access to all issues from 2019. Subscription will auto renew annually.
US$ 99
This is the net price. Taxes to be calculated in checkout.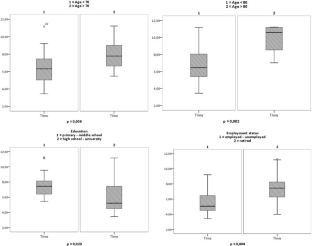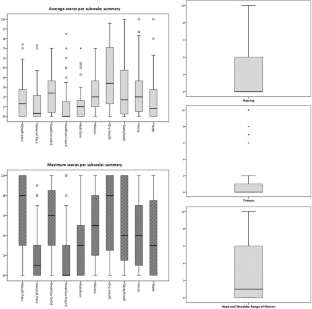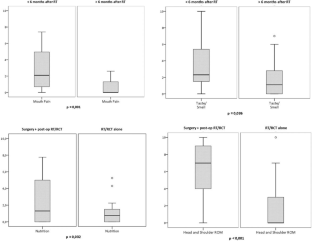 References
1.

Murphy BA, Gilbert J, Ridner SH (2007) Systemic and global toxicities of head and neck treatment. Expert Rev Anticancer Ther 7(7):1043–1053

2.

Alho OP, Teppo H, Mäntyselkä P, Kantola S (2006) Head and neck cancer in primary care: presenting symptoms and the effect of delayed diagnosis of cancer cases. CMAJ 74(6):779–784

3.

Murphy BA, Dietrich MS, Wells N et al (2010) Reliability and validity of the Vanderbilt Head and Neck Symptom Survey: a tool to assess symptom burden in patients treated with chemoradiation. Head Neck 32(1):26–37

4.

Daniel WW (1999) Biostatistics: a foundation for analysis in the health sciences, 7th edn. Wiley, New York

5.

Arnould B (2006) Patient-reported outcomes in clinical practice. From measurement instruments to decision tools: much more than a simple change in format. PRO Newsl 36:21–24

6.

Cooperstein E, Gilbert J, Epstein JB et al (2012) Vanderbilt Head and Neck Symptom Survey version 2.0: report of the development and initial testing of a subscale for assessment of oral health. Head Neck 34(6):797–804

7.

Zhu J, Davis RB, Stuver SO et al (2012) A longitudinal study of pain variability and its correlates in ambulatory patients with advanced stage cancer. Cancer 118(24):6278–6286

8.

Epstein JB, Wilkie DJ, Fischer DJ, Kim YO, Villines D (2009) Neuropathic and nociceptive pain in head and neck cancer patients receiving radiation therapy. Head Neck Oncol 1:26

9.

Vissink A, Jansma J, Spijkervet FK, Burlage FR, Coppes RP (2003) Oral sequelae of head and neck radiotherapy. Crit Rev Oral Biol Med 14(3):199–212

10.

Leipzig B, Suen JY, English JL et al (1983) Functional evaluation of the spinal accessory nerve after neck dissection. Am J Surg 146:526–530

11.

Dijkrstra PU, van Wilgen PC, Buijs RP et al (2001) Incidence of shoulder pain after neck dissection: a clinical explorative study for risk factors. Head Neck 23:946–953

12.

Cappiello J, Piazza C, Giudice M et al (2005) Shoulder disability after different selective neck dissections (levels II–IV versus levels II–V): a comparative study. Laryngoscope 115(2):259–263

13.

Ichimura K, Tanaka T (1993) Trismus in patients with malignant tumours in the head and neck. J Laryngol Otol 107:1017–1020

14.

Shinozaki T, Hayashi R, Miyazaki M et al (2014) Gastrostomy dependence in head and neck carcinoma patient receiving post-operative therapy. Jpn J Clin Oncol 44(11):1058–1062

15.

Steiner F, Evans J, Marsh R et al (2015) Mouth opening and trismus in patients undergoing curative treatment for head and neck cancer. Int J Oral Maxillofac Surg 44(3):292–296

16.

Wetzels JW, Merkx MA, de Haan AF, Koole R, Speksnijder CM (2014) Maximum mouth opening and trismus in 143 patients treated for oral cancer: a 1-year prospective study. Head Neck 36(12):1754–1762

17.

Sheikh A, Shallwani H, Ghaffar S (2014) Postoperative shoulder function after different types of neck dissection in head and neck cancer. Ear Nose Throat J 93(4–5):E21–E26

18.

Speksnijder CM, van der Bilt A, Slappendel M, de Wijer A, Merkx MA, Koole R (2013) Neck and shoulder function in patients treated for oral malignancies: a 1-year prospective cohort study. Head Neck 35(9):1303–1313
Ethics declarations
Conflict of interest
The authors declare that they have no conflict of interest.
Ethical standards
All procedures performed in studies involving human participants were in accordance with the ethical standards of the institutional and/or national research committee and with the 1964 Helsinki declaration and its later amendments or comparable ethical standards.
Informed consent
Informed consent was obtained from all individual participants included in the study.
Additional information
Publisher's Note
Springer Nature remains neutral with regard to jurisdictional claims in published maps and institutional affiliations.
About this article
Cite this article
Maddalo, M., Buglione, M., Pasinetti, N. et al. A pilot study on the Vanderbilt head and neck symptom survey Italian version (VHNSS-IT) to test its feasibility and utility in routine clinical practice. Radiol med (2020). https://doi.org/10.1007/s11547-019-01125-6
Received:

Accepted:

Published:
Keywords
Head and neck cancer

Patient-reported outcome measure

Symptoms screening