Abstract
Purpose
The aim of this study was to systematically compare a comprehensive array of magnetic resonance (MR) imaging features in terms of their sensitivity and specificity to diagnose cervical lymph node metastases in patients with thyroid cancer.
Materials and methods
The study included 41 patients with thyroid malignancy who underwent surgical excision of cervical lymph nodes and had preoperative MR imaging ≤4weeks prior to surgery. Three head and neck neuroradiologists independently evaluated all the MR images. Using the pathology results as reference, the sensitivity, specificity and interobserver agreement of each MR imaging characteristic were calculated.
Results
On multivariate analysis, no single imaging feature was significantly correlated with metastasis. In general, imaging features demonstrated high specificity, but poor sensitivity and moderate interobserver agreement at best.
Conclusions
Commonly used MR imaging features have limited sensitivity at correctly identifying cervical lymph node metastases in patients with thyroid cancer. A negative neck MR scan should not dissuade a surgeon from performing a neck dissection in patients with thyroid carcinomas.
This is a preview of subscription content, log in to check access.
Access options
Buy single article
Instant access to the full article PDF.
US$ 39.95
Price includes VAT for USA
Subscribe to journal
Immediate online access to all issues from 2019. Subscription will auto renew annually.
US$ 99
This is the net price. Taxes to be calculated in checkout.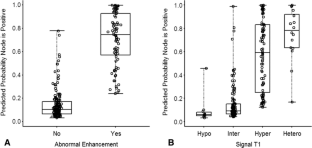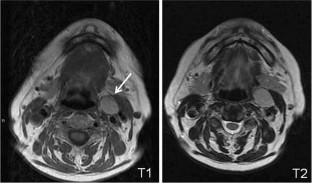 References
1.

van den Brekel MW, Stel HV, Castelijns JA et al (1990) Cervical lymph node metastasis: assessment of radiologic criteria. Radiology 177:379–384

2.

Gross ND, Weissman JL, Talbot JM et al (2001) MRI detection of cervical metastasis from differentiated thyroid carcinoma. Laryngoscope 111:1905–1909

3.

Feinmesser R, Freeman JL, Noyek AM, Birt BD (1987) Metastatic neck disease. A clinical/radiographic/pathologic correlative study. Arch Otolaryngol Head Neck Surg 113:1307–1310

4.

Mizowaki T, Nishimura Y, Shimada Y et al (1996) Optimal size criteria of malignant lymph nodes in the treatment planning of radiotherapy for esophageal cancer: evaluation by computed tomography and magnetic resonance imaging. Int J Radiat Oncol Biol Phys 36:1091–1098

5.

Krestan C, Herneth AM, Formanek M, Czerny C (2006) Modern imaging lymph node staging of the head and neck region. Eur J Radiol 58:360–366

6.

Friedman M, Shelton VK, Mafee M et al (1984) Metastatic neck disease. Evaluation by computed tomography. Arch Otolaryngol Head Neck Surg 110:443–447

7.

Stevens MH, Harnsberger R (1988) Computed tomography in evaluating metastatic neck disease. Arch Otolaryngol Head Neck Surg 114:1041

8.

Close LG, Merkel M, Vuitch MF et al (1989) Computed tomographic evaluation of regional lymph node involvement in cancer of the oral cavity and oropharynx. Head Neck 11:309–317

9.

Mancuso AA, Maceri D, Rice D, Hanafee W (1981) CT of cervical lymph node cancer. AJR Am J Roentgenol 136:381–385

10.

Som PM (1987) Lymph nodes of the neck. Radiology 165:593–600

11.

King AD, Tse GM, Ahuja AT et al (2004) Necrosis in metastatic neck nodes: diagnostic accuracy of CT, MR imaging, and US. Radiology 230:720–726

12.

Som PM (1992) Detection of metastasis in cervical lymph nodes: CT and Mr criteria and differential diagnosis. AJR Am J Roentgenol 158:961–969

13.

de Bondt RB, Nelemans PJ, Bakers F et al (2009) Morphological MRI criteria improve the detection of lymph node metastases in head and neck squamous cell carcinoma: multivariate logistic regression analysis of MRI features of cervical lymph nodes. Eur Radiol 19:626–633

14.

Huber PJ (1965) The behaviour of maximum likelihood estimates under nonstandard conditions. Proc Fifth Berkeley Symp Math Stat Probab 1:221–233

15.

White H (1982) Maximum likelihood estimation of misspecified models. Econometrica 50:1–25

16.

Park JS, Son KR, Na DG et al (2009) Performance of preoperative sonographic staging of papillary thyroid carcinoma based on the sixth edition of the AJCC/UICC TNM classification system. AJR Am J Roentgenol 192:66–72

17.

Choi JS, Kim J, Kwak JY et al (2009) Preoperative staging of papillary thyroid carcinoma: comparison of ultrasound imaging and CT. AJR Am J Roentgenol 193:871–878

18.

Amdur RJ, Mazzaferri EL (2005) Intravenous iodinated contrast effects iodine uptake for months. In: Amdur RJ, Mazzaferri EL (eds) Essentials of thyroid cancer management, 1st edn. Springer, New York, pp 211–213

19.

Johnson NA, LeBeau SO, Tublin ME (2011) Imaging surveillance of differentiated thyroid cancer. Radiol Clin N Am 49:473–487

20.

Choi WH, Chung YA, Han EJ et al (2011) Clinical value of integrated [18f]fluoro-2-deoxy-d-glucose positron emission tomography/computed tomography in the preoperative assessment of papillary thyroid carcinoma: comparison with sonography. J Ultrasound Med 30:1267–1273

21.

Jeong HS, Baek CH, Son YI et al (2006) Integrated 18f-fdg pet/ct for the initial evaluation of cervical node level of patients with papillary thyroid carcinoma: comparison with ultrasound and contrast-enhanced CT. Clin Endocrinol 65:402–407

22.

Christensen CR, Glowniak JV, Brown PH, Morton KA (2000) The effect of gadolinium contrast media on radioiodine uptake by the thyroid gland. J Nucl Med Technol 28:41–44

23.

Takashima S, Sone S, Takayama F et al (1998) Papillary thyroid carcinoma: MR diagnosis of lymph node metastasis. AJNR Am J Neuroradiol 19:509–513
Conflict of interest
The authors have no disclosure.
Ethical standards
Ethical standards were respected and the Institute/Hospital Ethical Review Board has approved the study.
About this article
Cite this article
Chen, Q., Raghavan, P., Mukherjee, S. et al. Accuracy of MRI for the diagnosis of metastatic cervical lymphadenopathy in patients with thyroid cancer. Radiol med 120, 959–966 (2015). https://doi.org/10.1007/s11547-014-0474-0
Received:

Accepted:

Published:

Issue Date:
Keywords
Thyroid cancer

Neck dissection

Metastatic lymph nodes

MRI

Accuracy