Abstract
Stigma profoundly affects the lives of people with HIV/AIDS. Fear of being identified as having HIV or AIDS may discourage a person from getting tested, from accessing medical services and medications, and from disclosing their HIV status to family and friends. In the present study, we use focus groups to identify the most salient domains of stigma and the coping strategies that may be common to a group of diverse, low-income women and men living with HIV in Los Angeles, CA (n=48). We also explore the impact of stigma on health and healthcare among HIV positive persons in our sample. Results indicate that the most salient domains of stigma include: blame and stereotypes of HIV, fear of contagion, disclosure of a stigmatized role, and renegotiating social contracts. We use the analysis to develop a framework where stigma is viewed as a social process composed of the struggle for both internal change (self-acceptance) and reintegration into the community. We discuss implications of HIV-related stigma for the mental and physical health of HIV-positive women and men and suggestions for possible interventions to address stigma in the healthcare setting.
This is a preview of subscription content, log in to check access.
Access options
Buy single article
Instant unlimited access to the full article PDF.
US$ 39.95
Price includes VAT for USA
Subscribe to journal
Immediate online access to all issues from 2019. Subscription will auto renew annually.
US$ 99
This is the net price. Taxes to be calculated in checkout.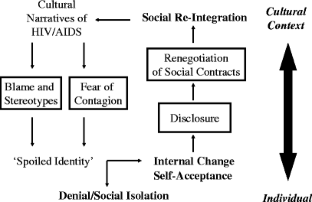 References
1.

Clark HJ, Lindner G, Armistead L, Austin BJ. Stigma, disclosure, and psychological functioning among HIV-infected and non-infected African-American women. Women Health. 2003;38(4):57–71.

2.

Klitzman RL, Kirshenbaum SB, Dodge B, et al. Intricacies and inter-relationships between HIV disclosure and HAART: a qualitative study. AIDS Care. Jul 2004;16(5):628–640.

3.

Carr RL, Gramling LF. Stigma: a health barrier for women with HIV/AIDS. J Assoc Nurses AIDS Care. Sep–Oct 2004;15(5):30–39.

4.

Macphail CL, Pettifor A, Coates T, Rees H. You must do the test to know your status: Attitudes to HIV voluntary counseling and testing for adolescents among South African youth and parents. Health Educ Behav. 2007 (In Press). DOI 10.1177/1090198106286442.

5.

Yang H, Li X, Stanton B, Fang X, Lin D, Naar-King S. HIV-related knowledge, stigma, and willingness to disclose: A mediation analysis. AIDS Care. Oct 2006;18(7):717–724.

6.

Des Jarlais DC, Galea S, Tracy M, Tross S, Vlahov D. Stigmatization of newly emerging infectious diseases: AIDS and SARS. Am J Public Health. Mar 2006;96(3):561–567.

7.

Rintamaki LS, Davis TC, Skripkauskas S, et al. Social stigma concerns and HIV medication adherence. IDS Patient Care STDS 2006;20(5):359–68.

8.

Vanable PA, Carey MP, Blair DC, Littlewood RA. Impact of HIV-related stigma on health behaviors and psychological adjustment among HIV-positive men and women. AIDS Behav. Sep 2006;10(5):473–482.

9.

Peretti-Watel P, Spire B, Pierret J, Lert F, Obadia Y. Management of HIV-related stigma and adherence to HAART: evidence from a large representative sample of outpatients attending French hospitals (ANRS-EN12-VESPA 2003). AIDS Care. 2006;18(3):254–261.

10.

Miles MS, Holditch-Davis D, Eron J, Black BP, Pedersen C, Harris DA. An HIV self-care symptom management intervention for African American mothers. Nurs Res. Nov–Dec 2003;52(6):350–360.

11.

Goffman E. Notes on the Management of a Spoiled Identity. New York: Simon & Schuster; 1963.

12.

Link BG, Phelan JC. Conceptualizing stigma. Annu Rev Sociol. 2001;27:363–385.

13.

Parker R, Aggleton P. HIV and AIDS-related stigma and discrimination: a conceptual framework and implications for action. Soc Sci Med. Jul 2003;57(1):13–24.

14.

Castro A, Farmer P. Understanding and addressing AIDS-related stigma: from anthropological theory to clinical practice in Haiti. Am J Public Health. Jan 2005;95(1):53–59.

15.

Alonzo AA, Reynolds NR. Stigma, HIV and AIDS: an exploration and elaboration of a stigma trajectory. Soc Sci Med. Aug 1995;41(3):303–315.

16.

Kalichman S, Simbayi L, Cain D, et al. Generalizing a model of health behaviour change and AIDS stigma for use. AIDS Care. 2006;18(3):178–182.

17.

Piot P. AIDS: from crisis management to sustained strategic response. Lancet. Aug 5 2006;368(9534):526–530.

18.

Brown L, Macintyre K, Trujillo L. Interventions to reduce HIV/AIDS stigma: what have we learned? AIDS Educ Prev. Feb 2003;15(1):49–69.

19.

CDC. HIV/AIDS Surveillance Report, Vol 13. Atlanta, GA: CDC; 2003.

20.

CDC. An Epidemiologic Profile of HIV and AIDS: Los Angeles County. Atlanta, GA: CDC; 2004.

21.

Bozzette SA, Berry SH, Duan N, et al. The care of HIV-infected adults in the United States. HIV Cost and Services Utilization Study Consortium. N Engl J Med. Dec 24 1998;339(26):1897–1904.

22.

Kreuger RA. Focus Groups—A Practical Guide for Applied Research. Thousand Oaks: Sage; 2000.

23.

Lincoln Y, Guba E. Naturalisitc Inquiry. Beverly Hills, CA: Sage; 1985.

24.

Weller S, Romney AK. Systematic Data Collection. Newbury Park, CA: Sage; 1988.

25.

Lepley C. Affinity maps and relationship diagrams: two tools to enhance performance improvement. J Nurs Care Qual. 1999;13:75–83.

26.

Rao S, Carter, WB, Matles, DL et al. Development of subscales from the symptoms/problems and effects of kidney disease scales of the kidney disease quality of life instrument. Clin Ther. 2000;22(9):1099–1111.

27.

Ryan G, Bernard HR. Techniques to identify themes in qualitative data. Field Methods. 2003;15(1):85–109.

28.

Donovan MC. The problem with making AIDS comfortable: federal policy making and the rhetoric of innocence. J Homosex. 1997;32(3–4):115–144.

29.

Golin C, Isasi F, Bontempi JB, Eng E. Secret pills: HIV-positive patients' experiences taking antiretroviral therapy in North Carolina. AIDS Educ Prev. Aug 2002;14(4):318–329.

30.

Ware NC, Wyatt MA, Tugenberg T. Social relationships, stigma and adherence to antiretroviral therapy for HIV/AIDS. AIDS Care. Nov 2006;18(8):904–910.

31.

Lekas HM, Siegel K, Schrimshaw EW. Continuities and discontinuities in the experiences of felt and enacted stigma among women with HIV/AIDS. Qual Health Res. Nov 2006;16(9):1165–1190.
Acknowledgments
Dr. Sayles was supported by a NIH National Research Service Award (NRSA) fellowship. Dr. Cunningham also received partial support from the NIMH (R-01#MH69087), the UCLA-Drew Project Export, NIH, National Center on Minority Health & Health Disparities, (P20-MD00148-01), and the UCLA Center for Health Improvement in Minority Elders/Resource Centers for Minority Aging Research, NIH, National Institute of Aging, (AG-02-004). Dr. Sarkisian was supported by a Paul B. Beeson Career Development Award in Aging from the National Institute on Aging, (1K23AG024811).
Additional information
Sayles and Cunningham are with the Division of General Internal Medicine, University of California, Los Angeles, CA, USA; Ryan is with RAND Corporation, Santa Monica, CA, USA; Silver is with Fielding Graduate University, Santa Barbara, CA, USA; Sarkisian is with the Division of Geriatrics, University of California, Los Angeles, CA, USA; Cunningham is with UCLA School of Public Health, Los Angeles, CA, USA.
About this article
Cite this article
Sayles, J.N., Ryan, G.W., Silver, J.S. et al. Experiences of Social Stigma and Implications For Healthcare Among a Diverse Population of HIV Positive Adults. J Urban Health 84, 814 (2007). https://doi.org/10.1007/s11524-007-9220-4
Received:

Accepted:

Published:
Keywords
HIV

AIDS

Stigma

Healthcare

Gender

Minority

Framework

Qualitative