The Abscopal Effect in the Era of Cancer Immunotherapy: a Spontaneous Synergism Boosting Anti-tumor Immunity?
Abstract
Radiotherapy is one of the main treatment strategies used in cancer. Aside from the local control of the disease, which is mediated by a direct cytotoxic effect on tumor cells, radiotherapy has also been shown to exert immune-mediated local and systemic effects. Radiotherapy can elicit anti-tumor responses in distant sites from the radiation field; this phenomenon is known as the abscopal effect and has been described in patients previously treated with immune checkpoint blockade (ICB). Considering that the efficacy of immunotherapy has been demonstrated only in a subset of patients—who often benefit with lasting responses—efforts are ongoing to potentiate its activity with the development of new combination strategies. Radiotherapy might represent a potential candidate for a synergistic combination with immunotherapy, by improving the immunogenicity of tumors and by enhancing local and systemic immune effects. This review aims to summarize the current pre-clinical and clinical data on the immune effects of radiotherapy and their potential implications for cancer immunotherapy.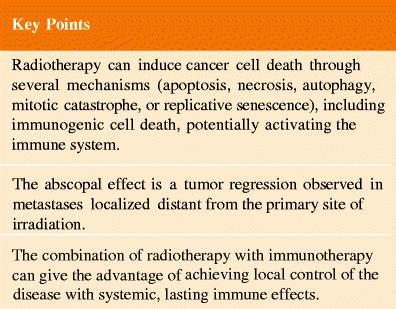 Notes
Acknowledgements
We thank David Gray for his writing assistance in the production of the manuscript. Cinzia Solinas and Pushpamali De Silva are fellows of the Belgian Fund for Scientific Research (FNRS)—Operation Télévie.
Author Contributions
ZH, CS, and PDS carried out the bibliographic research and take responsibility for the data accuracy. All other authors drafted and wrote the manuscript, participated in the interpretation of the data, and revised the work critically for important intellectual content. All the authors read and approved the final version of the manuscript and agreed to be accountable for all aspects of the work to ensure its accuracy and integrity. MS coordinated and supervised the whole process and gave final approval for manuscript submission.
Funding
This research did not receive any specific grant from funding agencies in the public, commercial, or non-profit sectors.
Compliance with Ethical Standards
Conflict of Interest
The authors do not have any competing interests.
Copyright information
© Springer International Publishing AG, part of Springer Nature 2018