Palbociclib: A Review in HR-Positive, HER2-Negative, Advanced or Metastatic Breast Cancer
Abstract
Oral palbociclib (Ibrance®) is a first-in-class, highly selective inhibitor of cyclin-dependent kinases 4 and 6 (i.e. a CDK4/6 inhibitor). It is indicated for the treatment of women with HR-positive, HER2-negative advanced or metastatic breast cancer, in combination with an aromatase inhibitor as initial endocrine-based therapy, and in combination with fulvestrant (with or without a luteinizing hormone-releasing hormone agonist) in those previously treated with endocrine therapy. In clinical trials, palbociclib in combination with letrozole as initial endocrine-based therapy in postmenopausal women (PALOMA-1 and PALOMA-2), or in combination with fulvestrant in pre-, peri-, or postmenopausal women with disease progression after endocrine therapy (PALOMA-3), significantly prolonged progression-free survival (PFS) and improved clinical benefit response (CBR) rates. Neutropenia was the most commonly reported any-grade and grade ≥ 3 adverse event. It was infrequently associated with febrile neutropenia (<2%) and generally manageable with a palbociclib dose delay, interruption or reduction, without the routine use of growth factors, and without affecting efficacy. In conclusion, oral palbociclib combination therapy is a valuable emerging option for use in patients with HR-positive, HER2-negative advanced or metastatic breast cancer.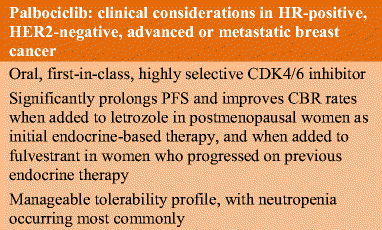 Keywords
Endocrine Therapy 
Metastatic Breast Cancer 
Letrozole 
Anastrozole 
National Comprehensive Cancer Network 
These keywords were added by machine and not by the authors. This process is experimental and the keywords may be updated as the learning algorithm improves.
Notes
Acknowledgments
During the peer review process, the manufacturer of palbociclib was offered an opportunity to review this article. Changes resulting from comments received were made on the basis of scientific and editorial merit.
Compliance with Ethical Standards
Funding
The preparation of this review was not supported by any external funding.
Conflicts of Interest
Esther Kim and Lesley Scott are salaried employees of Adis/Springer, are responsible for the article content and declare no relevant conflicts of interest.
Copyright information
© Springer International Publishing Switzerland 2017